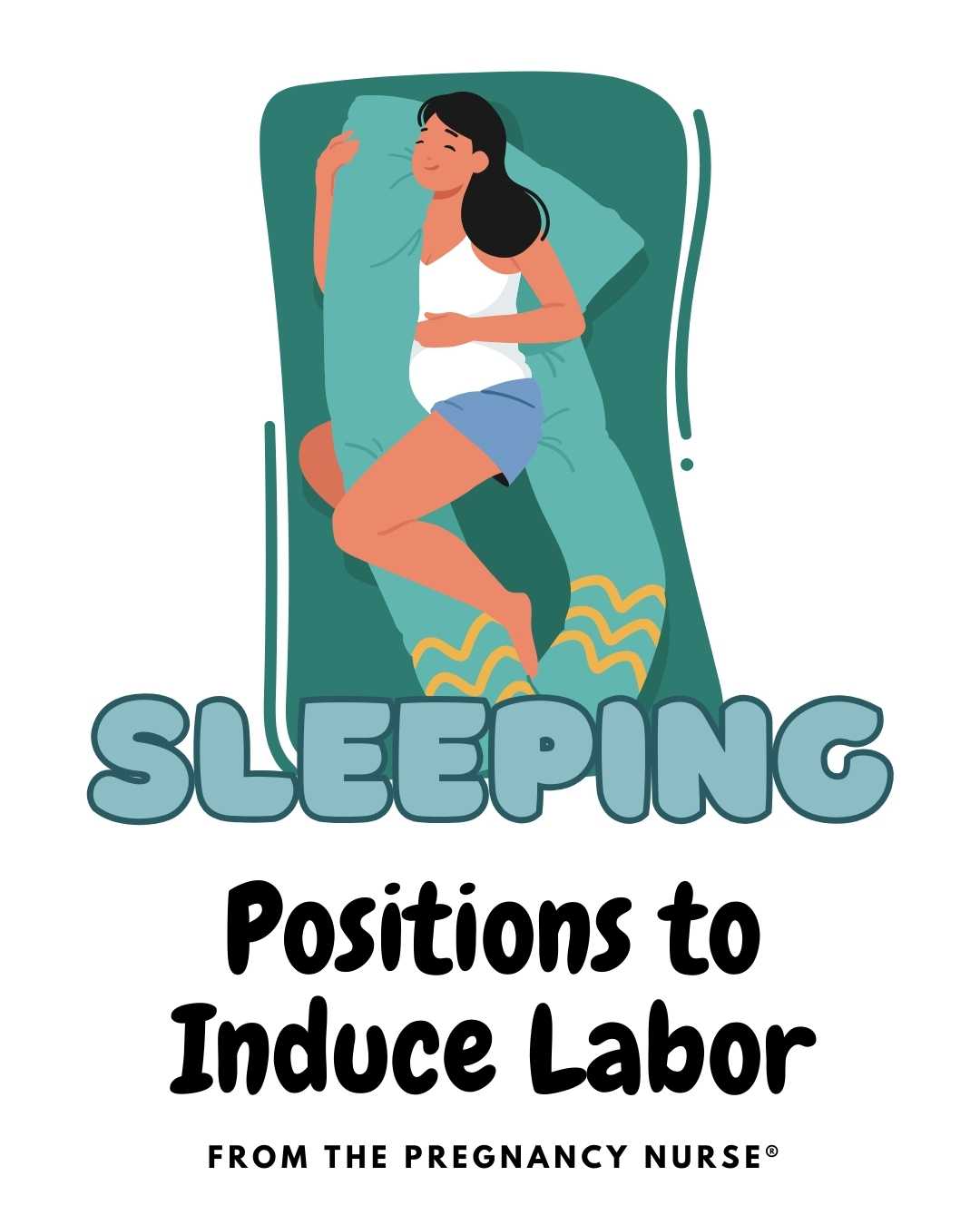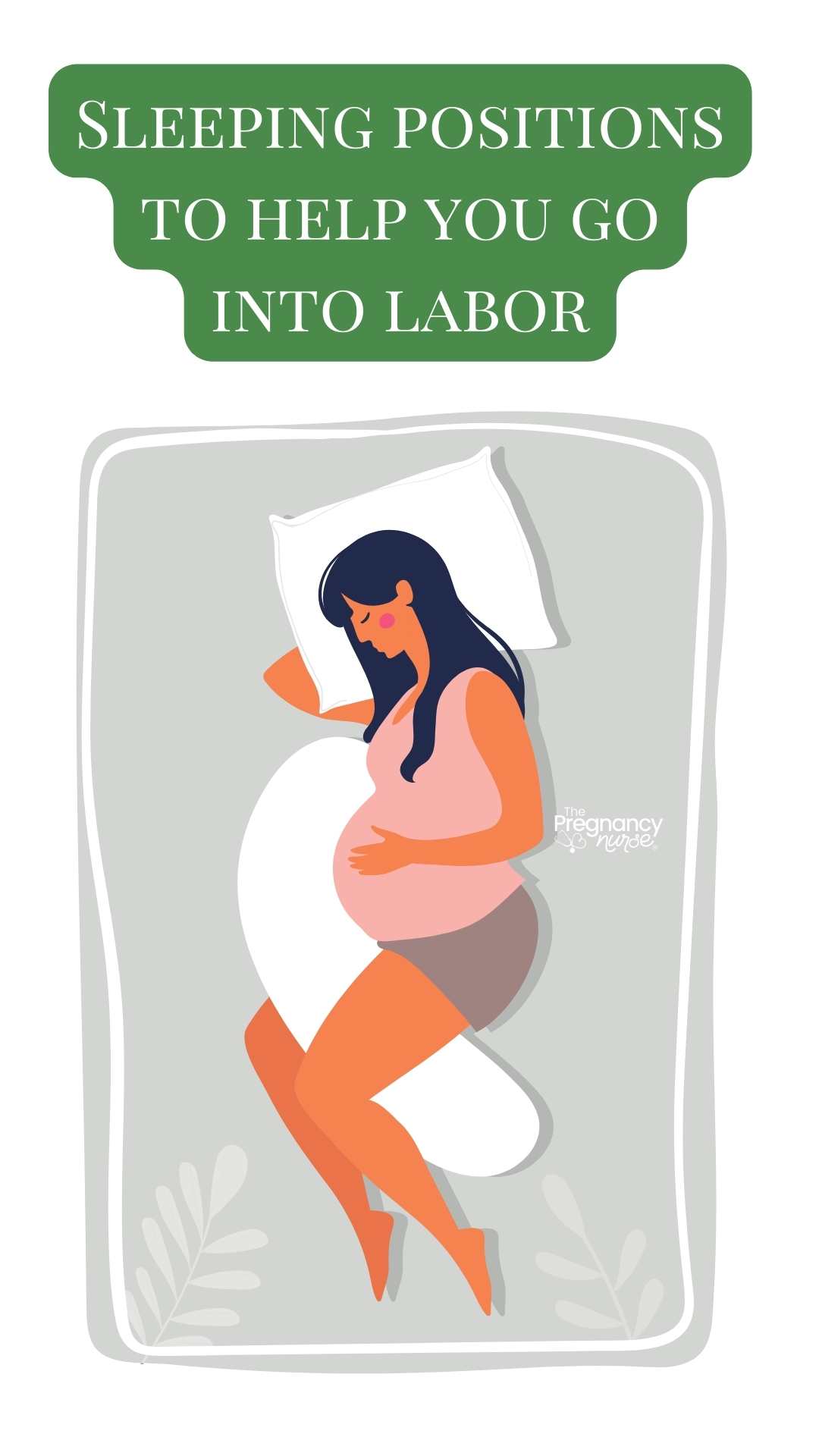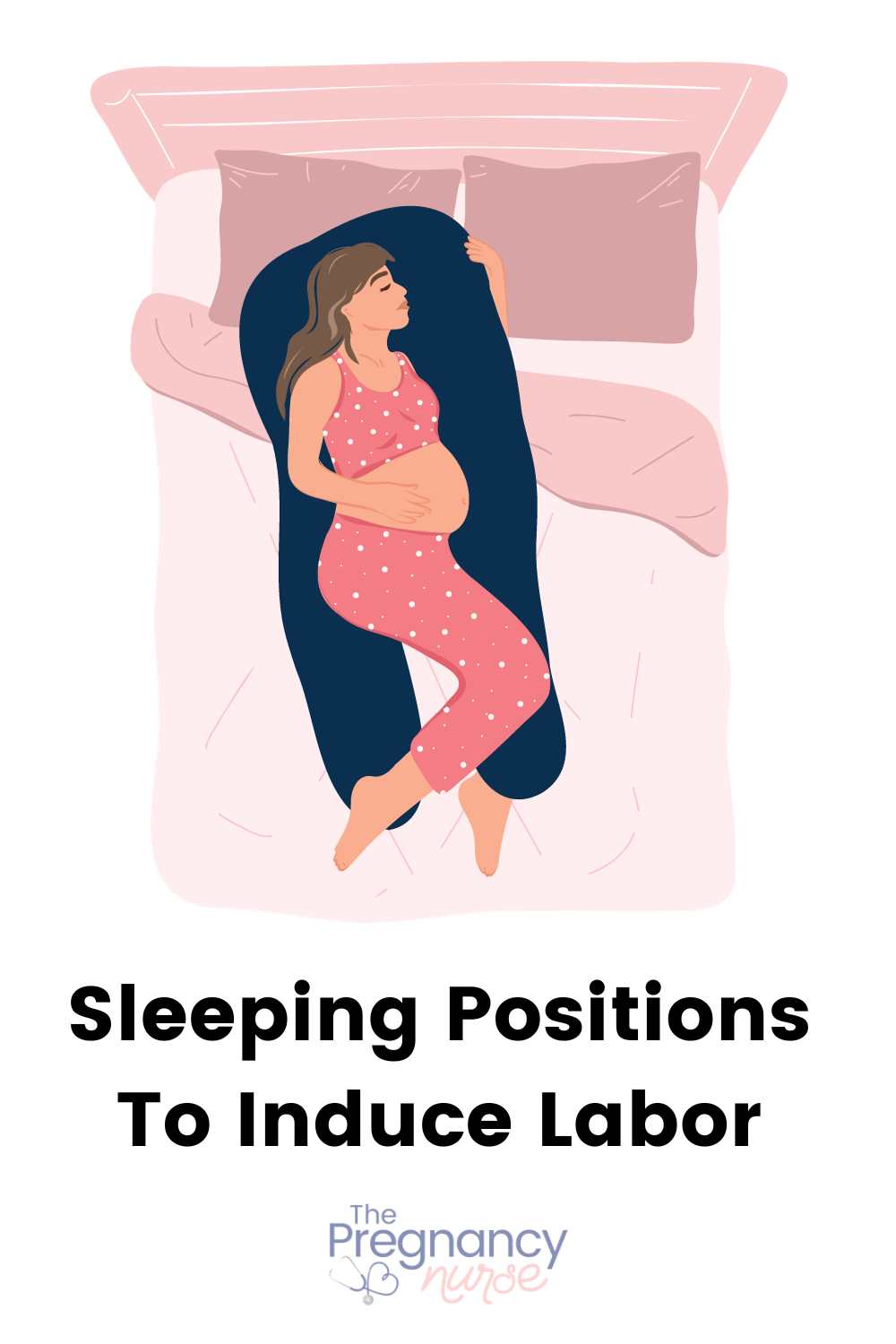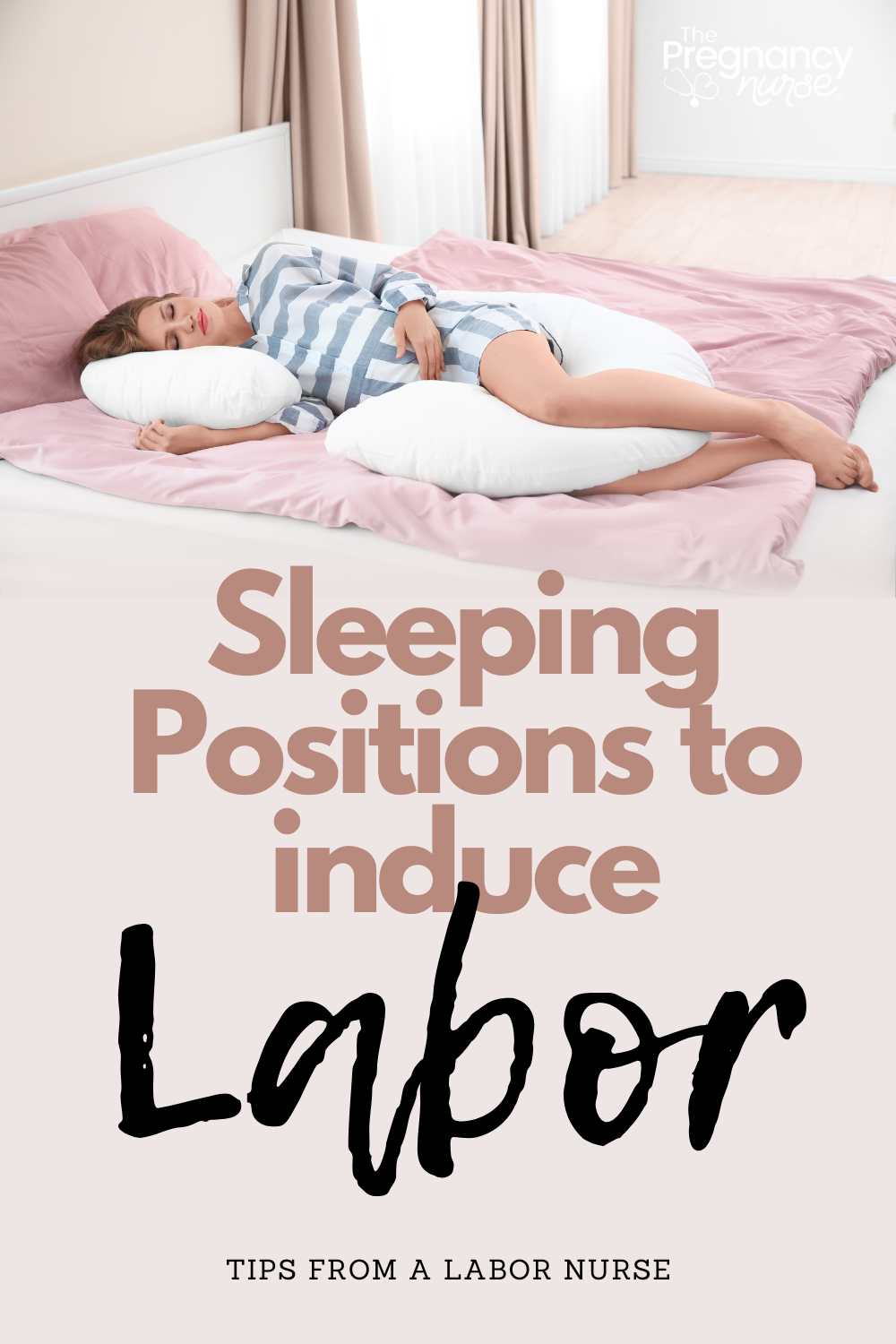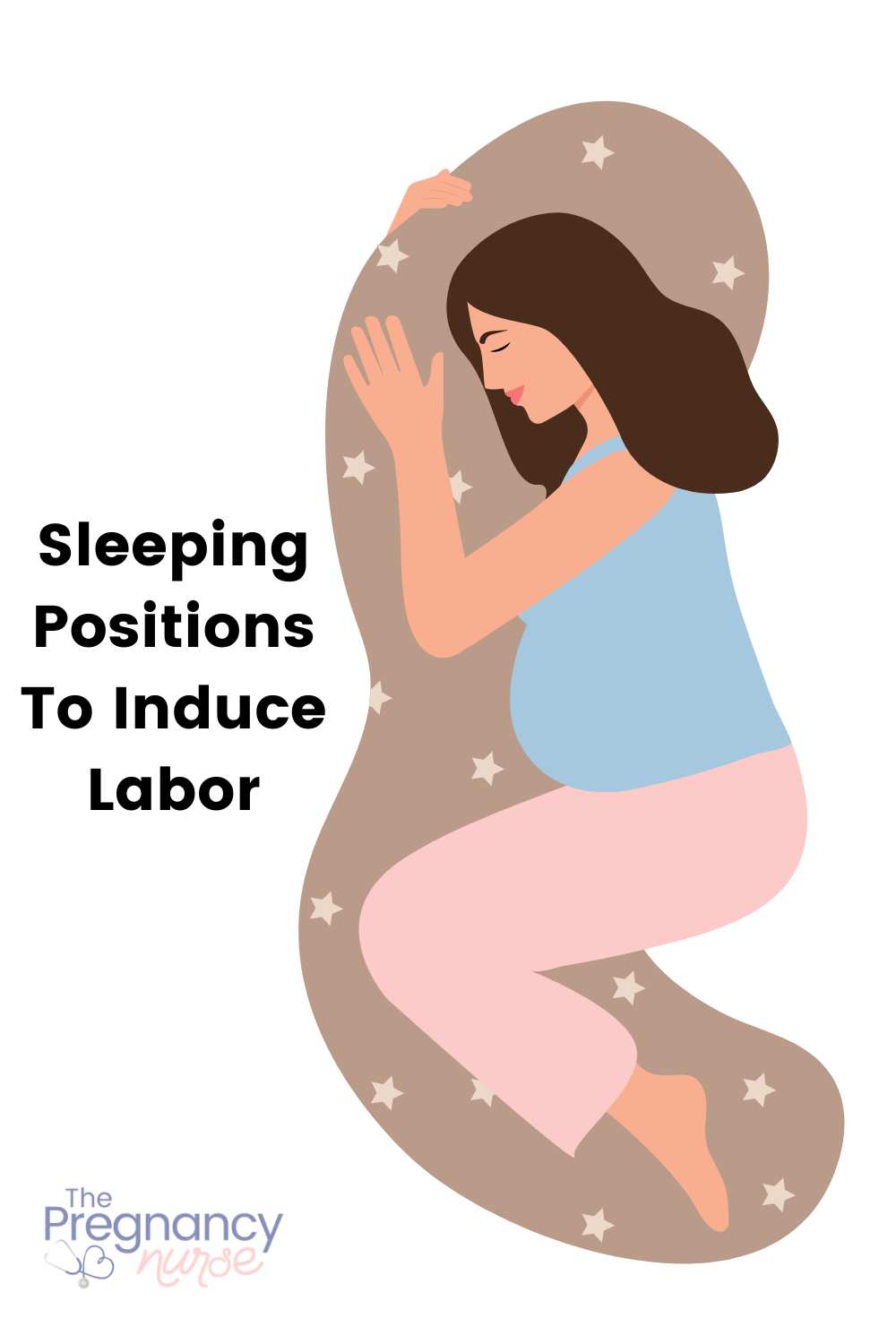 Is there a certain way to lay during sleep to induce labor? There are things you can do help baby find their best position in your pelvis, but will it make you go into labor?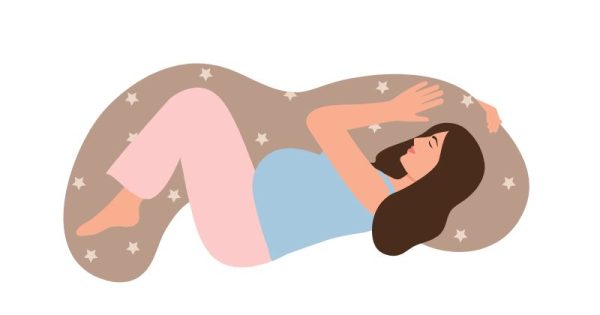 Hi, I'm Hilary — The Pregnancy Nurse. I've been a nurse since 1997 and I have 20 years of bedside labor and delivery experience. I've spent a LOT of time positioning patients and I am excited to share with you guys the best ways to position your body to go into labor.
Before we get going, be sure to grab my labor signs checklist so you know when labor is coming on:
How should I sleep to induce labor?
While there aren't particularly ways to sleep that will start contractions, there is a way that can help relax your hips and may help baby turn into a good position for delivery. It is called Sims position — usually termed left sims or right sims.
In this position you lay on your side, almost onto your belly and then pull one leg up and put it on a stack of pillows. Your underlying shoulder can be directly under you, or your can pull it back to stretch-out your chest and/or back a bit. Try to get as comfortable as you can in this position.
You can do it either on your left or on your right side. It looks similar to this: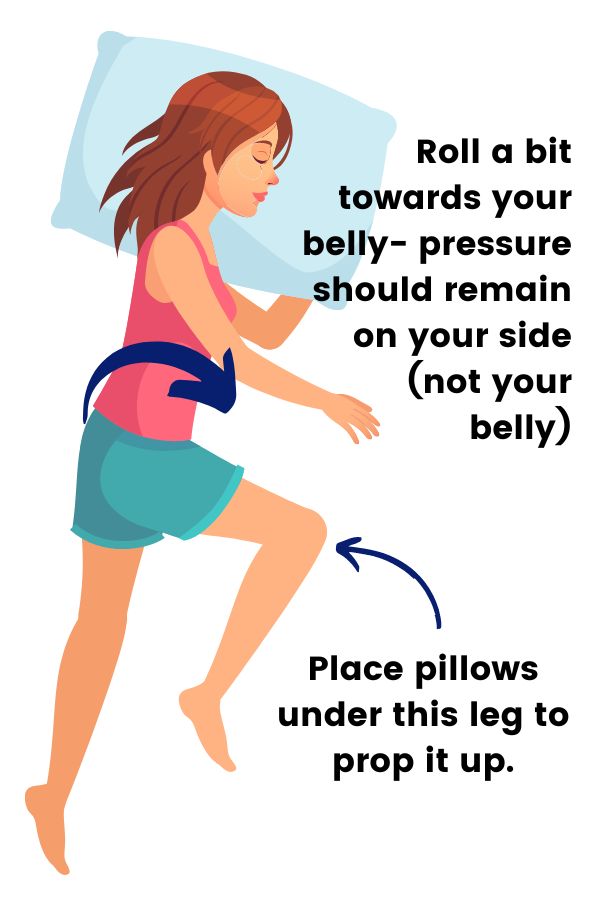 We often use this position in labor to help baby turn in labor. Patients love what it does for their hips and it often helps baby turn, and possibly let labor progress more quickly. Many patients love this position throughout their third trimester
Remember: You aren't laying directly on your belly, just on your side tilted a bit towards your belly, but pressure should be on your side, not on your belly. If you have any questions in how to get into Sim's position, do ask your provider to help you.
If you're reading this article you understand how important positioning and movement is to labor — and I have labor movement cards in here that can help so much!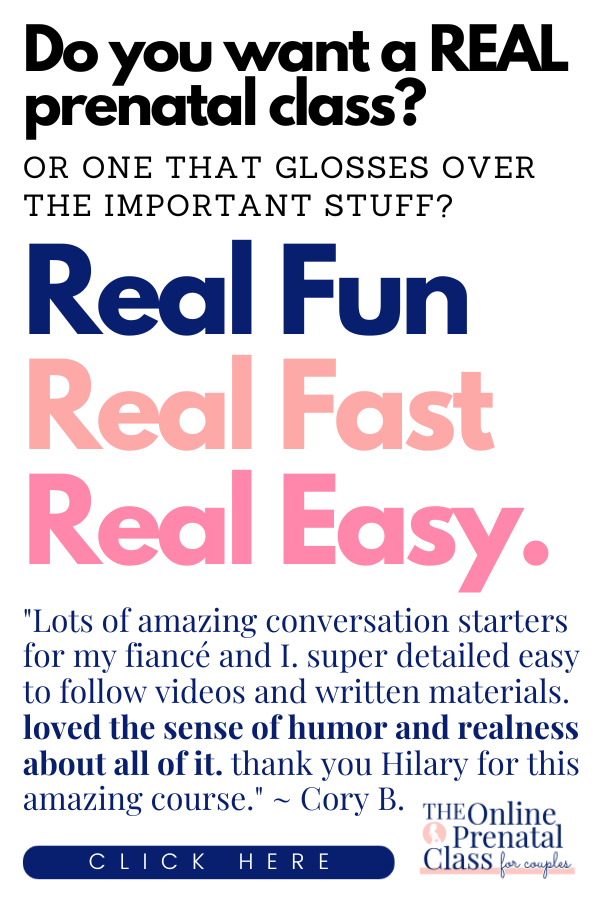 What sleeping positions help you dilate?
The main thing that helps with cervical dilation is contractions, and baby's head pushing further into your pelvis — placing pressure on the cervix to open it up.
How can I dilate my cervix faster in bed?
As I mentioned above you want to engage the baby into your pelvis as well as you can.
Some people believe that penetrative sex can help you dilate, although studies seem mixed on it. The most valid information is about having sex multiple times may decrease your need for an induction, but just once hasn't been studied.
And while we're here, don't forget to get your hospital bag packed so you're ready when dilation really happens:
What positions help you go into labor faster?
The main things that can help you go into labor faster:
Feel more comfortable with the idea of going into labor — getting prepared can help that.
The baby is ready — you can't control this aspect, and normally takes 40'ish weeks for this to happen.
Your uterus and cervix is ripe and ready for labor — most often that just takes time.
In order to let oxytocin flow, the more comfortable you are the better it flows. Remember oxytocin is the love hormone, so being in a happy place will help that. I have a whole post on ways to let oxytocin flow.
Does lying down slow dilation?
You can go into labor while you are sleeping. Some people may feel contractions slow or stop when they lay down, but most often those are "true labor" contractions.
Those contractions may pick-up at any point. Sleep is important for you to have the energy to have your baby!
Can you start to dilate overnight?
Yes! Often people will dilate as they relax and get some good rest. Sleeping in positions that help open your hips can aid in that in some cases.
I have a whole post on if more people go into labor at night.
Quick question — are you SCARED of labor? The pain, the hospital, the unknown? Did you know THAT might be keeping you from going into labor? I always say stop being scared and get prepared — and it really can HELP your brain, body and uterus decide now is the time!
What else can I do to go into labor?
Remember, you shouldn't be considering inducing your labor prior to 37 weeks. Please do talk with your doctor about the ways you want to use to possibly go into labor as you get closer to your due date so they can tell you the risks and the benefits for yourself.
I have a whole pamphlet called "Going Into Labor Made Easy" where I share my best tips on going into labor, but I'll share a few of my favorite ways to help induce labor here:
Curb walking before bed – This is just like it sounds. One foot is up on the curb, and one is in the gutter area, and you walk. The action of adjusting your pelvis as you walk can help to open your pelvis in a way that helps baby descend.
Nipple Stimulation is shown to start contractions. However, it doesn't always kick you into labor on your own — meaning baby may not be dilating your cervix — you're just having unprofitable uterine contractions.
Rotate on a birthing ball — Sitting on a birthing ball (or exercise ball) during your last trimester may feel good. Often it can help you stretch your hips and back vs your regular seated position. Just move your pelvic region in circles or figure eights on top of the yoga ball.
Ask your doctor or midwife to strip your membranes — This is where they stick their finger between the cervix and the bag of waters and "ring" around it. It's believed to both irritate the uterus into contracting and possibly stirring up some hormones in that area.
Whatever you're doing, make sure that you are still doing your kick counts! it's so important. This sends you the exact instructions to make sure you're doing them right:
Things I don't recommend to go into labor:
In general most of my patients have regretted using castor oil because of how sick it makes their stomach.
People haven't found that spicy food or eggplant parmesan can put you into labor.
Bouncing on an exercise ball will just make your ligaments hurt, doesn't really do much to help baby to move into your pelvis. I do have a post on how to use a yoga ball though.
Remember: Being in pain and being in labor are two different things. Often people seem to mix those up. Pain alone will not help progress the baby's head towards the birth canal.
Best Birthing Positions
While positions to "go into labor" are different than when you're actually in labor I am a HUGE fan of movement during labor. In fact, when you aren't asleep I encourage you to change positions every 30 minutes so baby can find their best way out.
It can be daunting to have to remember all the things about pregnancy and labor. Are you just feeling nervous and not quite prepared (or not even CLOSE to prepared).
If you're looking for a pro to help you feel prepared come join The Online Prenatal Class for Couples where in just a few hours we can have you prepared for labor (or your money back).
In there you'll learn:
What dilation REALLY means (along with all the other important parts of baby's position in your pelvis)
When to go to the hospital for your birth
Exactly what to expect as you're admitted to the hospital and labor continues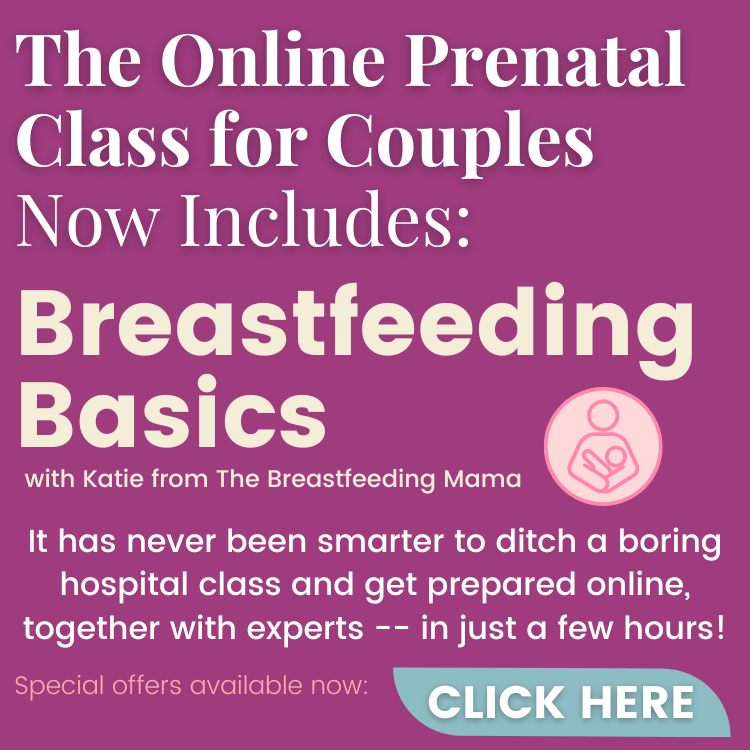 And, if you're not quite sure you're ready for that whole thing, check out my free prenatal class. It's your first step toward getting in the driver's seat of your birth.
About the Author
Latest Posts

A nurse since 1997, she has worked in various fields including pediatrics, geriatrics & hospice. She has 20 years of labor and delivery experience in the San Jose, CA and Phoenix, AZ areas.
As an evidence-based prenatal educator Hilary has delivered thousands of babies and has educated hundreds of thousands of parents from a diverse patient population to help them have a confident birth.