Yes, Hilary is a nurse since 1997 and has 20 years of labor and delivery experience (read more about her experience here).
But, that is most certainly not the start The Pregnancy Nurse's story. It started a long time ago…. in a valley near the mountains….
I was a junior in high school dreaming about what I should major in. College was becoming a harsh reality, as it does for a lot of Juniors in high school. I was in a physiology class and just LOVED it. I loved how the body worked and how that translated into who we are. Nursing just made sense. It would work with motherhood, it would bring in some cash if we needed it…. it was the career for me.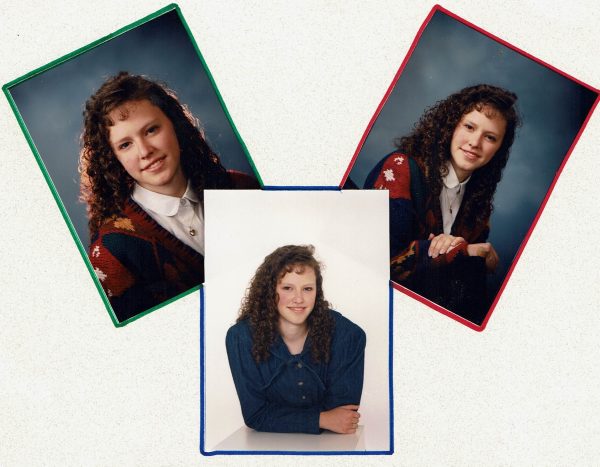 Fast forward to college where it was one of the most difficult majors to get into. Teachers hated my writing. It was too casual and not technical enough. I asked them if I was there to educate patients, why did my patient summaries need to be so technical????…. Obviously, because I was in a highly rigorous nursing school I needed to be technical. Frankly, it didn't seem that obvious, or helpful to to me as a nurse, but I digress…. I graduated with a bachelor's of science in nursing from Brigham Young University in 1998. After my licensing exam, I became Hilary Erickson, BSN-RN.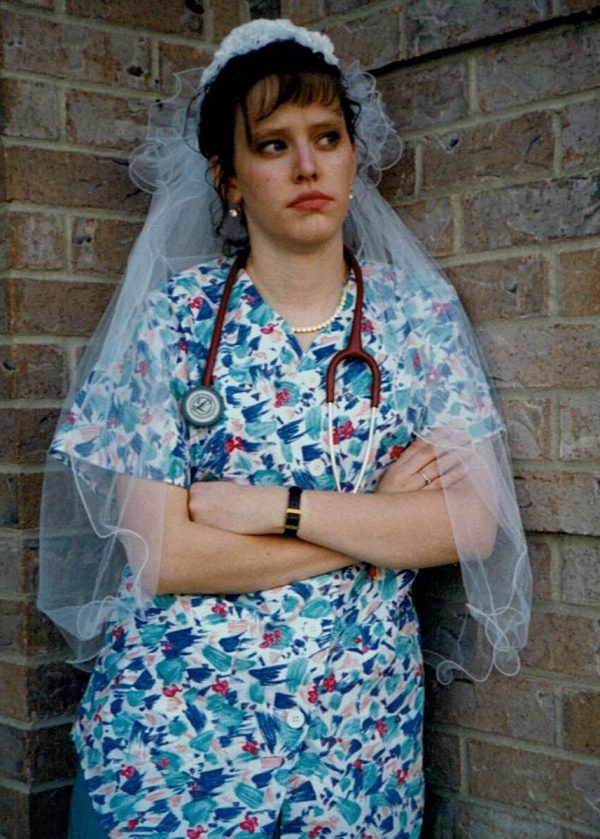 My first nursing job was at a pediatrician's office where I learned the hard path of new moms. I constantly fielded questions about new babies from nervous moms who I understood to be very overwhelmed. I picked up a second job at a nursing home. I learned all about weird diseases and what people could do to fix them. I got a great overview of the lifespan of the human from birth until death.
When my nursing home paycheck started bouncing (seriously – that is a true story) I moved to hospice for about a year, which also coincided with the birth of my first child. I enjoyed hospice, and I really loved the families I worked with. I also did rounds where I changed men's catheters once a month. Really, I'm serious. So, when I say I know about catheters of all types, I mean it. 🙂
In 2001 our family made the choice to move to the Bay Area of California, and I was hired into the labor and delivery unit of a trauma center in the middle of downtown San Jose. This is where I got my teeth in L&D with a VERY varied patient population. Many of them were young girls who were confused and nervous. We'd also got a few silicon valley workers who were older, but also quite nervous.
I later picked up a second job at another hospital a bit closer to me. They were great jobs with great staff and a LOT of experience with the many different issues of pregnancy (including helping a lot in the diabetic clinic).
After 10 years in the bay area our family re-located to Phoenix, Arizona in 2011. I was hired into a unit in Scottsdale and worked there for about ten years. Once again with a varied patient population that I really enjoyed.
In all of this time I saw that education about our bodies and how they work to have a baby was sorely lacking. And I saw patients who struggled to communicate about their care with their providers. The problem is, as a nurse, you only help one or two patients each day — and I knew that SO much more needed to be done.
I did teach prenatal classes for my hospital in around 2014'ish. I loved it so much, and my students adored my classes. BUT 6 pm on Tuesdays is probably the worst time of day for a working mom to put in a few hours of her time, so I had to quit that job. Just one of the hard choices a mom has to make sometimes.
Simultaneously to all of this nursing stuff — in 2005 I started the blog Pulling Curls. For the first 10 years or so it was about my family and what was going on with us since we lived so far from "home" but in 2014 with the help of Pinterest I really started getting a lot of traffic. I wrote a few articles about pregnancy that were wildly successful. I continued to right about my best tips for pregnancy on that site.
In 2016 I knew it was time to take that knowledge, combined with my skill for teaching prenatal classes and teach them online. The Online Prenatal Class for Couples was born. One of the first hospital-based prenatal classes available online. It was for the mom who planned on a hospital delivery and was wanting to know more about what to expect, what would be offered and what could happen. At the time, the idea of online classes to prepare for birth was a bit crazy. But I knew it would come into vogue. 😉
In 2017 I started a new Facebook page The Pregnancy Nurse®, so I could split off my pregnancy information and give people JUST what they wanted. In 2019 an Instagram page of the same name followed, and in 2020 I created the The Pregnancy Nurse website. And yes, it's trademarked, the whole deal. I really want people to understand life from bump to bassinet so they are a whole lot more prepared than I was.
And in between all of that — I became the mom to three great kids. My oldest was born in 2000 and my uterus concluded it's gestational duties in 2009 with my last one. I have two boys and a girl. The boys have majored in computer science (at the time of writing this one has graduated and the other one is in college) and my girl is the star of the jr high musical, won the district spelling be and student council president type of girl. 🙂 I adore each one in their own special ways. That guy in the center of this photo is my husband Drew. He teaches music at the local community college and also produces my podcast.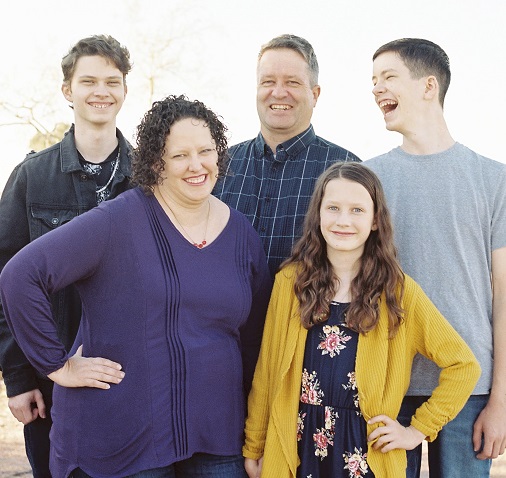 In addition to pregnancy I still love to cook, organize, plan trips (especially to Disneyland) and enjoy time with family and friends that having this weird business allows me to. While nursing has always been my career path of choice, I've always LOVED writing (and hope to someday write for TV medical dramas to make them just a tad more realistic).
Pulling Curls is still my main "brand" and I also have a podcast that I think you'll really enjoy. I do pregnancy-specific episodes every couple of weeks, but all the topics are relevant to families.
I would love it if you would tag along for your pregnancy journey. With the hundreds of articles I have, and tons of Tiktok, Youtube and other videos — I can give you information tailored just to where you are in your pregnancy that you'll find very helpful.
So, welcome to The Pregnancy Nurse where we prepare you from Bump to Bassinet. We'll give you the confidence in the labor room to ask questions, get what you need and to love your birth. So glad you're here!