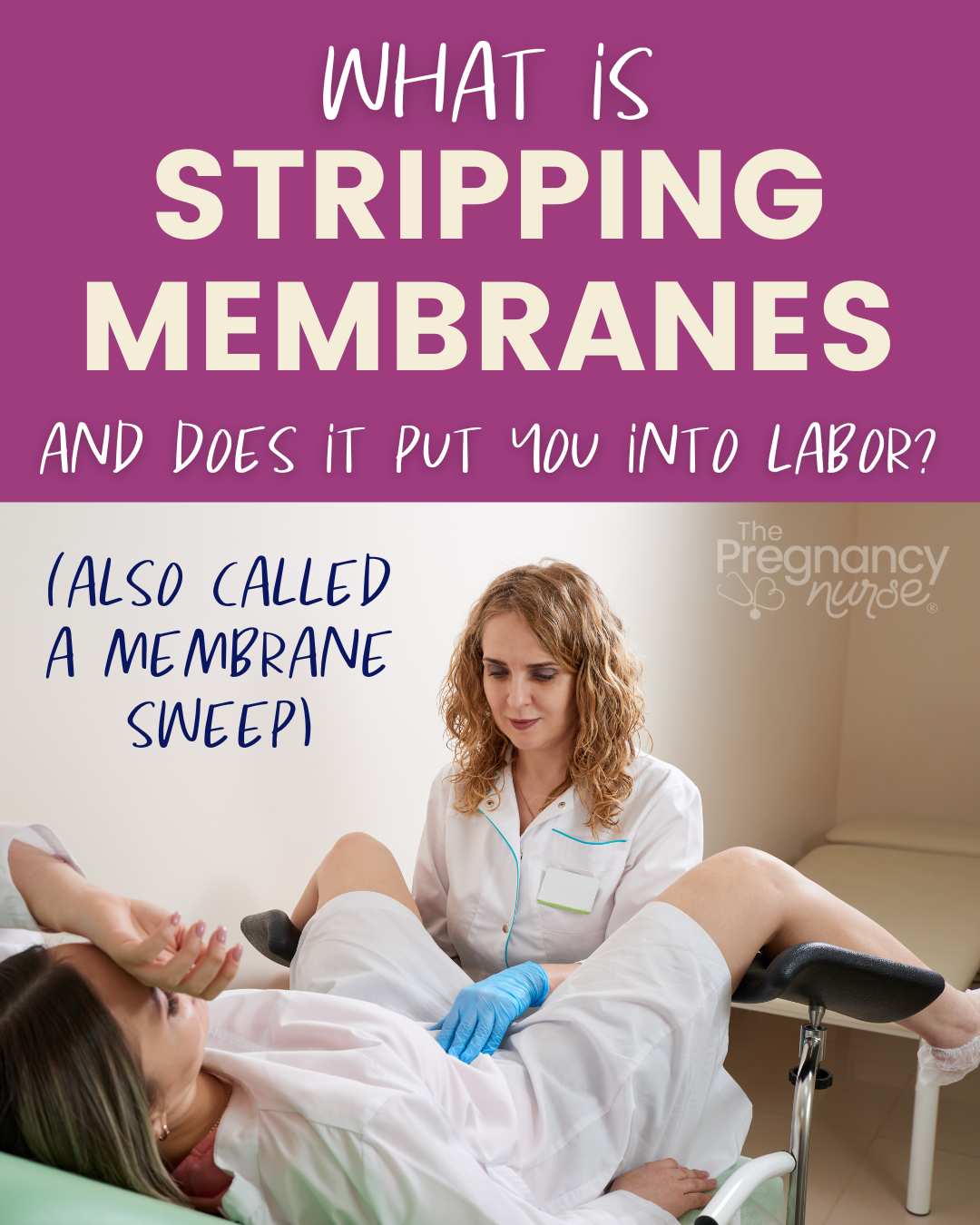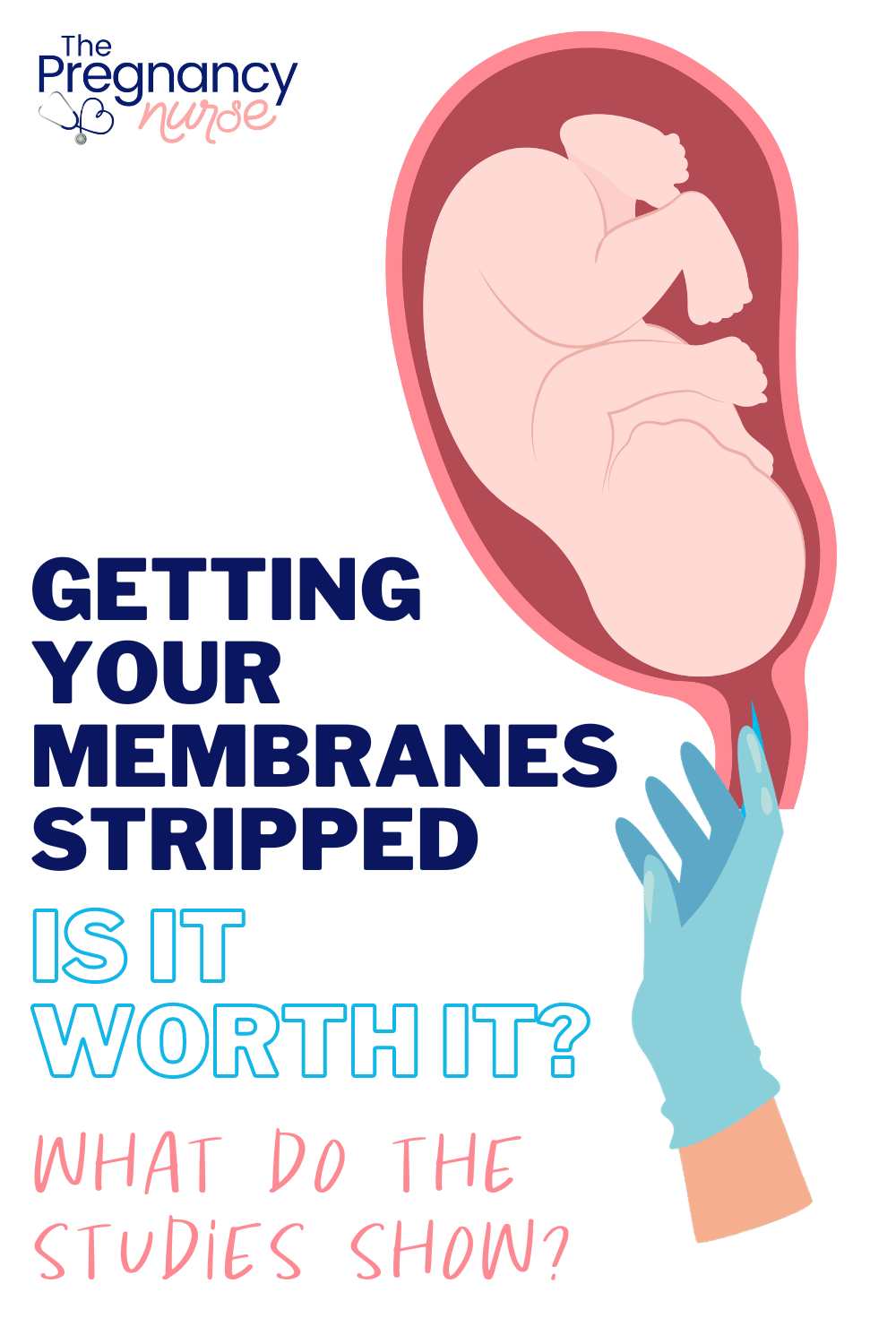 You're tired of being pregnant and you've heard of a magical cure called a membrane sweep (or stripping membranes) which can be done by your provider in their office. What you should you EXPECT in a membrane sweep and what do the studies show — WILL it put you into labor more than say, eating spicy food?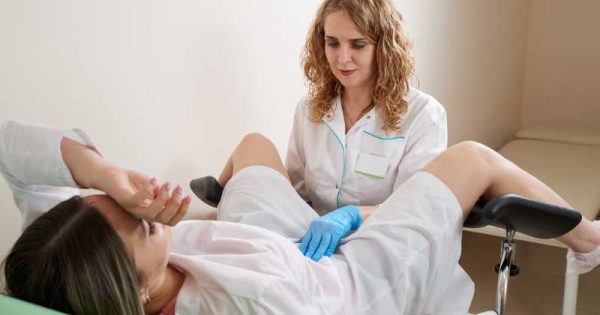 But first, how do I know so much about membrane sweeps?
Hi — I'm Hilary — The Pregnancy Nurse 👩‍⚕️. I have been a nurse since 1997 and I have 20 years of OB nursing experience, I am also the curly head behind Pulling Curls and The Online Prenatal Class for Couples. 🩺​ I have seen thousands of patients after a membrane sweep, as well as having my own membranes stripped several times — so I think I'm an authority on this one. I'm glad you're here.
If you're planning on going into labor, be sure to grab my signs of labor checklist (because it's not JUST contractions):
What is a Membrane Sweep?
It's where your provider takes their (gloved) finger and places it between your cervix and the bag of water (the amniotic membrane) and rings around it.
Imagine you had an O-ring in an valve and you needed to separate it from it — you'd put your finger between the O-ring and the other end to separate the two.
The idea with membrane stripping is that it irritates the uterus a bit (remember the cervix is just the end of the uterus) and also sweeps up some hormones that might help get meaningful contractions going. Also, that manual action may help the cervix start to open up a bit as it is stretched as they put their finger in there. Sort of similar to how they use a foley bulb in an induction.
How painful is stripping membranes?
This varies in person to person. I have had it done several times. Personally, I'd put it around a 5 on the pain scale as far as I remember. I think most people report it hurts worse on their first baby, and less on subsequent babies.
It would be the pain of a regular vaginal exam, PLUS the stretching of your cervix and their manual manipulation in there.
Most often the entire process is done in less than a minute though, maybe 90 seconds if they are very thorough.
The thing is that you don't want them to be gentle about it per se. Obviously they don't need to provide needless harm but in order for the membrane sweep to actually work they do need to ring around your entire cervix to separate the two.
If you absolutely hate vaginal exams, this is just an extended and more painful vaginal exam — so you're going to have to weigh if that is worth it compared to the possible benefit of going into labor (don't worry we're going to talk about the data in a second).
Helping you weigh-out the pro's and con's of stuff during pregnancy can be hard. It can actually be quite simple though. I go through a lot of scenarios like this one in here. It can really help prepare you and know you'll make confident choices when the time comes.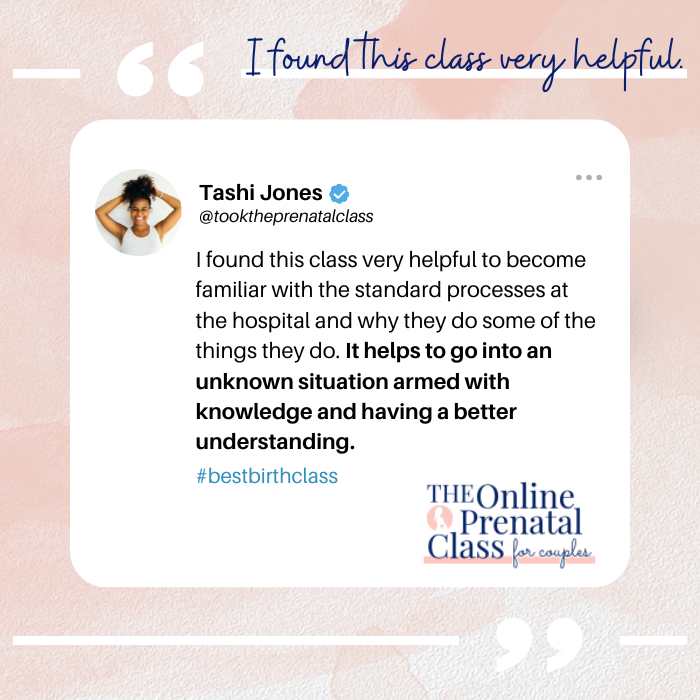 What to expect after a membrane sweep?
Many women feel some cramping when they do the membrane sweep, and that cramping may continue after the exam is done because the uterus is angry (although there can be some pain after every vaginal exam).
Some women may experience some spotting after the exam. Ask your provider what is normal and what should trigger a call to them or labor and delivery.
After a membrane sweep I would recommend:
Wear a pad because you may have some discharge/bleeding.
Doing some walking, or using a yoga ball to see if that can help keep things going (bonus points for curb walking)
Get something to eat that you just love. It will be good if you go into labor, and being comfortable and happy can help the oxytocin flow.
Make sure you're well-hydrated to prevent false labor
I'd also be watching out for ALL those signs of labor (not just contractions):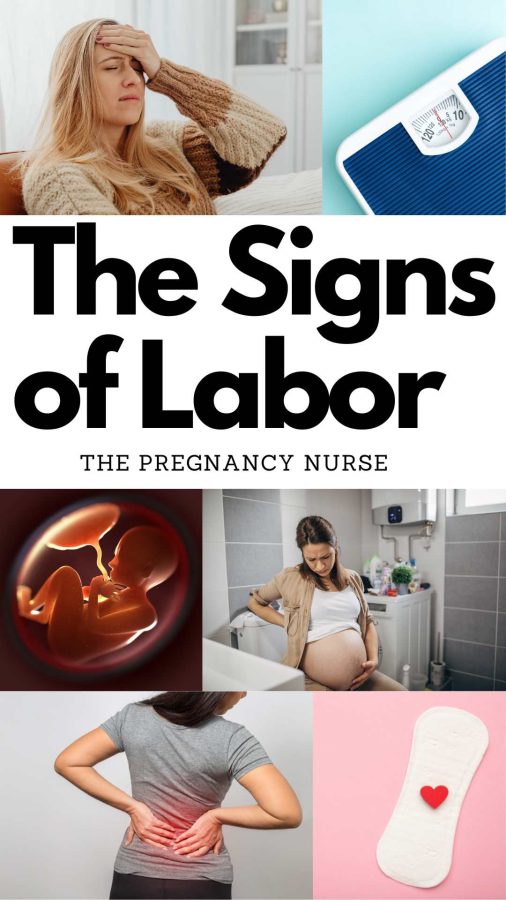 Risks of a Membrane Sweep
You'll want to ask your provider about the risks in YOUR case. Early on in pregnancy if they were to do this it could put you into preterm labor (which is why they don't do it until close to your due date — normally not til' 39 weeks).
There is a chance of them breaking your water (this does happen but it's pretty rare), and as always putting your hands into a body part can increase infection, although this would be extremely rare as the vagina is NOT a sterile environment, providers take care to not introduce bacteria into the area and it is only done when the amniotic sac is intact. It may be something to consider more if you are GBS positive.
Once the amniotic sac is ruptured there is a higher chance of infection with vaginal/cervical exams.
Understanding risks vs benefits is so important in pregnancy/labor. EVERYTHING has risks, so learning to balance what's best for you vs something that could wait is SO important. We talk a lot about that (and understanding how your doctor portrays them) in here.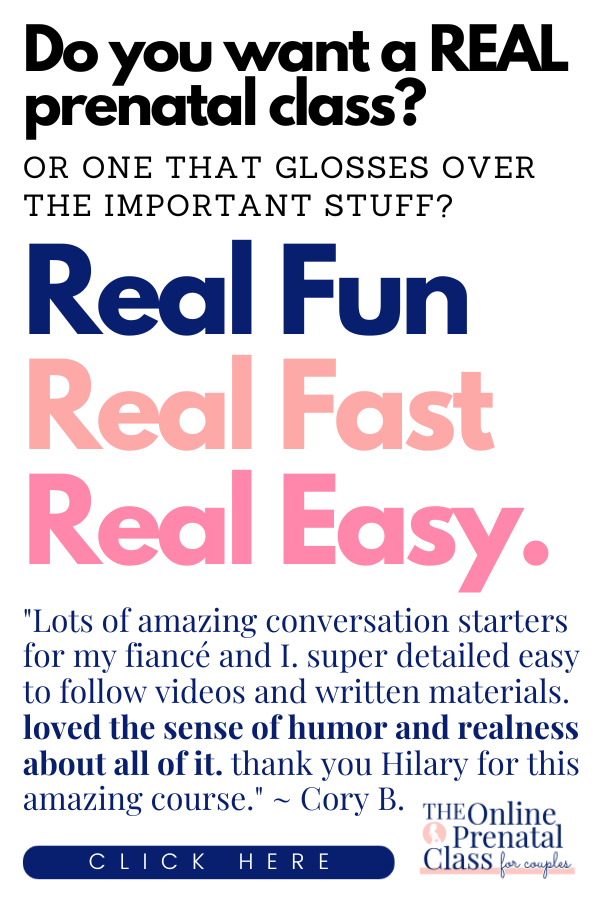 How likely is stripping membranes to induce labor?
This is the big question, right? Because there's just no way you'd ask to have this done unless it was going to DO something, right?
For this, we need to turn to studies. This Cochrane analysis of several studies did show that there is some correlation of stripping membranes putting you into labor, and less need for an induction (however the certainty was low between all the studies they looked at). It does NOT decrease needs for a c-section though.
So, there is maybe SOME likelihood to induce labor, but not certain. Definitely not a "sure thing." Unlike an actual induction of labor.
Before we keep going I want to also make sure you're doing your KICK counts — they are EXTRA important the later you get in your pregnancy — so grab my cheat sheet on how to do them here:
How long after stripping the membranes does labor start?
There wasn't any mention of length of time in the studies I looked at. Everyone online seems to say within 48 hours (no real research behind that, but I'd concur in my experience). Really, if it doesn't happen during that timeframe it likely isn't working. However, just being close to your due date may put you into labor as well.
For instance, a lot of people think eggplant parmesan will put you into labor, but the story goes that it is because a restaurant offered free eggplant parmesan to women who were close to their due date — and WOW a lot of those ladies ended-up having their baby in the next week.
So, was it the eggplant parmesan, or was it the fact that most people have their babies at around 40 weeks? In the study I cited above though, they did compare it with doing nothing, and more people DID go into spontaneous labor (but not a whole lot more).
How dilated do you need to be for a membrane sweep?
Your cervix can't be closed, but as long as your provider can get a finger in (usually about 1 cm) they can often do a membrane sweep. Keep in mind the more closed your cervix is, the more painful it could be.
Remember you can ALWAYS refuse a cervical exam and a membrane sweep. Just make sure you understand why you're refusing them and what else you need to be watching for.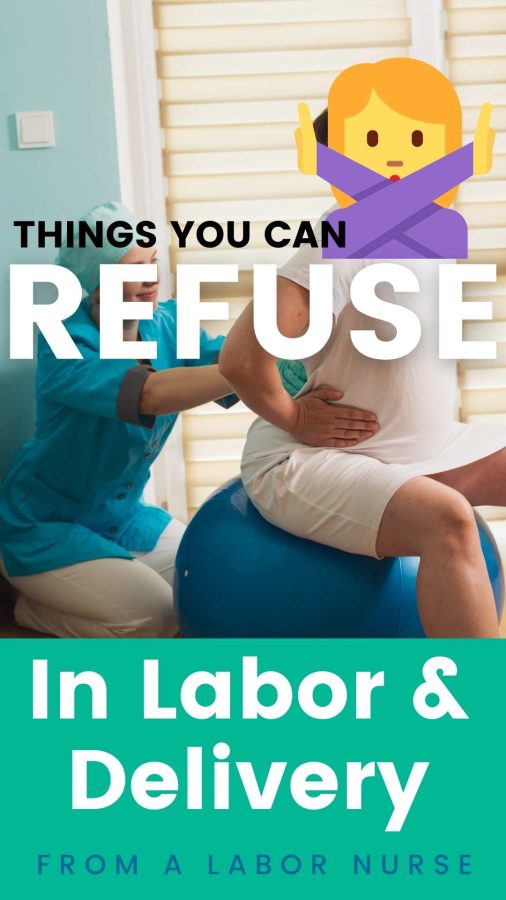 When Will Your Provider Offer a Membrane Sweep?
Some providers may not offer them at all (as the evidence does seem to be light). However, you can always ask your provider at how many weeks they will do them. Often they will be more likely to do it as you head into 41 weeks or 42 weeks of pregnancy and would like to avoid a formal induction. However, they may offer them around 39 weeks, and possibly earlier if you have a medical reason for a labor induction. Either way, you can ALWAYS ask. That way they can tell you why or why not they'd recommend it in your case.
Some providers do it to "prep" your body for an induction method by using this method.
Can stripping membranes take the place of an induction?
The studies seem to show that sometimes it can. But, unlike giving prostaglandins in the hospital (like cytotec or misoprostil) stripping membranes is not a sure way to start contractions. It is more just a "try" to start labor.
Honestly, it seems to have similar effects to eating dates in my research.
How often can you get your membranes swept?
That analysis did show one study that compared stripping membranes twice a week to just once a week and didn't show a difference in spontaneous labor with a higher frequency of membrane sweeping — once a week should be plenty!
So, should you get your membranes swept?
First off, the data — this is a direct quote from the meta-analysis:
Three studies, providing data for 675 women, reported that women indicated favourably on their experience of membrane sweeping with one study reporting that 88% (n = 312) of women questioned in the postnatal period would choose membrane sweeping in the next pregnancy.

Finucane EM, Murphy DJ, Biesty LM, Gyte GM, Cotter AM, Ryan EM, Boulvain M, Devane D. Membrane sweeping for induction of labour. Cochrane Database Syst Rev. 2020 Feb 27;2(2):CD000451. doi: 10.1002/14651858.CD000451.pub3. PMID: 32103497; PMCID: PMC7044809.
Read the full study here
So, most women felt like it was OK and they were glad they did it. They'd do it again with their next pregnancy. They seemed to only really looked at women's thoughts on the procedure in one of the studies though.
So there you go, that's stripping membranes. Remember, when you go into labor you need to get your mind, your body and your baby to agree to let labor start.
If you're afraid or nervous about your delivery, your brain may be holding you back. So, make SURE you start feeling more confident and prepared about labor. You can do that with The Online Prenatal Class for Couples. The extra good news is that it only takes a few hours — and we'll have both of you prepared after that!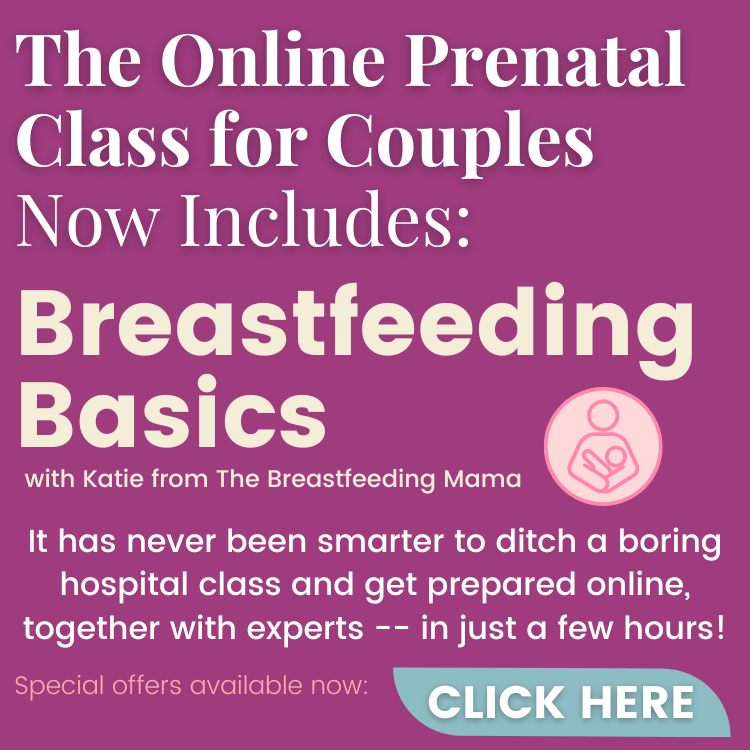 And, if you're not quite sure you're ready for that whole thing, check out my free prenatal class. It's your first step toward getting in the driver's seat of your birth.
About the Author
Latest Posts

A nurse since 1997, she has worked in various fields including pediatrics, geriatrics & hospice. She has 20 years of labor and delivery experience in the San Jose, CA and Phoenix, AZ areas.
As an evidence-based prenatal educator Hilary has delivered thousands of babies and has educated hundreds of thousands of parents from a diverse patient population to help them have a confident birth.