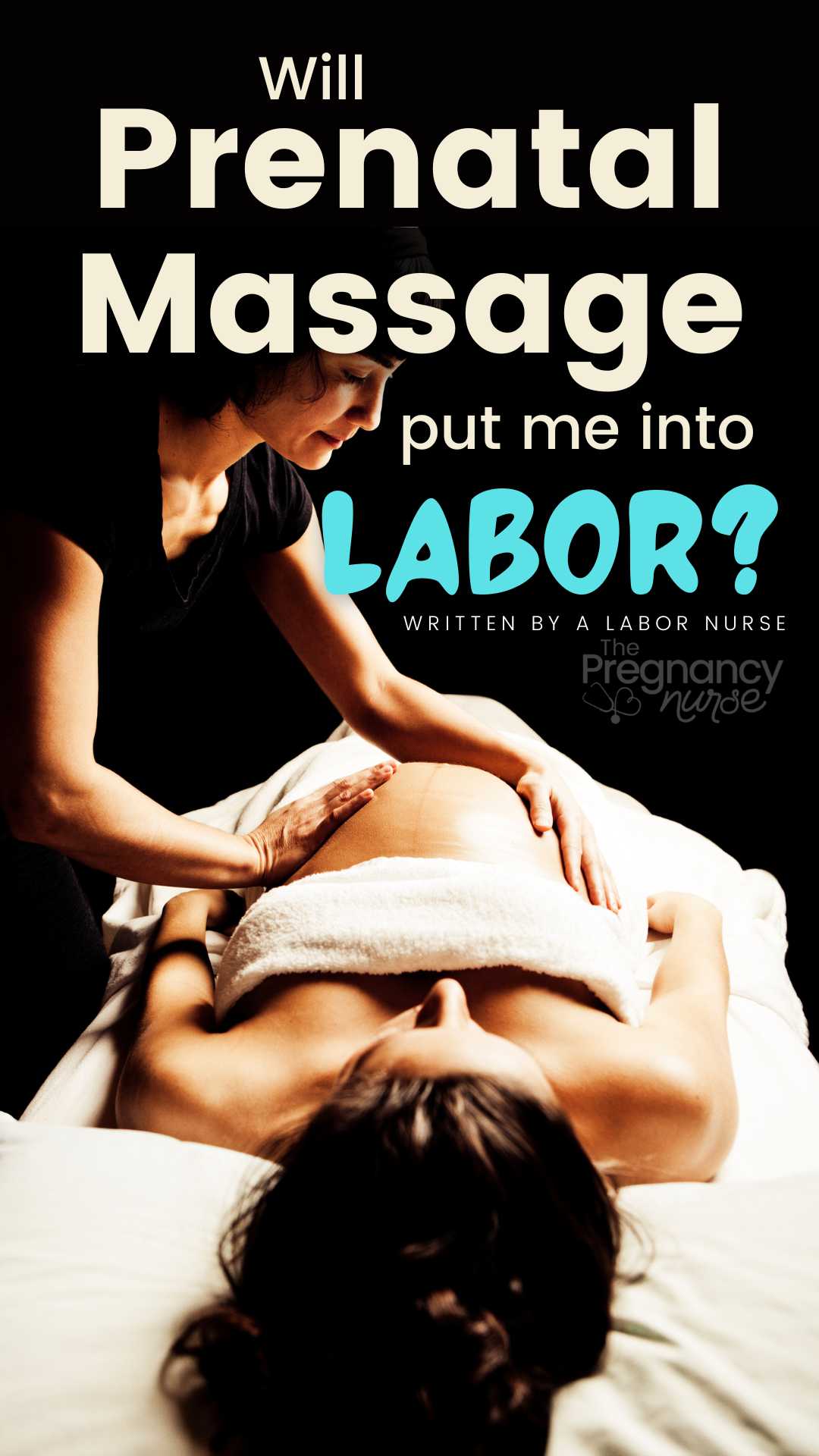 Pregnant women may be considering massage therapy for several reasons, especially as they get close to their due date. Can a massage start uterine contractions? What are the benefits of massage and can it induce labor?
Hi, I'm Hilary — The Pregnancy Nurse 👩‍⚕️. I have been a nurse since 1997 and I have 20 years of OB nursing experience, I am also the curly head behind Pulling Curls and The Online Prenatal Class for Couples. 🩺​ I have also had 3 children of my own, and know how desperate you are to feel great during pregnancy. Let's talk all about prenatal massage!
Benefits of prenatal massage
There are a lot of benefits to pregnancy massage. If you are paying for a massage — make sure you are going to a trained massage therapist.
First off, massage can increase blood flow to certain areas, which is great during pregnancy. Because the mechanics of your body have changed, it will feel SO good for things to get the rich blood flow they deserve.
While having a regular massage is likely fine, there are specific benefits to massage depending on your weeks of gestation. I would also recommend telling your licensed massage therapist if you are pregnant so they can be aware of any health concerns in relation to your massage.
I don't think it's a bad idea to look for a therapist who has additional training in the massage of pregnant women. That way they will know how to best help you and stay on the safe side as well.
Pro Tip: Communication is ALWAYS key when you're pregnant. It just helps practitioners of any sort better know how to care for you. 🙂
Massage in the First Trimester of Pregnancy
Pregnant women may really long for a massage in early pregnancy. However some professional massage places of business may ask you to not come in during early pregnancy. While massage seems to be considered fine throughout pregnancy, some practitioners may not want to work on you during those early fragile days due to a risk of miscarriage (as all pregnancies have a risk of miscarriage). I haven't seen any specific research on miscarriage and prenatal massage. Here is The American Pregnancy Association's thoughts on it.
However, many people WILL take you as a client. Depending on how you're feeling (and how big your belly is) you may want to use an abdominal insert that has a cut-out for your pregnant belly — similar to these pillows that let you sleep on your stomach.
You can definitely feel sore muscles during this time of pregnancy. Your body is already adjusting to moving organs and allowing space for the baby.
Massage in the Second Trimester
Pregnant women in the second trimester are starting to feel more joint pain, possibly water retention and may just want those feel-good hormones a massage will give them.
Prenatal massage can help with that annoying lower back pain, lessen the burden of that extra weight you're carrying — and all those other physical effects of pregnancy.
However, keep in mind your body will be the happiest during your second trimester, so you may want to consider waiting until….
Massage in the Third trimester
Pregnant women love massages during those last weeks of pregnancy. The risk of miscarriage is gone and you may be hoping it will help your body relax into labor (more on that coming).
The later stages of pregnancy often bring more stress hormones (darn those high cortisol levels), high blood pressure, sciatic nerve pain, and craving better sleep — all of which prenatal massage can sometimes help. Of course, breathing through the anxiety can help too (you'll need lots of techniques at your disposal).
Most women (including myself) find that gentle massage can really help those physical changes and the pains of pregnancy. Personally, when I had one I left having less pain, less water retention, and I felt like blood supply had returned to my whole pregnant body! The end of pregnancy is definitely the best time to get a massage (if you can't afford the time/money to get one several times during your pregnancy).
Personally, I was surprised by how much I appreciated the massage on my lower legs in those last weeks of pregnancy. Between swelling, pelvic girdle changes and the excess weight my legs took a beating, and they LOVED the massage!
Even if you don't go to a spa, some gentle massage during pregnancy by your partner can help you have positive feelings for each other.
The positive feelings you get for each other, and the massage can possibly excrete oxytocin which may help you go into labor, but the science doesn't particularly support it.
Massage in Labor
There is some anecdotal evidence that having massage can help give shorter labors — but it seems like that would mostly be helpful to have massage while you are in labor (as it would help your body relax). I definitely give partners some massage tips in my prenatal class (it's in my natural pain management bonus video).
I really think that massage can take away your thoughts from the labor pain you're experiencing. Which is a win. It can also help take away some anxiety.
If you're feeling anxiety surrounding your birth, I would recommend taking a prenatal class.
Studies have shown that taking a prenatal class reduces anxiety and can help you feel better about not only your birth experience, but talking to your provider at appointments as well. The Online Prenatal Class for Couples is taught by a labor nurse with 20 years of experience, and is designed to get you and your partner on the same page before birth (partners LOVE that class — it gets right to what they need to know!).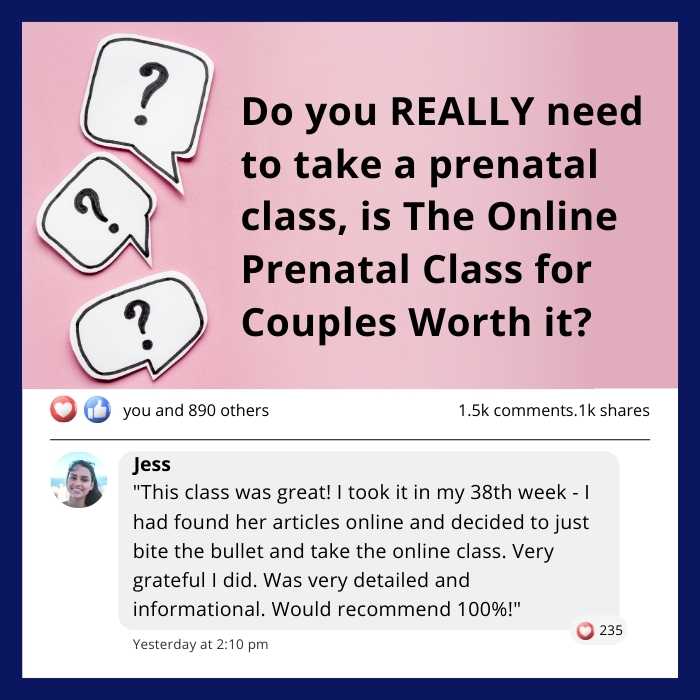 Why Massage Might Be Problematic in Pregnancy?
So, if massage is awesome, why could it be a problem during pregnancy?
Well, first ACOG recommends you get a massage on your side rather than laying like you would normally. I think they're OK as long as your provider has an insert that has a cut-out for your belly — but you shouldn't lay directly on your belly for the massage if your belly is protruding.
Your body has several acupressure points that could start labor (although evidence on that is iffy, and we'll talk more about it). Many will avoid foot massage for this reason (which is a shame because my feet were SCREAMING for massage daily during pregnancy). I found a good article that spoke to foot massage in pregnancy specifically.
Some will just avoid specific acupressure points and still massage other specific areas of the body — so check with your practitioner.
Note: Acupressure and acupuncture are similar, and the same things would be true of both (however, you'll need to be more thoughtful about your use of acupuncture and your practitioner since it does break the skin).
Keep in mind that many therapists use essential oils in your massage and some are not recommended during pregnancy (and some women are more bothered by specific smells while pregnant). So, ask them not to use anything beyond carrier oils which have proven fine.
While you might want to be induced later in pregnancy, no one wants to go into premature labor by them touching specific areas of your body or reflex points — which is why they are very cautious.
Also, if you have any symptoms of blood clots, I would probably hold off on a massage (also, be SURE to talk with your provider). You definitely don't want them to massage a blood clot loose and pregnant women are at a higher risk for blood clots during their pregnancy.
Types of massage
Prenatal massage therapists may specialize in different types of massage
First off, deep tissue massage's pressure can be tailored to you and your needs that day.
Strong pressure might be great if you're sore in deep muscles. This is great especially on your legs for pregnant women (but obviously not on their abdomen). It can really help your soft tissues release fluids and feel better.
Light pressure might be great if you're just looking to feel good and rejuvenated after your massage.
There can be other significant differences in the types of massage offered, so be sure to check what type of massage your practitioner provides.
Some options are (and could be combined with a "prenatal massage"):
Swedish
Hot stone
Aromatherapy
Deep Tissue
Shiatsu
Thai
Please note that some massage therapists are also acupressure practitioners — and you'd want to be sure that they are trained and able to help you safely with your needs based on what they do.
What Should You Do Before a Massage?
Talk with your healthcare provider to see if there is a spot they recommend, or if you have any health conditions that might make a massage problematic.
However, people experiencing a healthy pregnancy should be able to have a massage without issue. If you're having the massage laying face down, make sure that they have a cut out for your baby belly.
If you're experiencing labor pains, it is likely not the best time to have a massage, although talk with your provider (it could also help you relax, as long as your practitioner knows that you are pregnant and likely to have a baby soon).
What about Postpartum Massage?
This can be a good idea for women who have recently had a baby. Many people prefer to go after their bleeding has tapered off. You may have some excess fluids that would be helped with a massage and I imagine it would feel GREAT for overwhelmed and stressed out tissues to have a massage.
Again, check with your provider to make sure it is OK for you.
Can Prenatal Massage Induce Labor?
There is limited research on prenatal massage and if it allows for shorter labors. And there isn't really any scientific research about if prenatal massage can induce labor.
A pregnant woman may have heard that ankle massage (specifically the inner ankle bone by the Achilles tendon) or pressure on specific points may induce (or stimulate) labor. BTW, check out this post on ankle pain in pregnancy if that's an issue.
While there isn't too much research into prenatal massage. There is a belief that it does help labor outcomes as women are more able to relax during uterine contractions. I would think that it could help with low back pain for sure (I talk about using massage with your partner in my prenatal class).
There are lots of common myths about how pregnant clients can induce labor, including castor oil (sometimes called Midwives Brew), acupuncture, and use of a breast pump, but until your body is ready it will likely not do much (and castor oil can have some serious consequences). However, none of those things should be tried at all until you are past 37 weeks gestation to make sure your baby is fully developed before labor.
Use of alternative medicine should be done carefully and with the advice of your doctor or midwife during your entire pregnancy, but especially as you get to the end of your pregnancy.
Some providers do offer induction massages — although I don't see a lot. Induction massage focuses likely on your feet and ankle region. Hopefully expectant moms also get a full body massage that helps them relax and feel great too!
Massage in pregnancy can be a great tool for pregnant moms. If you plan to go to a spa, make sure that the providers have been to massage school and are licensed. Or, have your partner just rub what feels good.
If you're looking to feel more relaxed and calm during your pregnancy, be sure to take a prenatal class. Studies show it decreases anxiety throughout your pregnancy. This one can be done in just three hours, and it's guaranteed to get you more prepared.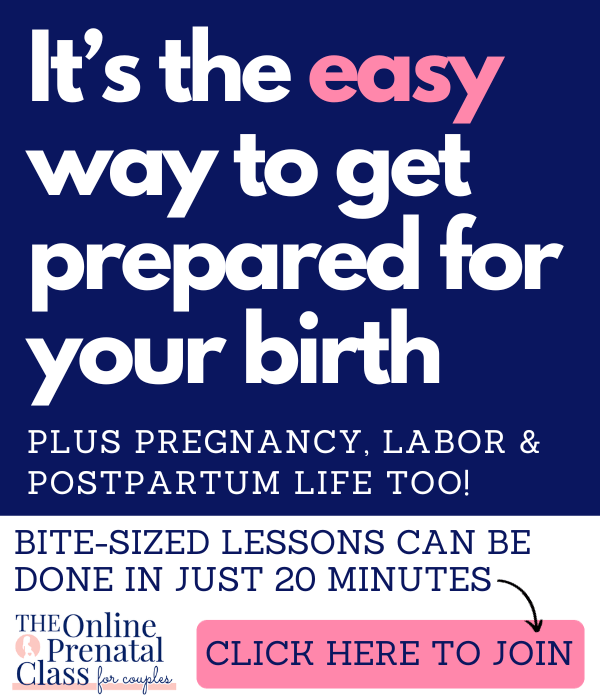 Or, if you're not quite ready for the whole class, check out my free beginning prenatal class.
About the Author
Latest Posts

A nurse since 1997, she has worked in various fields including pediatrics, geriatrics & hospice. She has 20 years of labor and delivery experience in the San Jose, CA and Phoenix, AZ areas.
As an evidence-based prenatal educator Hilary has delivered thousands of babies and has educated hundreds of thousands of parents from a diverse patient population to help them have a confident birth.