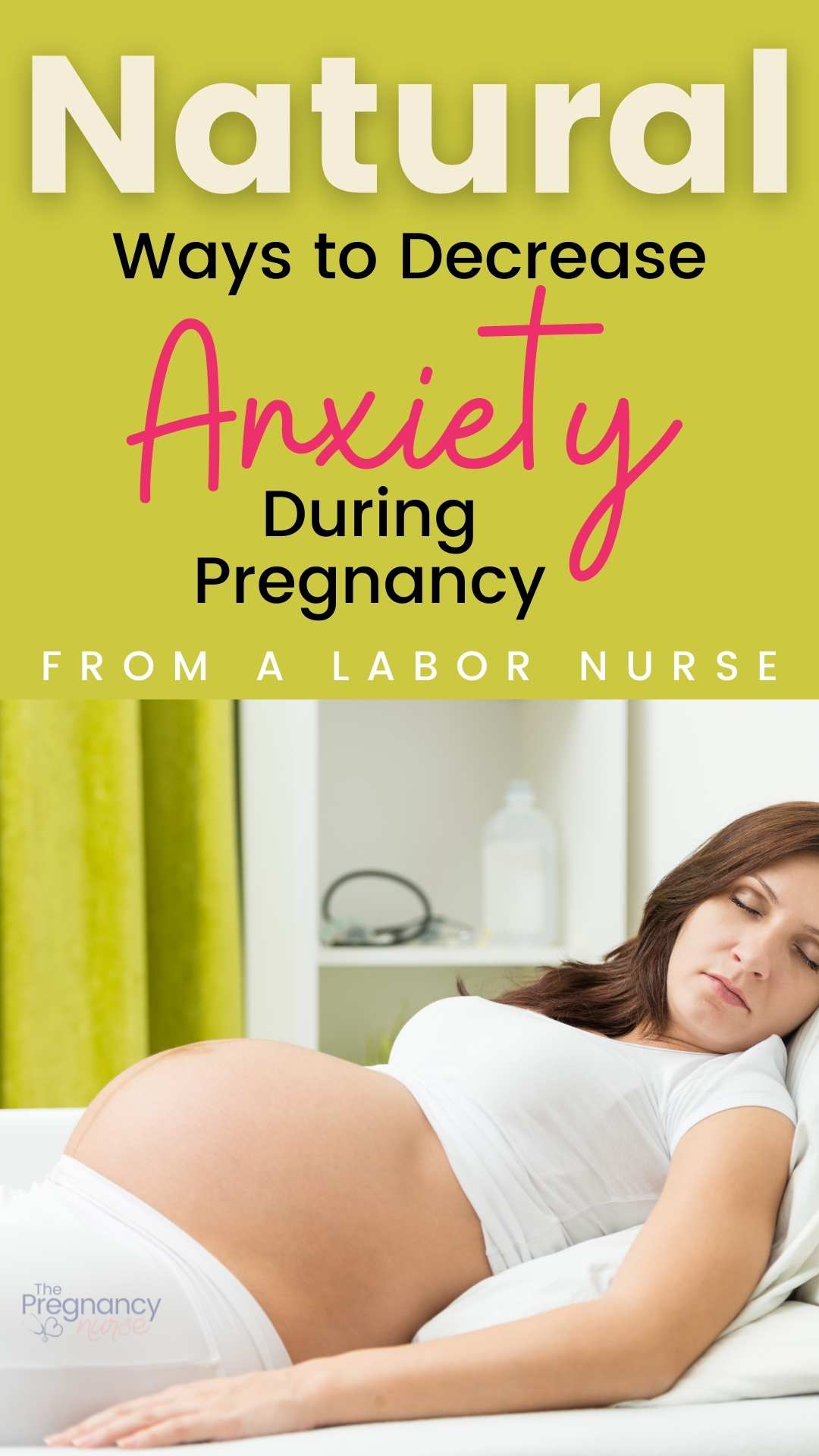 Are you struggling with anxiety during your pregnancy? If so, you're not alone. Many pregnant women experience anxiety in some form or another. Fortunately, there are many natural remedies that can help. In this post, we'll explore some of the best remedies for anxiety during pregnancy. We'll also discuss how to find the right remedy for you. So, if you're looking for relief from your anxiety symptoms, keep reading!
But first, how do I know all of this? Hi — I'm Hilary — The Pregnancy Nurse 👩‍⚕️. I have been a nurse since 1997 and I have 20 years of OB nursing experience, I am also the curly head behind Pulling Curls and The Online Prenatal Class for Couples. 🩺​ I have seen first how how important it is do develop coping skills during pregnancy for the things you may experience both during pregnancy & birth. I have some good ideas I have seen patients use successfully.
Why Anxiety May Increase During Pregnancy
There are LOTS of reasons that anxiety may increase during pregnancy:
Financial worries about how to take care of the baby
You may have gone off anti-anxiety meds for the pregnancy
Worries about your health
Worries about your relationship with your partner
Worries about delivery
Luckily, there are a lot of natural ways to cope with these worries.
Shor term stressors are actually good for your baby (think of a surprise, or a quick hard workout) – -but long term stress is NOT good for them, and can affect both of you!
Be sure to talk to your provider if you are feeling a lot of anxiety. They will likely have some other great options you can try!
By giving yourself the tools to deal with this early on, it will help you cope with anxiety during birth as well.
Natural Remedies for Anxiety During Pregnancy
Be sure to talk with your provider about these methods and how they might work for you.
Positive Affirmations
I know it sounds crazy, but saying things like:
My delivery will be perfect
My baby is growing perfectly in my womb
My doctor and birth team have my best interests at heart
My body was literally made to create babies
Can REALLY Help. When you feel anxiety creeping up, think of a few positive affirmations you can say out loud to combat it.
Essential Oils for Pregnancy Anxiety
Essential oils are a popular natural remedy for anxiety. And there's good reason for this. Essential oils can be very effective in reducing anxiety symptoms. They work by promoting relaxation and calmness. And they can be used in a variety of ways, including inhalation, massage, and topical application.
A caveat — many oils aren't good for young children and babies to be around, so be sure to talk with your provider before using essential oils in your home.
If you're interested in using essential oils for anxiety during pregnancy, one of the most popular ones is lavender oil. It's known for its calming and relaxing properties. There is a study that shows it decreases perceived labor pain.
However, personally, I don't love the smell of lavendar. So, I would encourage you try some oils in person to see what smells you prefer. Also, during pregnancy your smell preferences may change, so be sure to like what you're diffusing. If you're not liking it, it's not doing it's job. 🙂
To use oils for anxiety, simply add a few drops to a diffuser or inhaler and breathe in the fumes. You can also add a few drops to a bath or massage it into your skin.
Personally, I love anything orange-scented and it often boosts my mood to smell that, so everyone is different.
Herbal Tea for Anxiety
Herbal tea is another great natural remedy for anxiety during pregnancy. Herbal teas contain herbs that have calming and relaxing properties. This makes them perfect for reducing anxiety symptoms.
There are many different herbal teas that can help with anxiety. Check with your provider about what is safest for you in pregnancy?
To use herbal tea for anxiety, simply brew a cup of tea and drink it when you're feeling anxious. You can also add a bit of honey to sweeten it.
But again, take note of how you're feeling. Does it relax you? You should find these things enjoyable to do — don't force it (I hate tea, so this one doesn't really work for me).
Exercise for Pregnancy Anxiety
You may not think of exercise as a natural remedy for anxiety. But it can be very effective. Exercise releases endorphins, which have mood-boosting properties. This can help to reduce anxiety and improve your overall mood.
Great exercises for pregnant women include:
Walking (bonus tips if you go outside and get some sunshine and fresh air too)
Swimming
Yoga
Yoga may be especially good — if you're enjoying it. Be sure to talk with your teacher that you are pregnant, or find prenatal yoga instruction. Some poses may need to be modified for safety.
Meditation
Meditation is a time to just clear your mind, and hopefully fill it with positive thoughts.
It also helps you become very centered on the here and now, rather than worrying about the future and the past.
I love the Meditation Minis podcast.
Find meditation that works for you. Some of it isn't effective for me — and if I'm hating it, it's not doing it's job.
Progressive Muscle Relaxation
is another great way to reduce anxiety with exercise. This involves tensing and relaxing different muscle groups in your body. Start by tensing the muscles in your toes and feet for 5 seconds. Then, relax the muscles for 30 seconds. Work your way up through the different muscle groups in your body until you reach your head.
If you're feeling your body get tense, this is quick exercise you can do to help relax.
Diet for Anxiety
What you eat can also affect your anxiety levels. Eating a healthy diet is important for maintaining a good mood. And there are certain foods that have been shown to be particularly effective in reducing anxiety.
Omega-3 fatty acids are one type of food that can be very helpful for those with anxiety. These healthy fats are found in fish, nuts, and seeds. They work by reducing inflammation throughout the body. And this can lead to a reduction in anxiety symptoms. Talk to your doctor about what vitamins may help you. Some people have also reported reduced anxiety with vitamin D as well.
Cut back on caffeine
Caffeine is a stimulant, which means it can make you feel more anxious. If you're struggling with anxiety, it's best to cut back on your caffeine intake.
This includes coffee, tea, energy drinks, and soda. You could also avoid chocolate, as it contains small amounts of caffeine.
But, be sure that you're not cutting out big amounts of enjoyment if you're cutting these foods to reduce anxiety. The idea is to make you less anxious, and happier, not just stressing out about being anxious.
Reduce your sugar intake
Sugar can cause blood sugar spikes, which can lead to feelings of anxiety. So, if you're struggling with anxiety, it's best to cut back on your sugar intake.
This includes refined sugars, like those found in candy, cookies, and cake. You should also avoid natural sugars, like those found in honey and fruit juice.
You can also be sure to combine carbohydrate intake with protein. This will temper any blood pressure spikes with the protein follow-up.
Get Good Sleep to Reduce Pregnancy Anxiety
Sleep is another important factor in reducing anxiety. When you're well-rested, you're more likely to feel calm and relaxed. But when you're tired, your anxiety levels are likely to increase.
Make sure to get 7-8 hours of sleep each night. And if you can, take a nap during the day. This can help to reduce your anxiety levels and make you feel more rested.
Pro Tip: It is VERY normal to need a nap during pregnancy. Your body has a lot of extra workload, and a nap will help rejuvenate it to make it through the day.
Eliminate Stressors
Are there certain things that are triggering your anxiety? If you can identify these triggers, you can make an effort to avoid them.
Some common triggers include work stress, relationship problems, and financial worries. If you can, try to reduce or eliminate these stressors from your life. This can help to reduce your anxiety levels.
This is a good time to ask your partner to deal with more stressful things. They may find enjoyment from helping you more.
One of the most common stressors is thinking about delivery. Which is why I recommend The Online Prenatal Class for Couples. It will help you feel confident about your delivery day in just a few hours. Leave that delivery stress behind!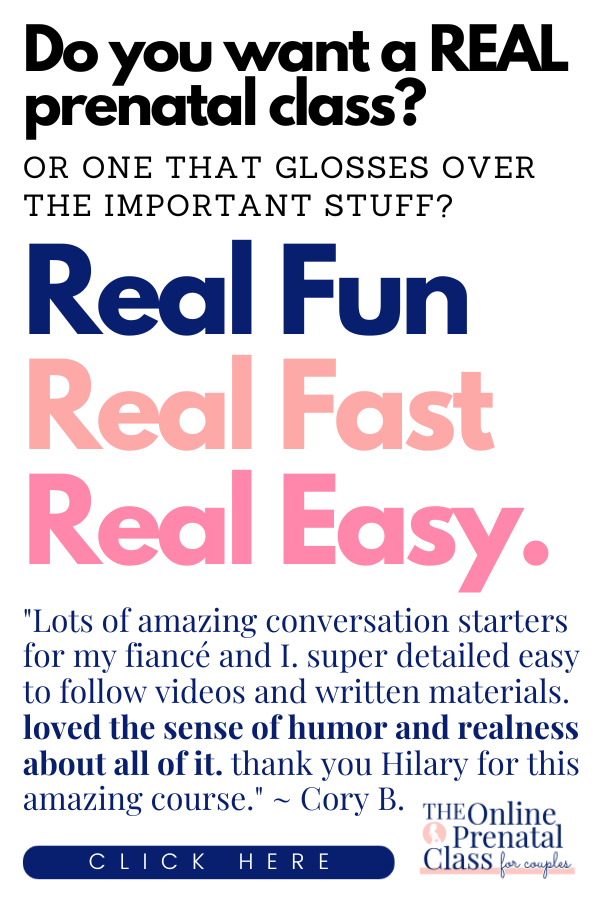 Talk to a Therapist
If you're struggling with anxiety, it may be helpful to talk to a therapist. A therapist can help you understand and manage your anxiety. They can also provide you with tools and strategies to deal with anxiety in a healthy way.
When I went to therapy, she just really helped me notice what were NORMAL thought patterns, and ones that weren't serving me and were making me more anxious.
Therapy can be very helpful for those struggling with anxiety. But it's important to find a therapist that you feel comfortable with. And you should make sure that therapy is right for you before making any commitment.
Stop Social Media
A lot of people hear stressful pregnancy and birth stories on social media.
You can either make the choice to unfollow them, or take a total social media break.
SO often, while I'm scrolling social media I know it's not helping my mindset, and yet I still keep doing it. Be strong, and make a change for yourself!
I can't tell you HOW important it is to feel ready about delivering your baby. Even if you don't know it, a lot of your anxiety may be coming from the fact that human has to find a way out of you.
Many pregnant people haven't been to the hospital before, and dread the very idea of going there. SO many couples have found The Online Prenatal Class for Couples helpful (check out the reviews here). I literally guarantee it will be helpful for you too!
Save 10% with coupon code PREGNURSE.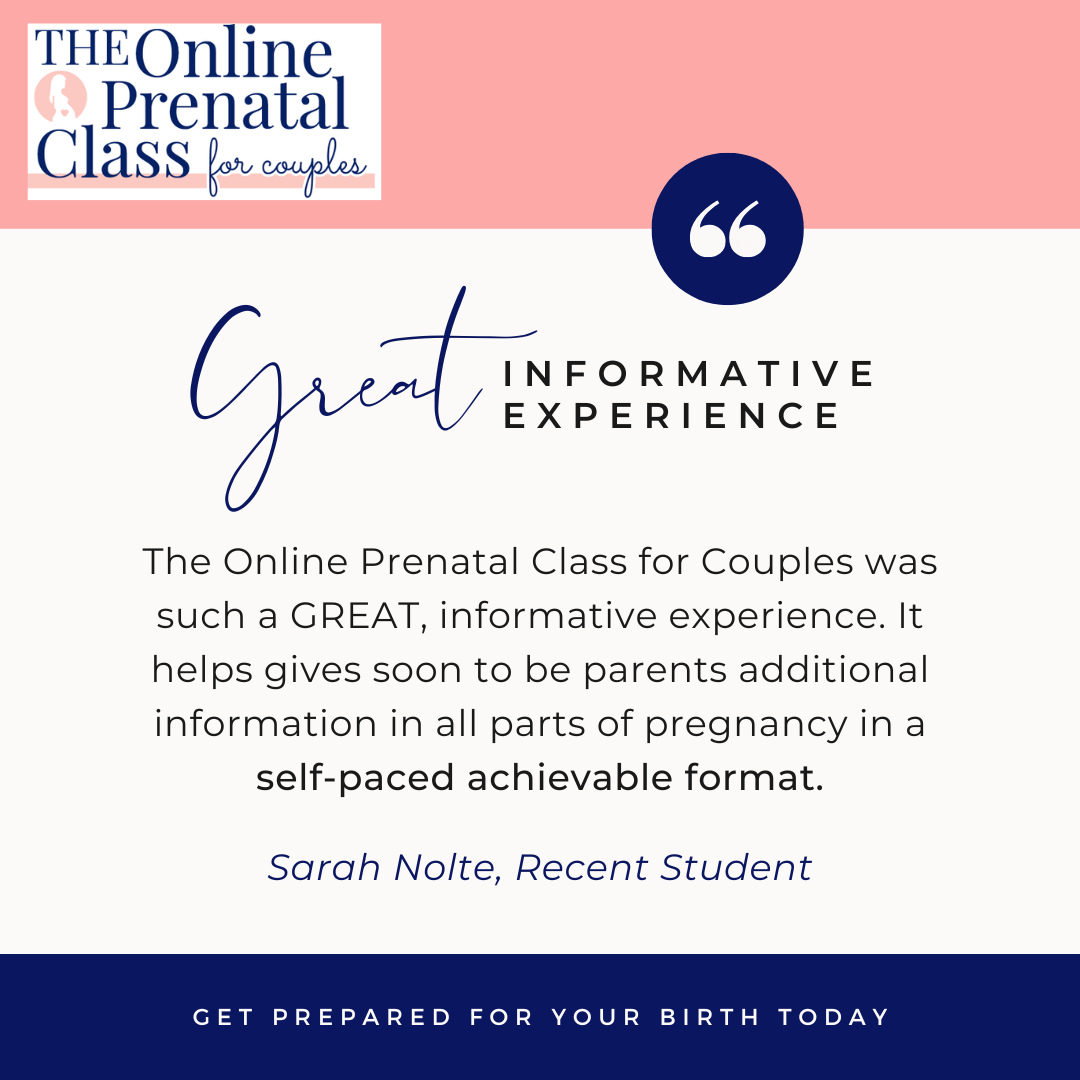 And, if you're not quite sure you're ready for that whole thing, check out my free prenatal class. It's your first step toward getting in the driver's seat of your birth.
About the Author
Latest Posts

A nurse since 1997, she has worked in various fields including pediatrics, geriatrics & hospice. She has 20 years of labor and delivery experience in the San Jose, CA and Phoenix, AZ areas.
As an evidence-based prenatal educator Hilary has delivered thousands of babies and has educated hundreds of thousands of parents from a diverse patient population to help them have a confident birth.