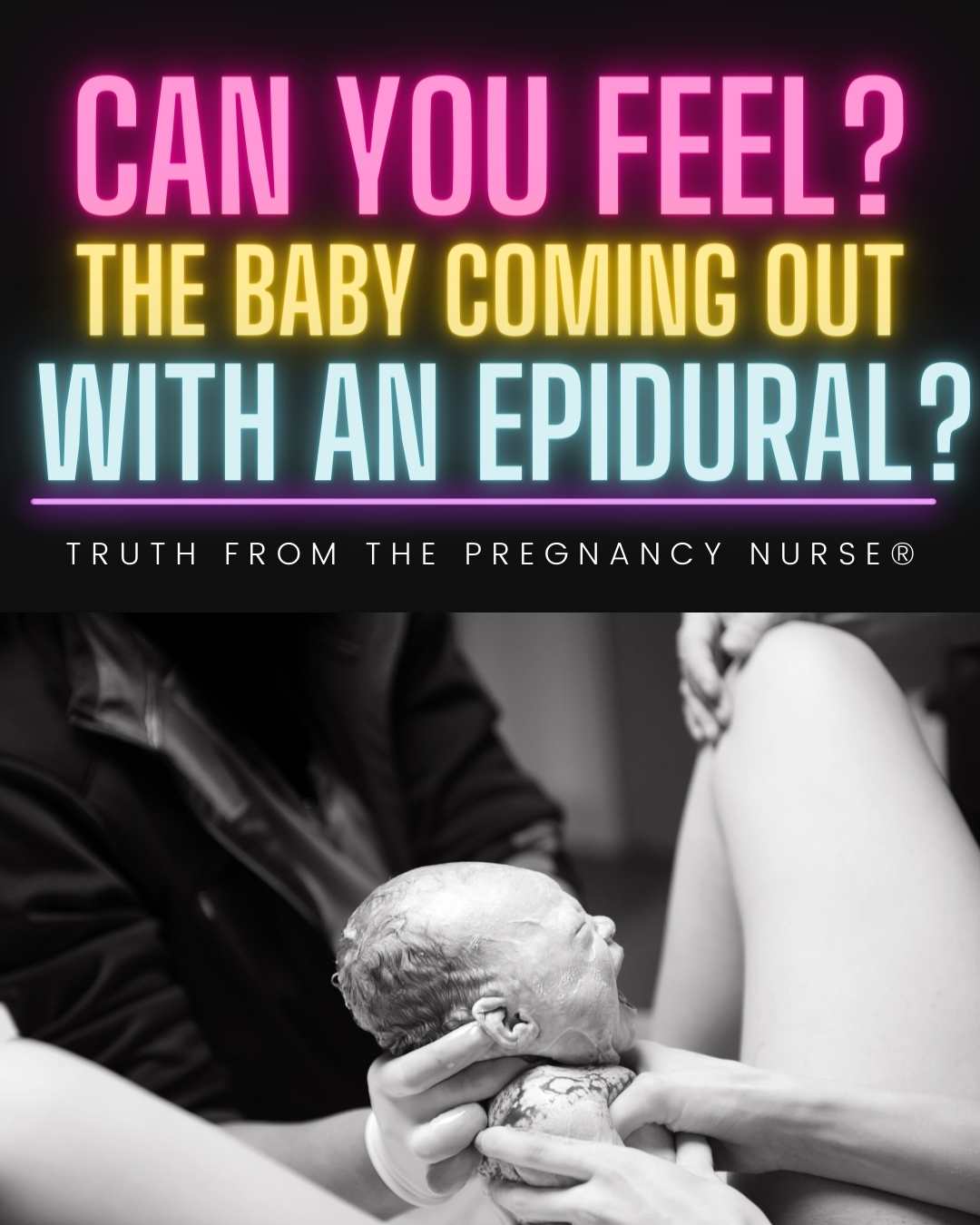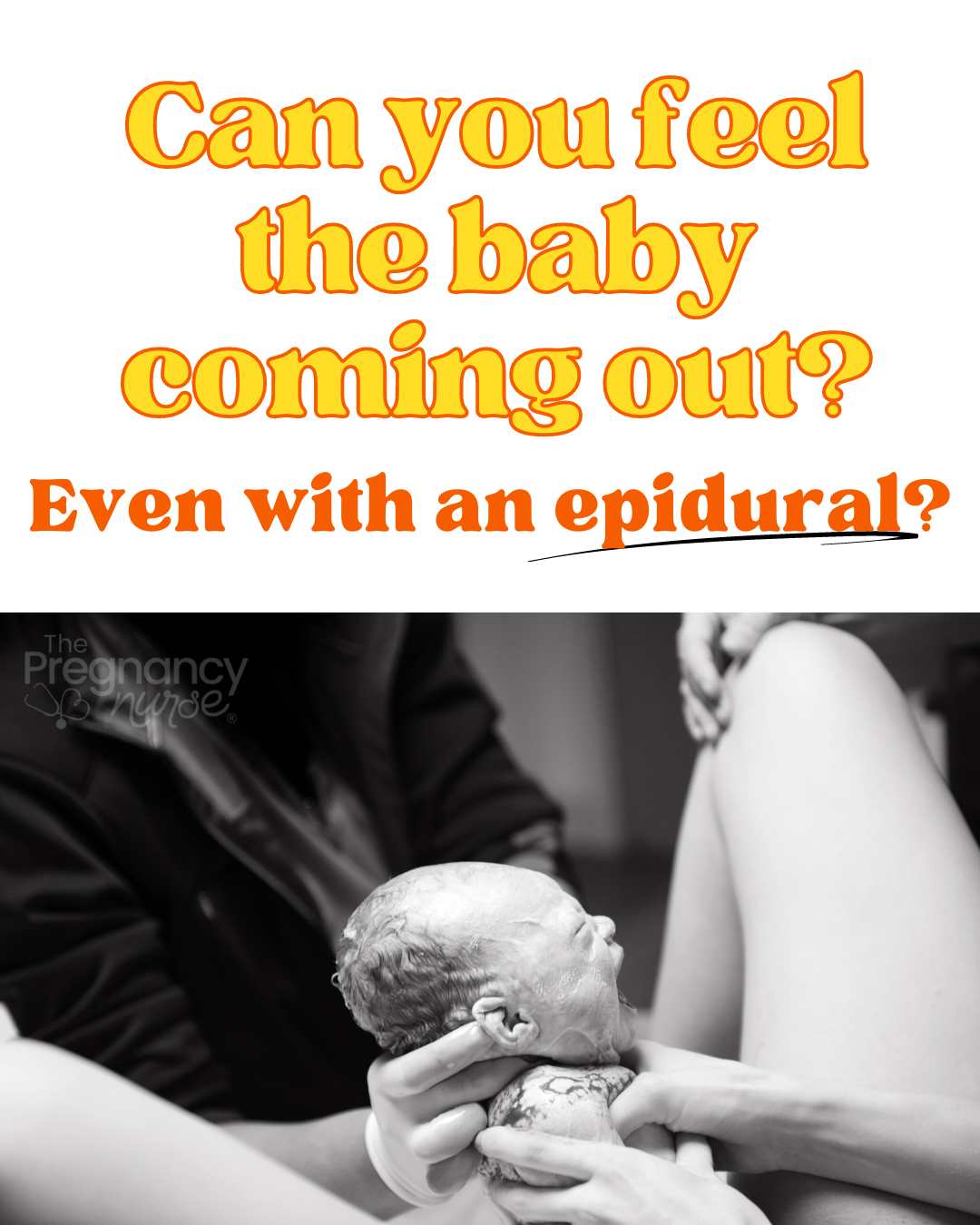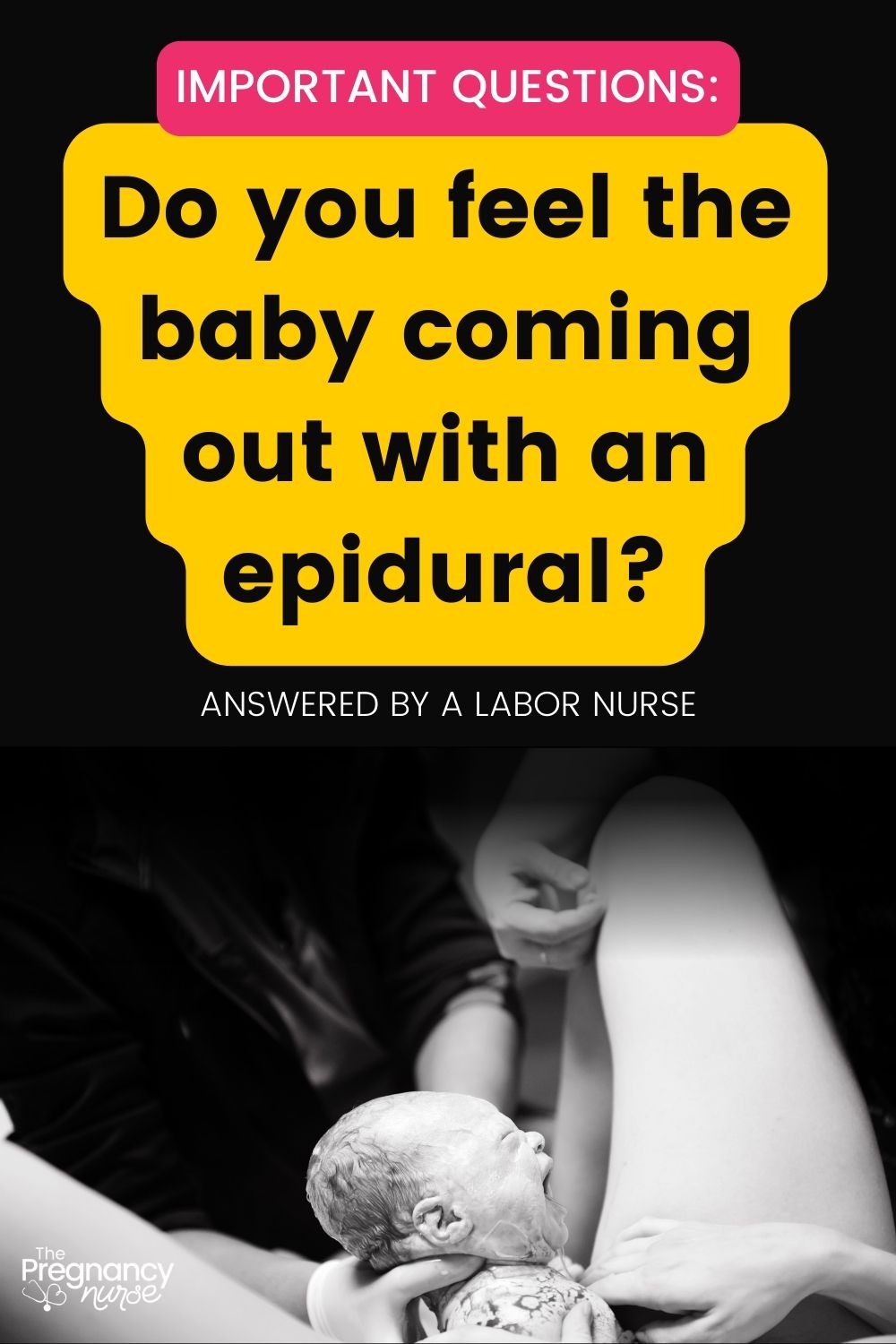 The baby coming out is normally the most painful part of the birthing process. Will you feel the baby coming out if you have an epidural? Let's find out!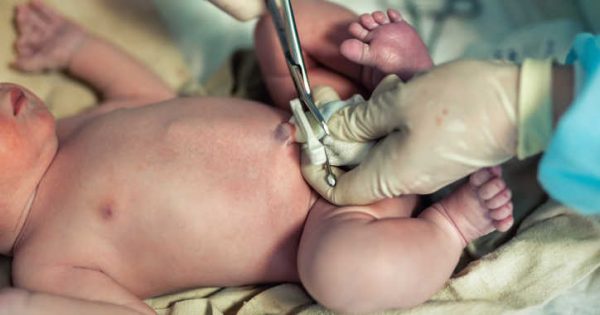 Before we get started, how do I know so much about epidurals? Hi, I'm Hilary — The Pregnancy Nurse 👩‍⚕️. I have been a nurse since 1997 and I have 20 years of OB nursing experience, I am also the curly head behind Pulling Curls and The Online Prenatal Class for Couples. 🩺​ I have helped with THOUSANDS of epidurals and I really know what patients feel as baby is coming out. I'm pretty-much an expert at it.
So, let's answer that pressing question…
Can You Feel the Baby Coming Out With the Epidural?
You may feel pressure, but most people do not feel the "ring of fire" if they have a working epidural in. While some people feel very little, a good % will feel a lot of lower pelvic pressure during delivery with an epidural.
But, it's complicated, because we have to balance you needing to feel to push vs being pain-free. Let's talk about what you may or may not feel.
But, if you have lots of epidural questions please come join me in chapter 7 in here — a whole video/chapter on your pain management options that people find SO helpful!
How much labor pain does the epidural take away?
Before we start, let's talk about what is EXPECTED from the epidural.
When anesthesiologists place the epidural, they plan for it to only take away 80% of the pain of childbirth. That way you're still able to:
Help us help you move.
Push.
Get some feedback on your labor progression.
Don't miss my podcast where I answer your most burning epidural questions:
How does the epidural work?
First, the doctor puts local anesthetic on your lower back. Then, the doctor puts pain medication in the epidural space using the epidural needle. The needle is then removed leaving behind the epidural catheter (a really small tube) that the pain medicine goes through. This helps numb the spinal nerves extending from your spinal cord.
I actually have a whole video on the epidural placement process you might enjoy:
The epidural medication doesn't get to the baby (because it only goes into your spinal column, not into your bloodstream) and it numbs the majority of your lower body (and the pain of contractions in your abdomen). It takes about 30 minutes after the epidural analgesia to take full effect.
The epidural can work for a long time, since it runs continuously via that tiny tube into your spinal fluid.
The nurse will closely monitor the mother's blood pressure and the baby's heartbeat both during placement and afterwards to make sure things are OK.
Wanting to know more about epidural placement check out that post.
One of the common side effects you might have from an epidural is a severe headache.
Most often the epidural is placed when you are in active labor (or the second stage of labor). It is better that you have full range of movement during the first stage of labor (also called the latent phase).
There are some myths that getting an epidural will decrease your chance of a vaginal birth, but many pregnant women find it very helpful, feel like it is the right decision for them, and have a very positive birth experience.
It can increase your length of labor as we are able to let you "labor down" more (instead of feeling like you have to push).
During the pushing stage, if you are too numb, we can lower the amount of epidural anesthesia given to make it easier to push.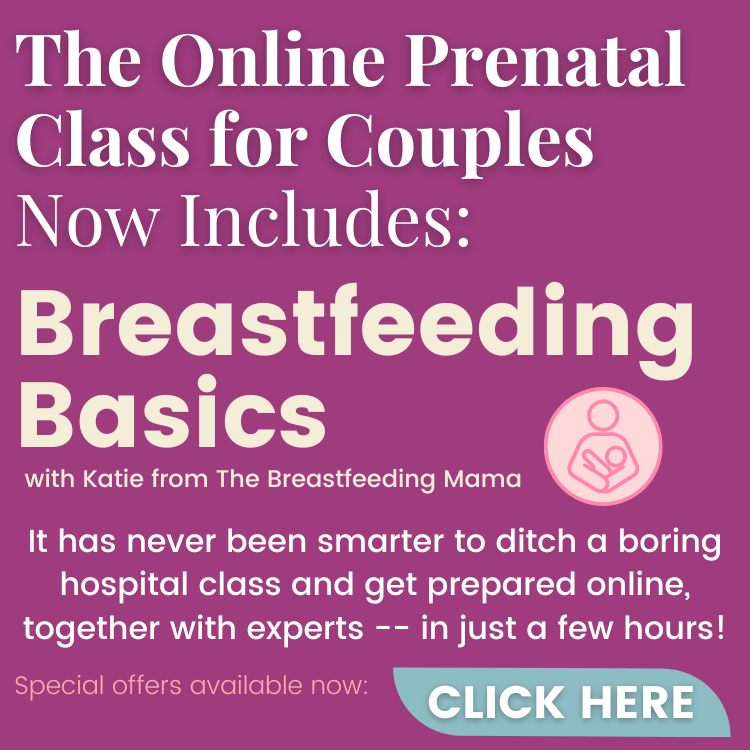 What does it feel like when the baby comes out?
Most people call it the "ring of fire". Well, most people that don't have an epidural or any numbing on board.
What is the ring of fire?
Obviously, you're not on fire, but there is a lot of burning as the tissues around your vagina stretch, as the baby descends in the birth canal.
The epidural should stop you from feeling most of that.
Where is your perineum?
It is the area between your vagina and your rectum.
That area often tears (or can be cut — that's call an episiotomy) as the baby comes out.
As it stretches or tears that can be painful.
However, it does not last long, and there is almost instant relief when the baby is out.
Do you feel the ring of fire with an epidural?
If you have a good epidural, you will not feel all the effects of the ring of fire — as the baby is coming out.
However, it can be intense pressure as those tissues stretch against the baby's head (which our brains sometimes communicate as pain). Be mindful that this is a VERY short period and it is important that we allow those tissues to stretch (vs an episiotomy – where your health care provider cuts that area). Keep in mind that some women will tear no matter how patient you are.
If you're really worried about the pain you could feel during birth, don't worry — you are NOT alone, over 83% of pregnant women worry about the pain of birth in my recent study. I really work to help ease those fears with quality information in The Online Prenatal Class for Couples. Please join me in there!
Final answer: Can you feel the baby coming out if you have an epidural?
Most often, no.
You may FEEL it.
For instance, I put my hands on my belly with my last baby as I was pushing her out and I felt her body leave my body (which was pretty cool, I'd recommend that).
You may feel some discomfort and pressure in that area.
If you feel any burning doctors CAN numb you at delivery as well.
Do you feel the doctor cut you or tearing?
Most often no, but doctors can also numb you if necessary. However, feeling that is VERY rare when you have an epidural.
Hopefully that answered about what you would feel during delivery with an epidural. I'd love it if you'd allow me to teach you ALL about your delivery in The Online Prenatal Class for Couples. Studies show couples have a lower amount of birth anxiety when they get prepared with a professional. I'd love to be that person.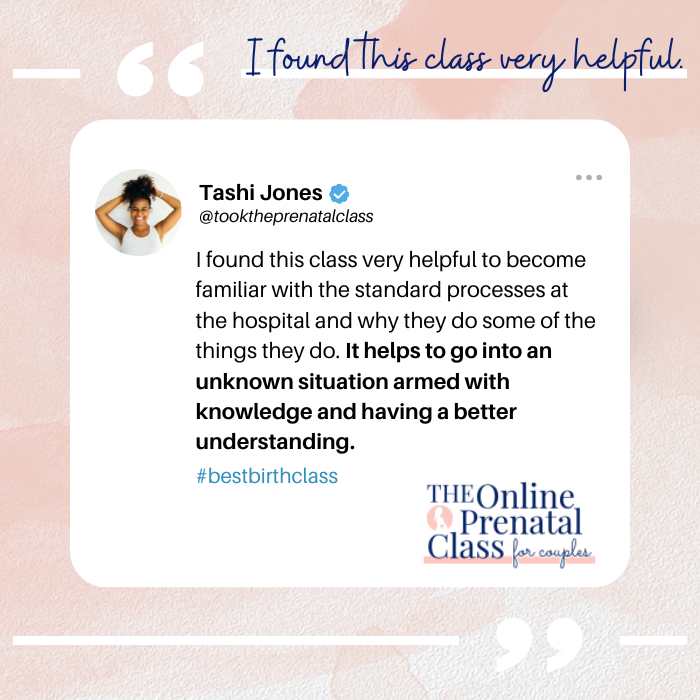 If you're not quite ready for the full class, join me in my free beginning prenatal class — your first step towards your confident birth.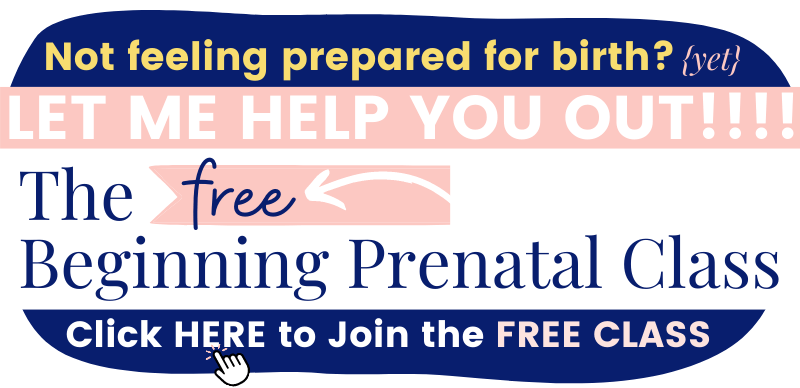 I hope this post has answered most if not all of your questions about what an epidural is and what to expect when you get one. As always if you have any questions don't hesitate to ask them in the comments!
About the Author
Latest Posts

A nurse since 1997, she has worked in various fields including pediatrics, geriatrics & hospice. She has 20 years of labor and delivery experience in the San Jose, CA and Phoenix, AZ areas.
As an evidence-based prenatal educator Hilary has delivered thousands of babies and has educated hundreds of thousands of parents from a diverse patient population to help them have a confident birth.