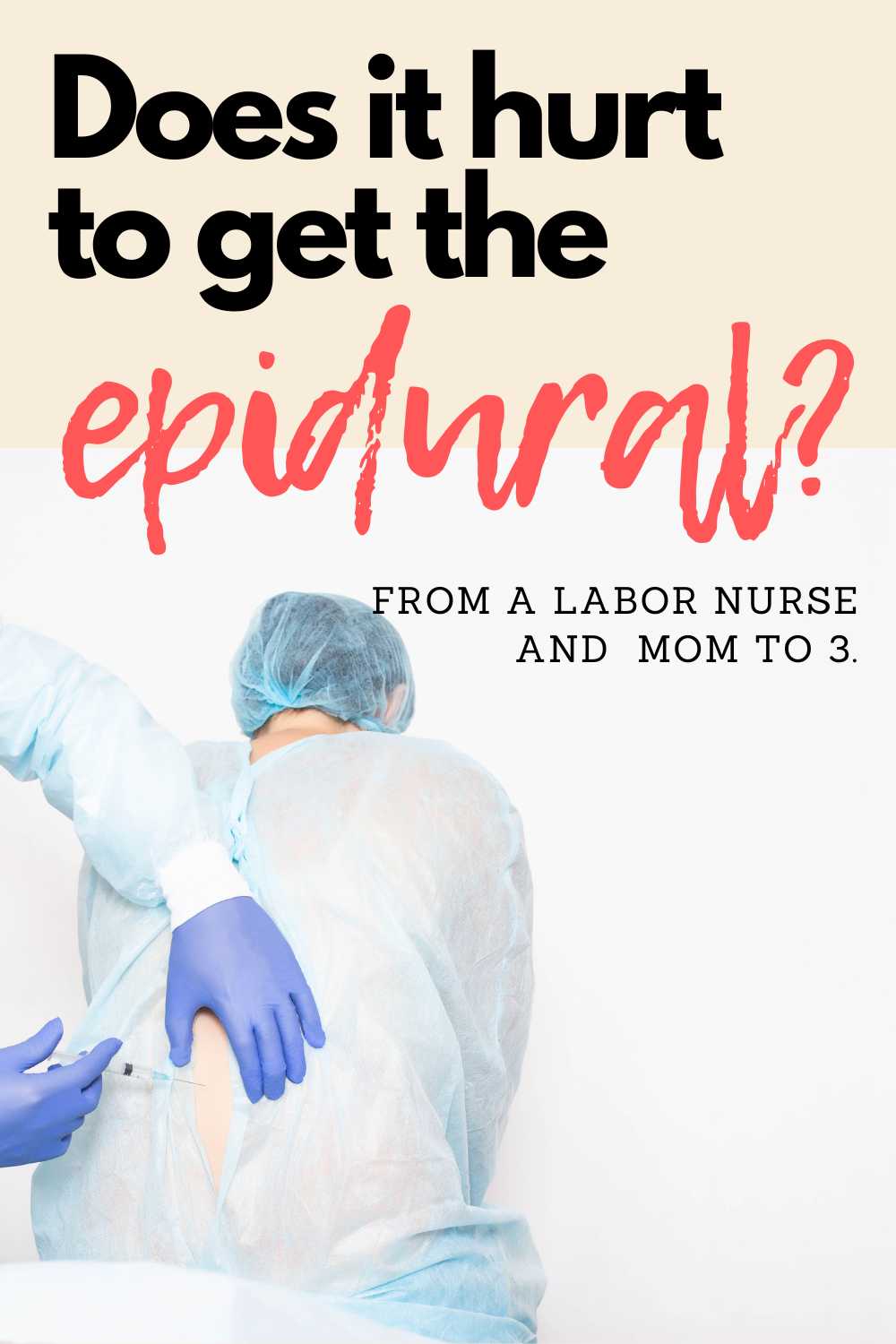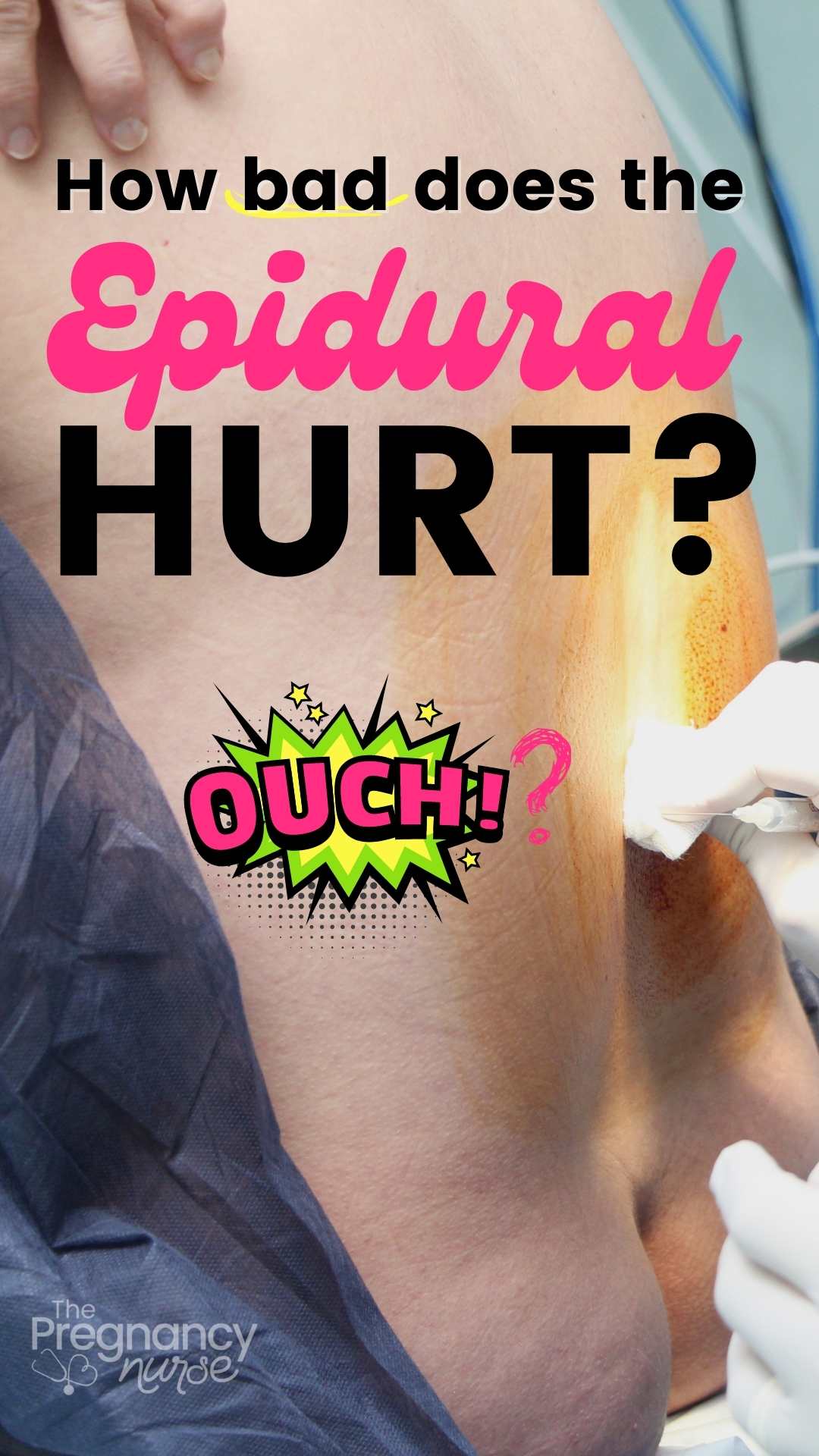 Women who plan on vaginal birth may wonder how painful the placement and infusion of epidural anesthesia is. How much does it compare to labor pain — and how much of the pain of childbirth will it take away?
Hi, I'm Hilary — The Pregnancy Nurse 👩‍⚕️. I have been a nurse since 1997 and I have 20 years of OB nursing experience, I am also the curly head behind Pulling Curls and The Online Prenatal Class for Couples. 🩺​ I have helped thousands of moms get an epidural, and also got three of my own — so I'm pretty much an expert in this one.
How painful is epidural injection?
Most people say that the epidural hurts less to place than an IV. This is for a variety of reasons, but most people ultimately don't find it all that painful (perhaps because labor is intolerable at that point). But, it can be tricky — so keep reading!
Before we get going, a reminder that the epidural is just one VERY SMALL small part of labor. But, there's LOTS more about labor to learn (how to know if you're in labor, what to expect at the hospital, how to manage your pain before the epidural to name a few). I totally recommend The Online Prenatal Class for Couples. In just a few hours you can both be TOTALLY prepared for your birth!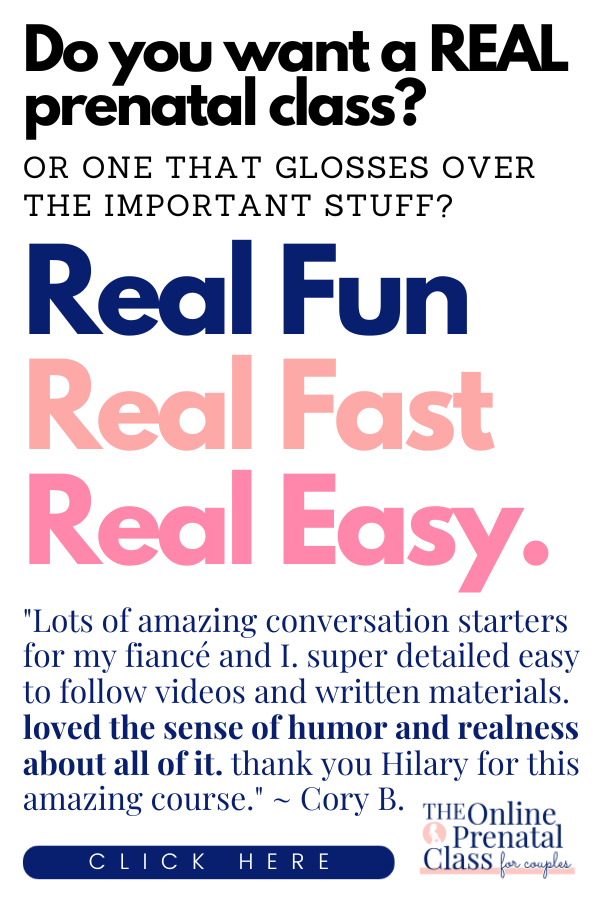 Epidural Placement
Let's talk about the epidural placement procedure, because knowing what will happen will save you from a lot of the fears of the epidural. Education is always power in this case.
Pro Tip: I REALLY feel that the FEAR about the epidural adds to the pain, so once you understand it all more, you'll feel a lot more at ease. I have a whole podcast on what to do if you're afraid of the epidural. Cliff notes: understand it from something like this.
Epidural analgesia must be placed by someone trained. Most often this is either an anesthesiologist, or a nurse anesthetist (I have a whole post on who gives the epidural if you want more info on that!). Most often, we wait to place an epidural until you are in active labor (when your cervix is actively dilating, most often women are 4-6 centimeters when they area in this labor stage).
Before they being they will do informed consent with you, just so that you understand the risks and benefits. Remember that most often informed consent will end with "you could die" as it is ALWAYS a risk when a procedure is taking place. However, the risk of that with an epidural is very low. Keep in mind that if your car was required to do informed consent when you got in it, it would 100% end with "you could die".
Once you consent for the procedure, the provider will feel your lower back and hip bones to find a space that will allow them to do what they need to do. Think of it as them getting a map of the land so they know where your epidural space is.
Then, the anesthesiologist will place sterile drapes around the area. Then, they will wipe your injection site and the area around it off with a soap/sanitizing solution. This is often cold and catches many moms off guard (although the good ones say it will be cold before doing it) It is really important that this area be kept clear of bacteria (as your spinal area needs to be kept sterile also).
Then, they will inject a local anesthetic. This will likely burn a little as they place it, but it is the main "sharp" thing that you should feel during the placement. It will numb the area, so you only feel pressure as they place the epidural catheter.
They will give that a bit of time to take effect, as they mix up additional epidural pain medication they will use once they find the spot.
Once that area is numbed, they will use the epidural needle to find the epidural space. They are trying to find the spot between two membranes that cover your spinal nerves. They do this by moving in very small amounts, and seeing when they can inject fluid. Once they are able to inject the fluid, they know that they are in the right spot. At this point you need to remain very still and they will insert the epidural catheter. Catheter always means tube in he hospital, and the epidural catheter is just a small tube that will be inserted in your back into that spot so that it can deliver medication to numb your spinal nerves.
They will apply a LOT of tape to the epidural area to make sure that the small tube doesn't move.
The idea is that the epidural can last a long time, and the small tube will deliver continuous pain relief of the numbing medicine via a pump to keep your body about 80% numb. It is important that you keep some sensation so you can help move and know when the baby is descending.
But in general, the medication decreases the nerve impulses from about your bra line to your knees.
Labor epidurals generally take 15-20 minutes to take full effect after the initial epidural medicine is injected. The whole epidural process usually takes 45-60 minutes from the provider in the room til' they leave.
Often the initial dose is a big stronger than it will be later on (so if some of the numbness goes away a little bit, don't worry!
In The Online Prenatal Class for Couples we actually go through the epidural process together using a Raggedy Ann Doll — makes it really easy to understand and know what will go on (without being scary).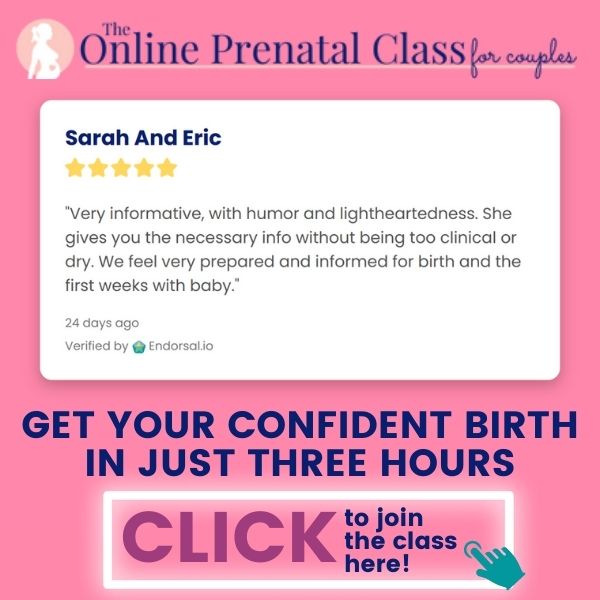 What does an epidural look like?
If you'd like to see what an epidural needle looks like I'll put a picture right here — if you'd prefer to skip it, just click here and it will move you past it.
NEEDLE TRIGGER WARNING COMING UP: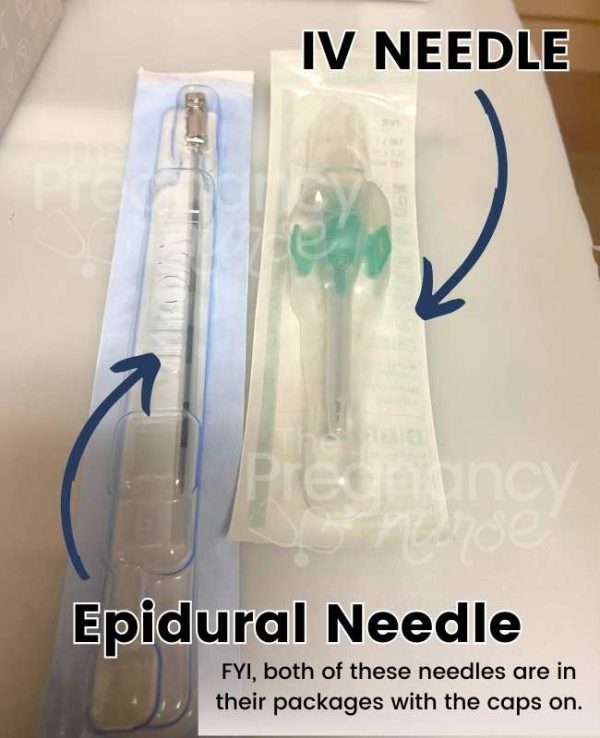 Common Side Effects
There are a few possible side effects of the epidural that include itching, a lowering of blood pressure (as you relax) and sometimes shaking/shivering. All of those are normal, and there are things we can do to help some of them.
Pro Tip: Itching is a common side effect from any pain medication. I recommend patients use a dry washcloth to rub their skin vs their nails.
The nurse will run extra fluid before the epidural begins to help keep your blood pressure good as you relax.
Epidural Risks
As I said with all medical procedures there are risks. While they are NEAR your spinal cord, they aren't actually in the same area (and the spinal cord doesn't extend that low — those are only spinal nerves). So, the risks are actually less than you imagine.
The main risk is a severe headache, called a spinal headache. It happens when they go too far and break a further membrane, which allows some spinal fluid to leak out. The good news is that they can do a blood patch which can help the headache quite a bit. This doesn't happen TOO Frequently, and healthcare providers are quick to notice a spinal headache (it is very different than other headaches).
I know that a lot of people have heard epidurals can cause back problems, but the studies actually show that beyond the initial bruising from the needle in your back, there is no difference in back complaints compared to moms without an epidural.
There are other medical conditions like blood thinners, or spinal stenosis that can cause other risks — so be sure to talk with your providers about your plan if you hope to get an epidural. Your OB/midwife can likely answer a lot of questions, and if you have a specific case they can talk with anesthesia at the hospital and possibly order a consult ahead of time.
There are rare cases of issues, but in general the epidural is a very safe procedure.
While you're thinking about delivery — make sure you're prepared for your life after baby — grab my checklist here:
Epidural vs Spinal Blocks
Some people wonder about a spinal block vs an epidural. A spinal is given in the OR for a cesarean section. However, an epidural can have extra medication placed into it in case you need a cesarean.
To normal people the epidural and the spinal look very similar. It is only small changes by the anesthesiologist that make these two different. I talk about both (plus general anesthesia) in my post on cesarean section anesthesia.
Other Options for Labor Pain
Of course, there are other options for pain management during labor — to help with the pain of contractions.
IV Pain medicine can be given to "take the edge off' and many women find a dose or two sufficient.
Nitrous Oxide is finding a home in the United States and may be offered at your hospital. It does not require an IV for administration and similarly "takes the edge off'
Natural pain management techniques can also be used very effectively.
FYI, the epidural is the only pain relief during labor that actually takes away the pain rather than dulling or numbing it.
Pro tip: I explain about ALL of your pain management options at length during an entire chapter in The Online Prenatal Class for Couples. I also have a whole bonus video on natural pain management techniques.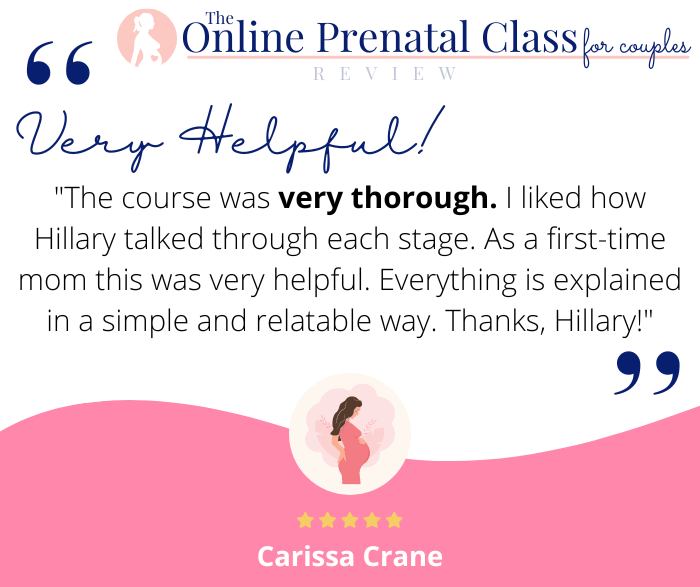 Other Types of Epidurals
Of course, the epidural for labor isn't the only kind of epidural given. Often they are given for surgery, and you can also receive an epidural steroid injection for pain management (most often for back pain or lower limb pain).
While it is a somewhat different experience than a labor epidural, essentially it's the same and I think they hurt similarly (although because you're not in a huge amount of pain to begin with, it does change things).
Can you still feel pain with an epidural?
The epidural is meant to only take away about 80% of the pain that you're feeling. That means you'll still feel 20%, but also be able to move in the bed and feel as you being pushing once your cervix is fully dilated. You should not find this intolerable though, so ask your providers if it is still to painful. they can see what they can do to fix that.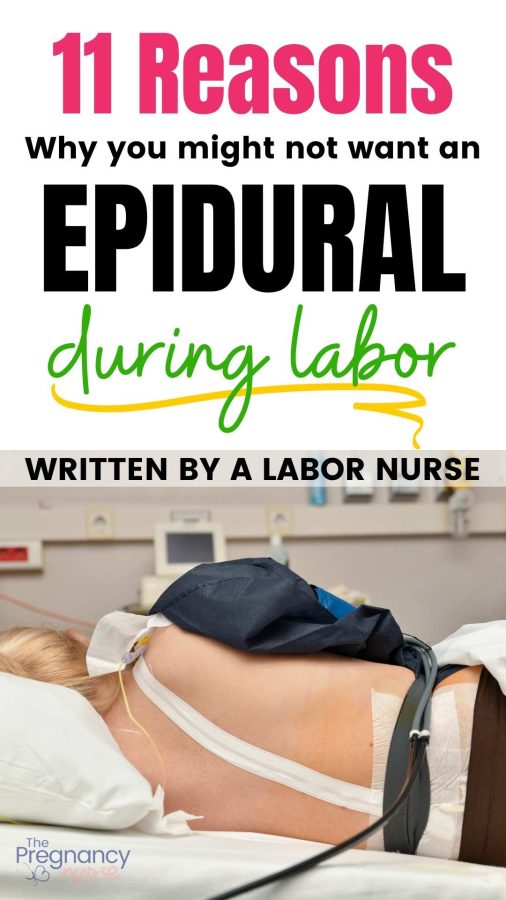 Epidural Pain FAQ's:
Is a possible side effect paralysis
They say it is not. The epidural is given on a lower level on the spine than where the spinal column ends. I have a post on back pain after the epidural you might find interesting.
What healthcare provider puts in the epidural block?
It is either an anesthesiologist or a nurse anesthetist. I have a whole post on who puts in the epidural.
Does the epidural hurt more than my flu shot
You have the initial "bee sting" when they numb a small area of your back, and then it is just a lot of pressure. There is no achy-ness in the following days (vs a flu shot), but it can feel bruised. But it is a good idea for all pregnant women to get their flu shot!
How long does the whole epidural take?
The epidural takes about an hour from you asking for it to when you're numb, catheterized and happy in bed. Of course, this can vary if you're in "line" for the epidural or issues like that.
Does the epidural increase your length of labor?
Some studies show it does (at least the pushing time). Some show it can decrease it when you relax an let your cervix open. Personally, I don't find it goes too much one way or another.
Will my entire body be numb?
Nope, as long as it goes according to plan, just from about your bra line to your knees. Some people say the "lower half" of your body — but your stomach area should be fairly pain free as well.
What hurts more epidural or natural birth?
After seeing thousands of women experience both — the vast majority feel like the epidural was very worth it to get instead of experiencing natural birth. Remember, the epidural placement should only take a few minutes — and you're never sure how long natural birth will last.
Can you feel baby coming out with an epidural?
You may feel pressure, and some amounts of pain as you give birth and baby stretches those tissues but you shouldn't be in the pain you'd be in if you had a baby without the epidural.
What if I end-up having a c-section?
Most often before a c-section they can give extra medication in the epidural to numb you for surgery. This also allows us to go to surgery faster in the case of an emergency.
Are you still able to push with the epidural?
Most often yes, but if you're too numb they can turn the amount of epidural down so you can feel more.
How bad does an epidural hurt?
As a mom of three I find it very similar to the IV placement. In fact, most women say that the IV hurt more (because they were in less pain when the IV was placed initially).
If it's your first baby, or first time to have this type of anesthesia, I bet you're wondering how bad the whole process is. Mostly, you feel the sharp bee sting when they numb you, and then you feel a lot of pressure as they find the epidural space. To me, it felt like they were using their pen to push hard on my back to find the area.
Because you have the pain signals of the contractions, many women don't notice the pain they might otherwise feel during the epidural placement.
Also, once the needle is out, the only thing you might feel is cool fluid going up your back. There shouldn't be any more pain associated with the epidural.
The pain of the epidural placement should not be a reason to not get the epidural. Be sure to talk with your provider if you have more questions about your specific needs and circumstances surrounding the epidural.
Ok, now that we've talked about that tiny part of labor — can we have a chat about the whole thing.
The fact that labor can be confusing, exciting but also downright scary? I want you to feel confident in the labor room. That's why I created The Online Prenatal Class for Couples. In just a few hours (3) you can be prepared for your confident hospital birth.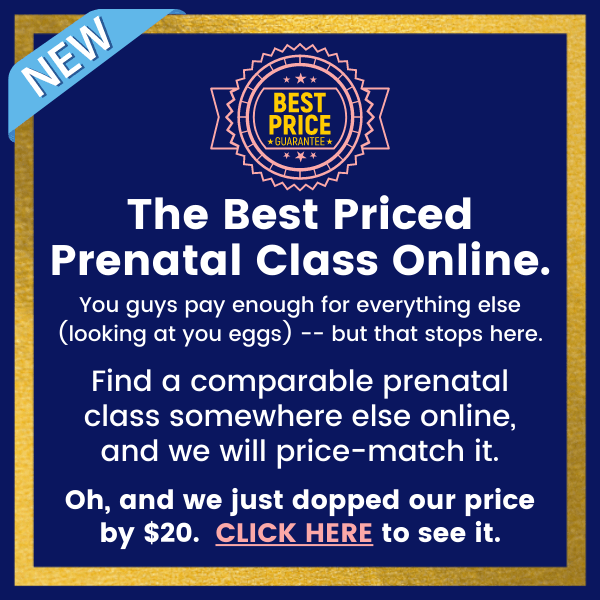 And, if you're not quite sure you're ready for that whole thing, check out my free prenatal class. It's your first step toward getting in the driver's seat of your birth.
About the Author
Latest Posts

A nurse since 1997, she has worked in various fields including pediatrics, geriatrics & hospice. She has 20 years of labor and delivery experience in the San Jose, CA and Phoenix, AZ areas.
As an evidence-based prenatal educator Hilary has delivered thousands of babies and has educated hundreds of thousands of parents from a diverse patient population to help them have a confident birth.