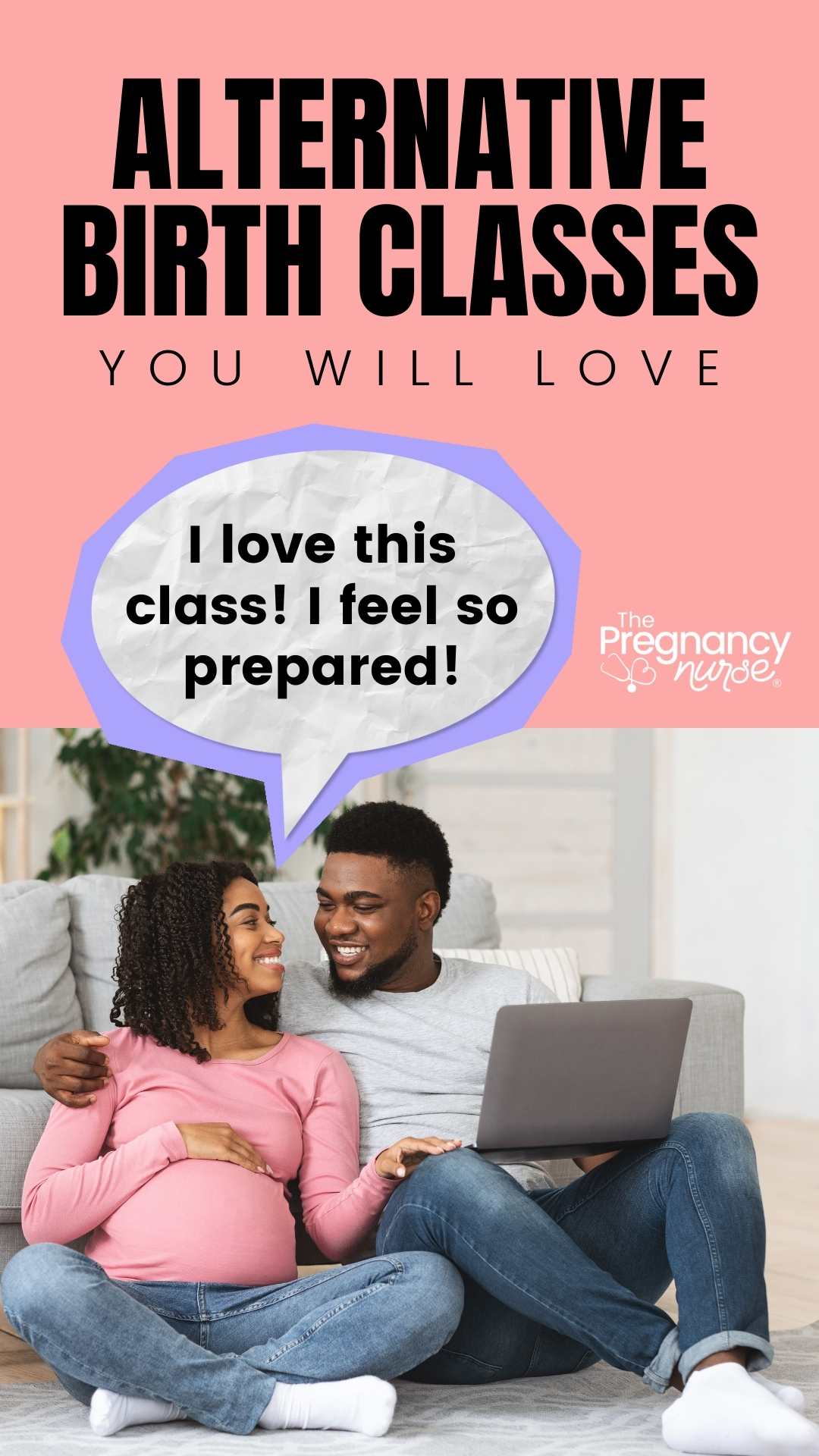 Tinyhood is becoming a leader in online courses for new parents, but are they the BEST classes for you? Today I want to share some of the best online courses for parents that they can easily take from the comfort of their home to prepare them for their new life. Maybe you're looking for some alternatives to consider before you pull the trigger — and I'm here to help you do just that!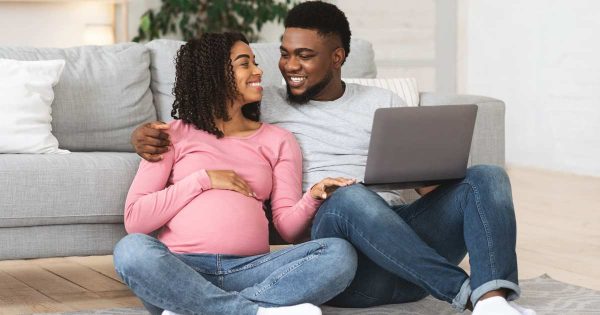 I have to say that I was DIRT poor when I had my first baby, but I prioritized taking a childbirth class and I really liked how it got my husband and I on the same page about birth. I was already a nurse (but wasn't The Pregnancy Nurse yet), but he was…. clueless. So, it was great.
And now, as a nurse with 20 years of labor and delivery experience I really know what you need to know about your upcoming birth!
Really quick, if you're here JUST looking for alternatives you can jump ahead to the best pregnancy classes << click that link. Or, this one is my favorite.
Tinyhood Courses
Tinyhood courses were created by Becky Miller & Susan Blinn who are both engineers. They created Tinyhood to help educate the modern parent on what they need to know for their early parenting journey on their own time, and they have lots of different classes. They've done a great job (and we see their course everywhere thanks to their ads that follow me around the internet). But, maybe you want to find out what else is out there.
Tinyhood Pricing
Tinyhood's pricing has has changed quite a few times. At the time of this writing they are on a subscription basis:
If you pay for the full year in advance it's "monthly price" is the cheapest at $12.87/mo — but you'll pay $155 up front (and will be billed yearly after that).
If you want to pay for just a quarter (3 months) of classes you'll pay $25/month — paying $75 up front (and then you will continue to be billed each quarter until you cancel)
Or, you can pay monthly, but the cost is $39/month — and will continue to be billed monthly until you cancel or no longer need the classes.
BUT if you do want all the classes that Tinyhood offers, the $155 for the full year is a decent offer. But, would you like some flexibility in the classes you take. Maybe you'd rather pick and choose which ones fit and your needs and I do have some alternatives here.
I don't see any discounts or coupon codes offered at this new monthly model. If you really want a prenatal class and are determined you'll only need it for that month and no longer, the $39 for one month isn't a bad idea either. I used to see reviews on their site but I'm not seeing the actual reviews anymore…. (I just see a #).
Ok, let's get into your other options…
Online or In-Person Classes?
For many years the gold standard of childbirth education and parenting classes was to do them in person. Online classes that cover these topics have becoming very common and I personally think they're better than the in-person classes that used to be offered. Because when you do it as an online course you don't have to rely on companies like Lamaze classes or just take them from the hospital. You can find experts that cover everything you want to know about your baby and your wellness.
Not to mention the HUGE time savings benefits for new moms or expectant parents to be able to take a class together, at their own pace (this is a HUGE benefit of online learning, I am sure you can agree).
Many of the online classes have a support group for the first-time parent, which can be amazing.
Who should I learn from?
The problem with online classes is that it is hard to vet the person who is teaching you. The good news is that most popular online childbirth and parenting classes that you can take do offer a free option so you can see if their teaching style relates to yours. If you're not sure, consider checking out those options before your purchase.
Please be aware that while there seem to be certified experts in many topics those are new terms (mostly made up by the company "certifying" them), and may or may not mean that they have the experience to help you.
Look further into their bio's and experience to see if that is a person you can trust as a new mom. If you find that an expert has a license like a registered nurse or doctor, you can at least be sure that provider has had a certain amount of training to teach you.
You may also be interested in knowing if they have a support team to help in case you have issues with the course. Also, how the course if offered and how easy it is to consume. If a course isn't easy to watch, it won't get done — and that doesn't solve any of your problems!
What else to consider in picking parenting classes?
It's important to know your basics when you're considering online parenting or birth classes:
Are you planning to give birth in a birth center, your home, or a hospital
Do you plan to go back to work soon after baby is born (that will make your needs with breastfeeding and infant sleep somewhat different)?
How do you learn best — video, written material or some other way?
Are you a big fan of schedules and plans, or are you more of a free-form thinker?
Thinking about these things will help you match the class to what you need. That's the best way to pick the classes and course content that are right for you.
How Much are Online Birth & Parenting Courses
I have a whole post on the cost of online birth classes. The average, for a good quality class from a high-quality instructor seems to be around $250-$300. Classes that are JUST about natural pain management are often cheaper. As are those that are split into many different topics and then priced per topic. But, I recommend to get one that goes from pregnancy through after baby is born, so you don't miss anything important.
Best Online Birth & Parenting Classes
Let's talk about the different classes that Tinyhood offers, as well as some options you could consider beyond the hood. 🙂
Childbirth Classes
Learning about birth as an online class is one of the best things you can do before delivery, especially as a first time parent.
Studies show that they can help prevent birth trauma, decrease your pregnancy anxiety and can actually reduce cesarean sections by 10% for a variety of reasons (see my page on what studies show about birth education for more info).
The good news is there are LOTS of birthing classes online for expecting parents. It's likely you'll see an ad for the Tinyhood course if you google anything related to birth classes. However, some people feel that the class wasn't different enough from the average information available online (and because it is separated out into a few different areas, it can be more difficult for families to be sure they got every part).
If you take a birth class from a doula or a lay midwife you may not get the information you need on medical things like a c-section or epidurals, or if you choose IV medication. They may not have as much knowledge as a labor and delivery nurse, a certified nurse midwife or someone with a lot of experience in labor and delivery.
A prenatal class should prepare you for the last bits of pregnancy through the first couple of months after your newborn is born.
I recommend The Online Prenatal Class for Couples. Hilary has a ton of experience, she's engaging and is one of the best prenatal educators in the online space. I would recommend checking it out. This helpful class should be a parenting prerequisite for busy parents. It is mean to be done easily (and many people in the reviews call it fun).

This class also come with lots of bonuses like labor positions cards, bonus videos on communication, babies and partners. It just has so many options depending on your support system and what you need.
Also, the bundle it offers now includes breastfeeding too! So, that makes the course a great value!
I think what people like most about this leading online program is that it is meant for both the birthing person and their support partner. Especially for those with busy schedules it is quick, to the point and one of the best reviewed prenatal classes online for those wanting to deliver in a hospital.
If you are planning on a home birth I would recommend checking out Mama Natural's birth classes — she seems to be the leader there.
Online Prenatal Class for Couples Coupon Code:
Use coupon code ALTERNATIVE to get 15% off The Online Prenatal Class for Couples
Postpartum Classes
Tinyhood splits out the postpartum care from the childbirth care. I think that is too bad since I think understanding what life will look like postpartum can be one of the most important things you can do for yourself (and I think it would be easy to miss it if it was a separate class).
The Online Prenatal Class for Couples has two lessons on your postpartum life and what you can do to be more comfortable and happy after your baby. And it comes a full year of access in case you need to watch them after you come home from the hospital.
Baby Care Classes
For families who haven't previously done a lot of newborn care, they may want to take some baby care classes. It can be hard for these classes to share TOO much (because often you have to get in there and do things with your newborn on your own), but some basics can be really important.
The Online Prenatal Class for Couples actually has a baby component, or if you want JUST a baby class, it's split into Newborns Made Easy that you might enjoy as well.
If you want a really in-depth baby care class, you can check out New Parent's Academy. She's a postpartum doula with lots of information on babies that you can enjoy.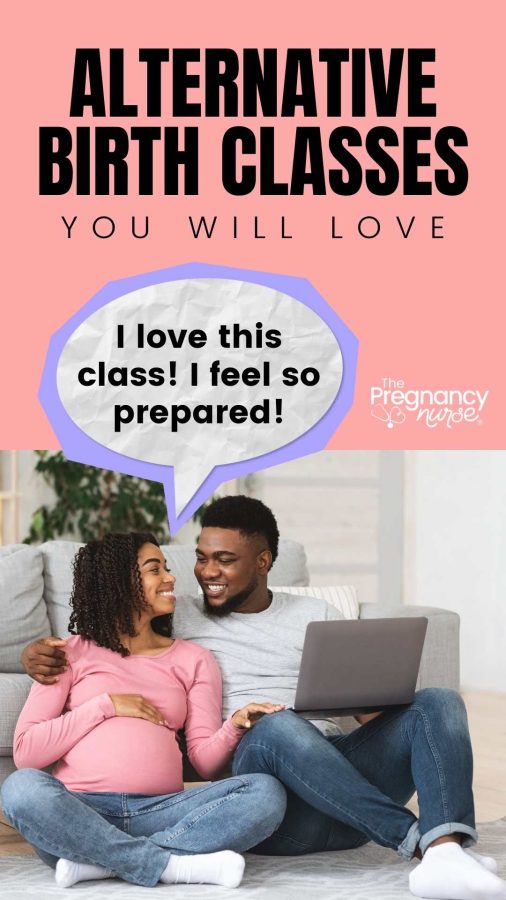 Breastfeeding Classes
The Online Prenatal Class for Couples Bump to Bassinet Bundle also comes with a beginning breastfeeding section. I think people love that they get to use the same class to guide them through the whole thing. This is mostly just the "need to know" stuff before birth — and I think it's good for any mom.
However, if you want to more…
I recommend The Breastfeeding Mama's Breastfeeding Bootcamp. It is a great option to learn what you need to know before birth. BUT I also love that Katie has a ton of information on troubleshooting, or pumping (and going back to work) should you need it. I just love that you can build a relationship with her and then continue together as you continue on your breastfeeding journey.
I love that Katie is almost a board-certified lactation consultant (she has all her hours, and is currently studying to take her test).
Breastfeeding Mama Coupon code:
Use coupon code PREGNURSE to get 15% off any of The Breastfeeding Mama's Classes
Baby Nutrition Classes
Understanding how to wean your baby from breastmilk into "real" solid foods can be VERY confusing (even for a nurse). But, I think it's important to understand what nutrition (and other needs) they should be getting from each item. The Breastfeeding mama has this covered in her milk & solids class. Plus, you'll understand how to make that transition from breastfeeding, to adding more things into their diet, which it's nice to have a helping hand with.
She also has weaning class in case you need that too.
CPR Classes
I think CPR classes are so important. Some baby classes include some infant CPR with them, but I would strongly encourage you to take a full CPR class (as a nurse I recommend everyone know CPR). I would check with your local library to see where they can recommend you get one. You can also check with the American Red Cross or American Heart Association. Many online classes come with CPR and first aid and I can guarantee you'll appreciate knowing both.
While I am a big fan of online courses, I think that the experience in person for CPR classes is pretty important. It helps you see exactly how hard you need to push to make CPR worthwhile on an adult. I'd recommend taking them in person, at least the first time.
Bonus Tip: Call the company, tell them that you are an expecting parent, and make sure that they review infant and pediatric CPR and choking scenarios as well as basic adult CPR. All of that can be invaluable.
Potty Training Classes
Personally, I read potty training in a day. That being said, this isn't something to really consider until they are closer to 2 — so I wouldn't consider this a "new parent" class (and I definitely wouldn't take this before birth).
Baby Sleep Classes
Sleep training is controversial, and I strongly believe that a family needs to do something that works for them, and sleep schedules don't work for everyone. Many people love the Taking Cara Babies course, but I don't know much about it other than some people having issues breastfeeding in conjunction with it, and her giving to the Trump campaign (?).
The Online Prenatal Class for Couples has a bonus sleep video to share what to do the first weeks home. If you find that you like that type of training and would like more guidance you can check out more from Helping Babies Sleep as she has continuing online classes if you're interested.
But, I read a few books that I think can be handy that I will list here:
But, I think the best news is that most sleep training methods show no difference in the child as they grow-up, so It thing the advice to do what works for you family is pretty good in this area.
I love that you're looking to get prepared for your new life with some parenting classes. If you only have time for a few of these classes I would recommend:
There are lots of pros and cons for which company or person you use to help educate you about giving birth and raising your new baby. Be sure you weigh them as you pick the class that's right for you.
Have you taken Tinyhood's classes — do you have thoughts on it? Tell me in the comments.
About the Author
Latest Posts

A nurse since 1997, she has worked in various fields including pediatrics, geriatrics & hospice. She has 20 years of labor and delivery experience in the San Jose, CA and Phoenix, AZ areas.
As an evidence-based prenatal educator Hilary has delivered thousands of babies and has educated hundreds of thousands of parents from a diverse patient population to help them have a confident birth.