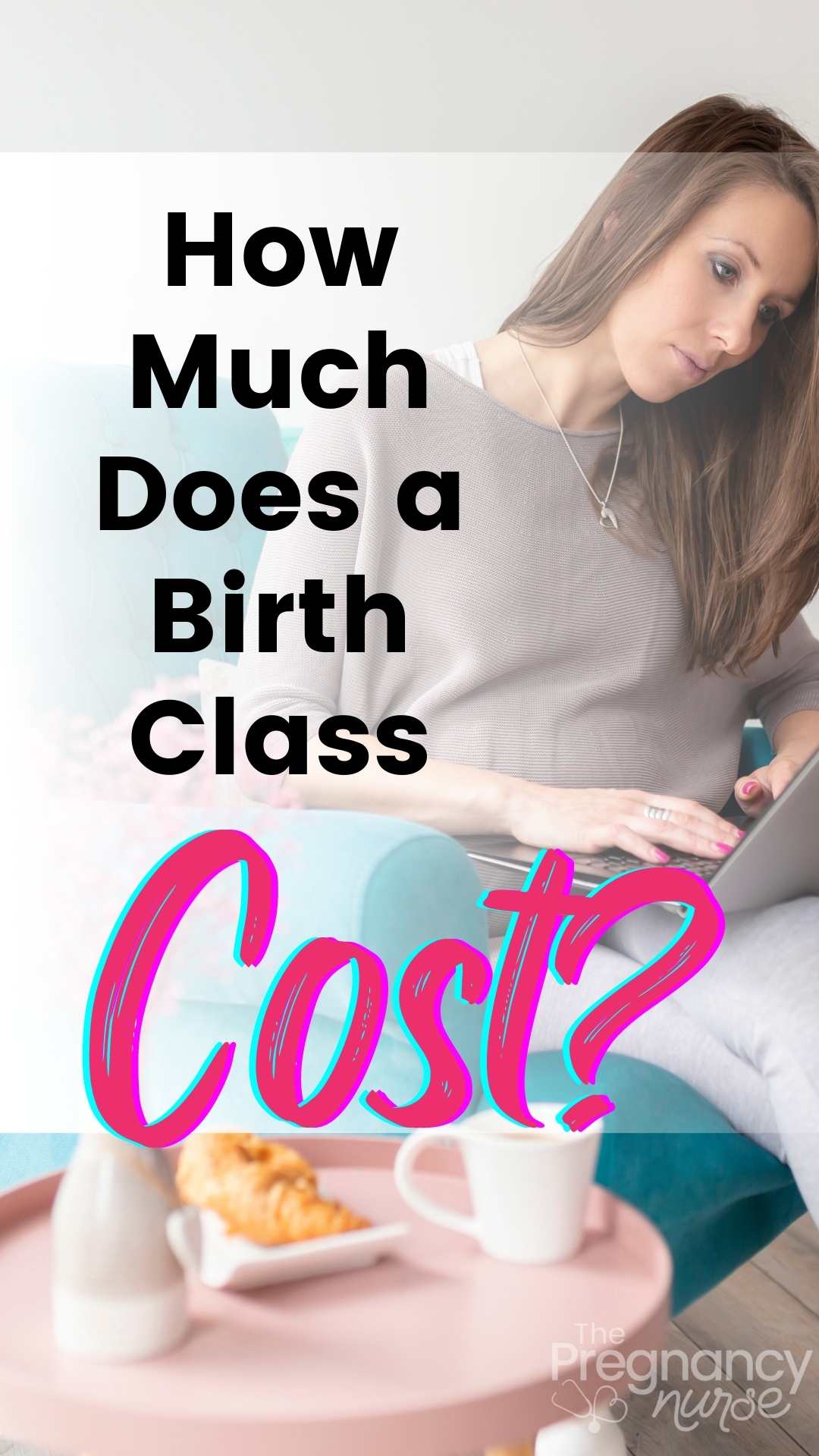 If you're pregnant, then one of the things you'll likely start thinking about is how much birthing classes cost. Birthing classes can provide a lot of great information and preparation for giving birth, but they can also be expensive. So, what's the best way to go about taking birthing classes? And how much should you expect to pay? Keep reading to find out more.
Hi — I'm Hilary — The Pregnancy Nurse 👩‍⚕️. I have been a nurse since 1997 and I have 20 years of OB nursing experience, including teaching prenatal classes for my hospital and my own classes. I have seen thousands of couples during birth, some of which did or did not take a prenatal class, so I'm a good resource on what to expect.
Before we get started, I want to state that I believe birth classes to be worth it. I think you can find a reasonably-priced class that will really prepare you for your birth.
How Much Do Birthing Classes Cost in 2023?
A basic class in 2023 costs, on average, $184. I have been making note of all the pricing for prenatal classes for the past 3 years, and that is how I came up with that number.
The Online Prenatal Class for Couples starts at under $100 and comes with a best price guarantee…. which is pretty amazing.
What do Studies Show About Birth Classes?
About 32% of women take a birth class. I will say that it really varies. When I worked in poorer hospitals, less people took them, which is to be expected.
Here are two other stats from my birth statistics post
Those who took a prenatal class had a higher rate of a normal vaginal delivery (75.4% vs 64.1% for those who didn't take a class) vs a cesarean selivery.
Those who took a class had a lower c-section rate due to a failed induction (3.3% vs 24.5% in those who didn't take a class).
This shows that those who take a birth class are more able to advocate for themselves, and assist in methods to help their baby more easily come — which is great news. Well worth the cost!
Types of Birthing Classes
The cost of birthing classes can vary greatly depending on the type of class you take. There are a variety of different types of birthing classes available, each with its own focus and approach. Some common types of birthing classes include:
· Natural childbirth classes – These classes focus on techniques for having a drug-free birth.
· Lamaze classes – These classes focus on teaching specific breathing and relaxation techniques to help manage pain during labor.
Don't be worry — all these types of classes are offered both online and often in person. There are even Online Lamaze Classes
· Hypnobirthing classes – These classes focus on using self-hypnosis to achieve a calm and relaxed state during labor. I really like Hypnobabies.
· Bradley method classes – These classes focus on the importance of husbands or partners being involved in the birthing process and providing support during labor. They also talk a lot about natural birth.
· Prenatal classes – These tend to talk more about what will happen at the hospital and how to make healthcare decisions for yourself.
Most classes are STRAIGHT one class or another (unless it's a branded class). Many include several offerings. The Online Prenatal Class for Couples is a prenatal class, but teaches breathing, partner and other techniques — to make it more well-rounded class for your birth prep.
In Person or Online?
All of these types of classes are offered in a variety of ways. There are 3 ways you most often see:
In Person Classes: I taught these for my hospital, and these types of classes are still available. You'll want to research and book them as soon into your pregnancy as possible as they fill up quickly. Places to look for these are:
Local Doulas
Hospitals
Birthing Centers
Larger obstetrics practices
Timed Virtual Classes: These are done online, but happen at a specific time. So, you can watch them at home — but it still needs to fit your schedule.
On Demand Virtual Classes: These are taught online and can be accessed whenever you need to. These classes have the most availability and couples prefer being able to watch them when it works for them. However, there can be less interaction in these types of classes.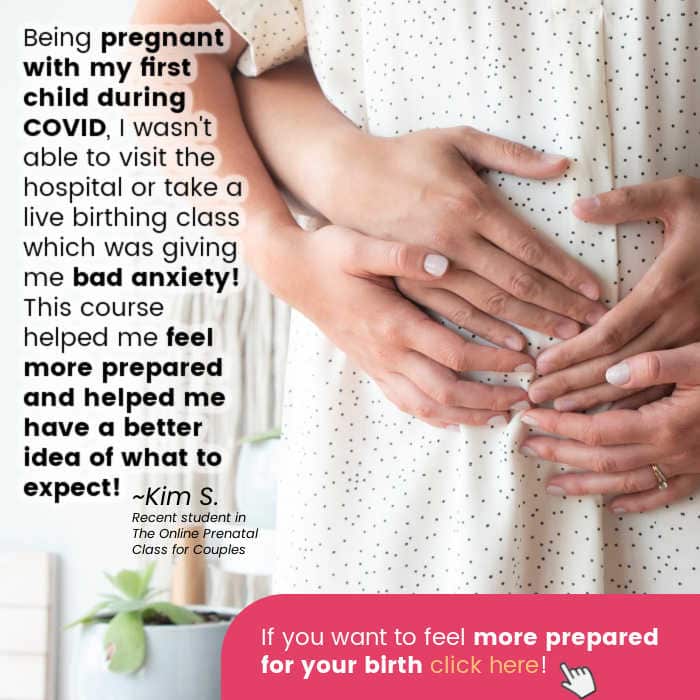 What to expect in a birthing class
When you're taking a birthing class, you can expect to learn about a variety of topics related to labor and delivery. Some common topics that are covered in birthing classes include:
The stages of labor and what to expect during each stage.
Pain management options and techniques, including medication, breathing and relaxation techniques.
How to effectively use positions and movement during labor to manage pain and promote progress.
The role of the husband or partner during labor and delivery.
Medical interventions that may be used during labor, such as epidurals, cesarean, or assisted deliveries (forceps or vacuums)
Some classes may include breastfeeding and newborn care basics.
How to pick the right birthing class for you
When you're trying to decide which birthing class to take, there are a few things you'll want to keep in mind.
First, consider what about birth is making you the most concerned? Are you worried about the pain, hospital practices or making good choices? You'll want to find a class that speaks to your concerns. From the options above — do any of those address what types of concerns you have? That gives you a good starting point.
Second, what type of an instructor do you want? Do you want a doula, or someone with more medical experience.
And obviously, with this article, the cost of a class is definitely worth considering.
Pro Tip: If the class you're considering has a free version, that can be a great way to see if that teacher is a good fit for you. The Free Beginning Prenatal Class is a great place to start.
How much do birthing classes cost on average
The cost of online birthing classes can vary greatly depending on the quality, amount of resources and instruction, level of interactivity and personal support, and length of access to the materials.
Some basic classes are completely free, while other more comprehensive programs may be much more (in the $500 range — more for in-person personal classes).
I did some research in 2021 for the cost of online birth classes. The average cost of the low-cost version of a class (that didn't come with extra consults or classes) was about $130 — with most classes ranging from $50 to $300 dollars.
However, the lower-end classes tend to be:
Split up into multiple parts (annoying, right)
Billed in subscription models (who's going to remember to cancel with a newborn)
Taught by people with less experience.
In mid 2022 I re-did the study and found them to be around $167.
And in early 2023 I did it again and the average was $187. Of significant note is that a good # of these companies no longer offer birth classes. Perhaps they aren't lucrative enough to make a business around it.
If you want an upgrade with more information about birth and baby, you're looking at closer to the $200 range for that type of class with MANY being closer to $250-$275.
If you want a well-rounded birth class that is frequently updated, and taught be a professional, you are likely looking at around $300.
Rising Costs of Birth Classes
As with everything birth class costs are rising. It's more expensive to host them, as prices continue to rise.
If you're concerned about the cost of birthing classes, there are a few ways you can try to offset the expense. Some hospitals and birth centers offer free or low-cost birthing classes to their patients. You might also be able to find scholarships or sliding-scale fee options through local organizations or your place of worship. Or, take this one up on their money back guarantee AND a best price guarantee!
If you're taking an online birthing class, be sure to look for coupons or promo codes that can help you save money. No matter which type of birthing class you choose, the important thing is that you feel prepared and confident going into labor and delivery.
Online Prenatal class for Couples Coupon Code:
Save 10% on The Online Prenatal Class for Couples with coupon code PREGNURSE
Cheapest Birth Class Options
Most often the cheapest birth classes are with hospitals. Sometimes they have grants which support them, or doctors help pay for them (and may have impact on the material taught). However, in-person classes require gas, possibly parking or babysitting fees to get to the class. So, make sure you understand the full cost and decide if it's right for you.
Johns Hopkins had a $50 dollar class (but I just saw the price is up) — the hospital I used to teach for was similar at $60 (and their price is up to $130 now). These classes don't tend to have as robust of online platforms, and often are taught online, but at specific times. Their teachers may not be as engaging as those well versed in content creation.
The Online Prenatal Class for Couples is created by one of the most experienced and up-to-date prenatal educators on the internet. You can trust her 20 years of bedside labor and delivery nursing, combined with thousands of educated articles can take you from worried to prepared in just a few hours.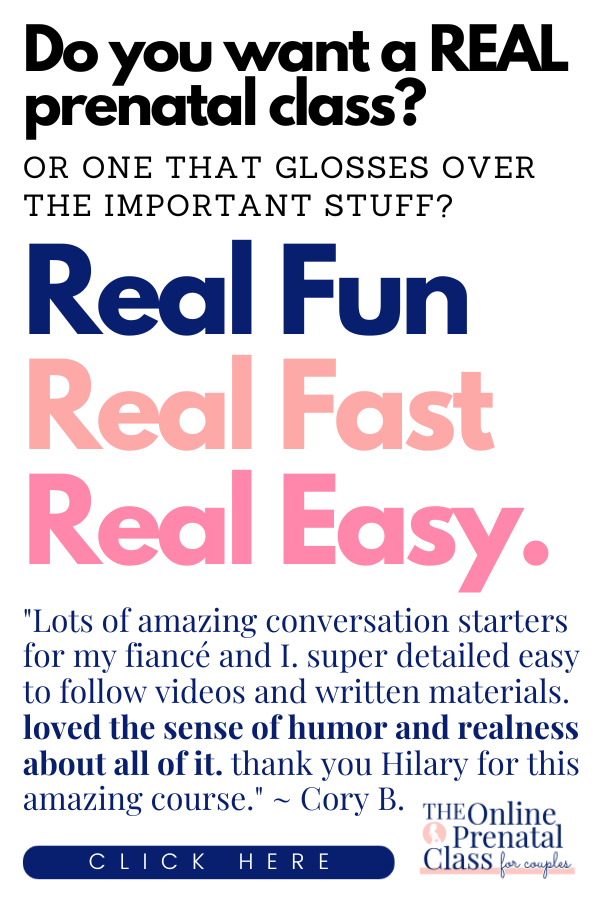 How Much do Lamaze Classes Cost?
Pricing varies quite a bit but seems to be about $50-$500 for the classes I looked at.
Lamaze is a specific organization that requires specific training of its childbirth educators (which may increase the price for questionable increase in actual training for your instructor).
One of the best-known Lamaze certified educators charges about $350 for her premium classes (it's either premium or her free class — I just checked this pricing in Janaury 2023 and it has risen significantly from what it was before).
Lamaze itself offers a pain management ONLY class for a reasonable price of about $40. But you'll see that the price vary quite a bit.
Remember that Lamaze itself is really about breathing and relaxing through contractions, it isn't about interventions (aka, cesareans or inductions), and information may vary for how to know you're in labor or postpartum information.
What's included in a typical birthing class fee
The cost of birthing classes can vary depending on the type and length of the class, as well as the location. However, most birthing class fees will include the following:
· Instruction from a certified childbirth instructor or licensed medical professional
· A workbook or other class materials.
· Access to online resources.
· A certificate of completion.
Also, something to keep in mind — with the cost of birth classes.
Some birth classes split up instruction into smaller classes like:
Cesarean birth
VBAC instruction
Pain mangement techniques
Provider communication
Obviously, these smaller classes may be less-expensive, but it will be important to make sure you're getting the well-rounded birth education you need. When you add up the cost of the smaller classes, it may be more than a full class offered somewhere else.
Pro Tip: Cesarean Sections happen in about 1/3 of all births, and even if you're not planning on one — I do recommend every couple spend SOME time learning about what might go on if they end up there. It is an important part of your birth education.
What's the average length of a birthing class?
Birthing classes really vary in length, with some taking as long as 15 hours, and some that are closer to 2-4 hours.
Personally, many of the birthing instructors at our hospital took about 9 hours to teach a birth class, but that same material only took me about 5 hours to finish. It really depends on the instructor, and the pace of their teaching.
Don't think that just because a birth class has more videos/longer instruction you'll be more prepared — it could just be a slower pace of the instructor (and possibly some needless time spent).
If you're taking an online class, you'll likely have access to the materials for a longer period of time, so you can complete them at your own pace.
Look for an instructor that mainly teaches you about facts and techniques, and less time is spent on personal opinion or ideas of what birth should look like.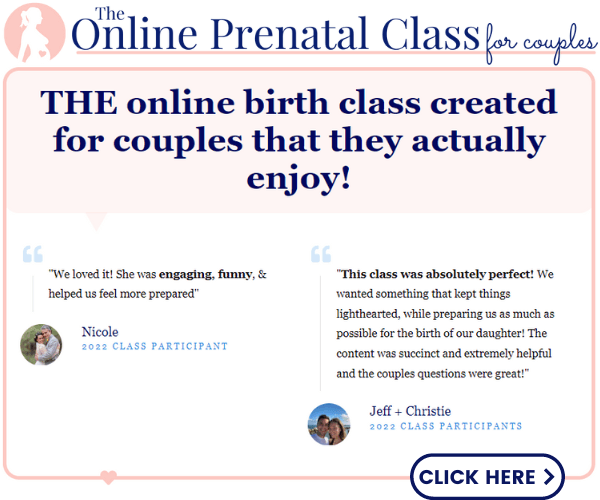 When is the best time to take birthing classes?
The best time to take birthing classes is typically around the end of the second trimester or early in the third trimester. This gives you enough time to complete the class and still have a few weeks before your due date in case you need to review the material.
Pro Tip: If you're planning on an in person class, I would recommend looking for your class early in your pregnancy to get signed up and save your spot. Those types of classes can be hard to find and will fill up quickly.
What's the bottom line on birth class costs?
No matter which type of birthing class you decide to take, you can expect to pay anywhere from $50 to $400 on average. The cost will depend on factors like the length of the class, the location, and the instructor's experience. However, many hospitals and birthing centers offer low-cost classes, so be sure to check with your provider to see what's available in your area.
Taking a birthing class is a great way to prepare for labor and delivery. But with the cost of classes being a decent investment — make sure you look at the class you're considering and make sure it's a good fit.
The Online Prenatal Class for Couples is priced for couples to be able to afford them. It has all the information you need to prepare for your birth, and is available whenever you are on a state-of-the-art-platform. If you'd like to see if Hilary is a good fit for you, check out the free class first!
About the Author
Latest Posts

A nurse since 1997, she has worked in various fields including pediatrics, geriatrics & hospice. She has 20 years of labor and delivery experience in the San Jose, CA and Phoenix, AZ areas.
As an evidence-based prenatal educator Hilary has delivered thousands of babies and has educated hundreds of thousands of parents from a diverse patient population to help them have a confident birth.