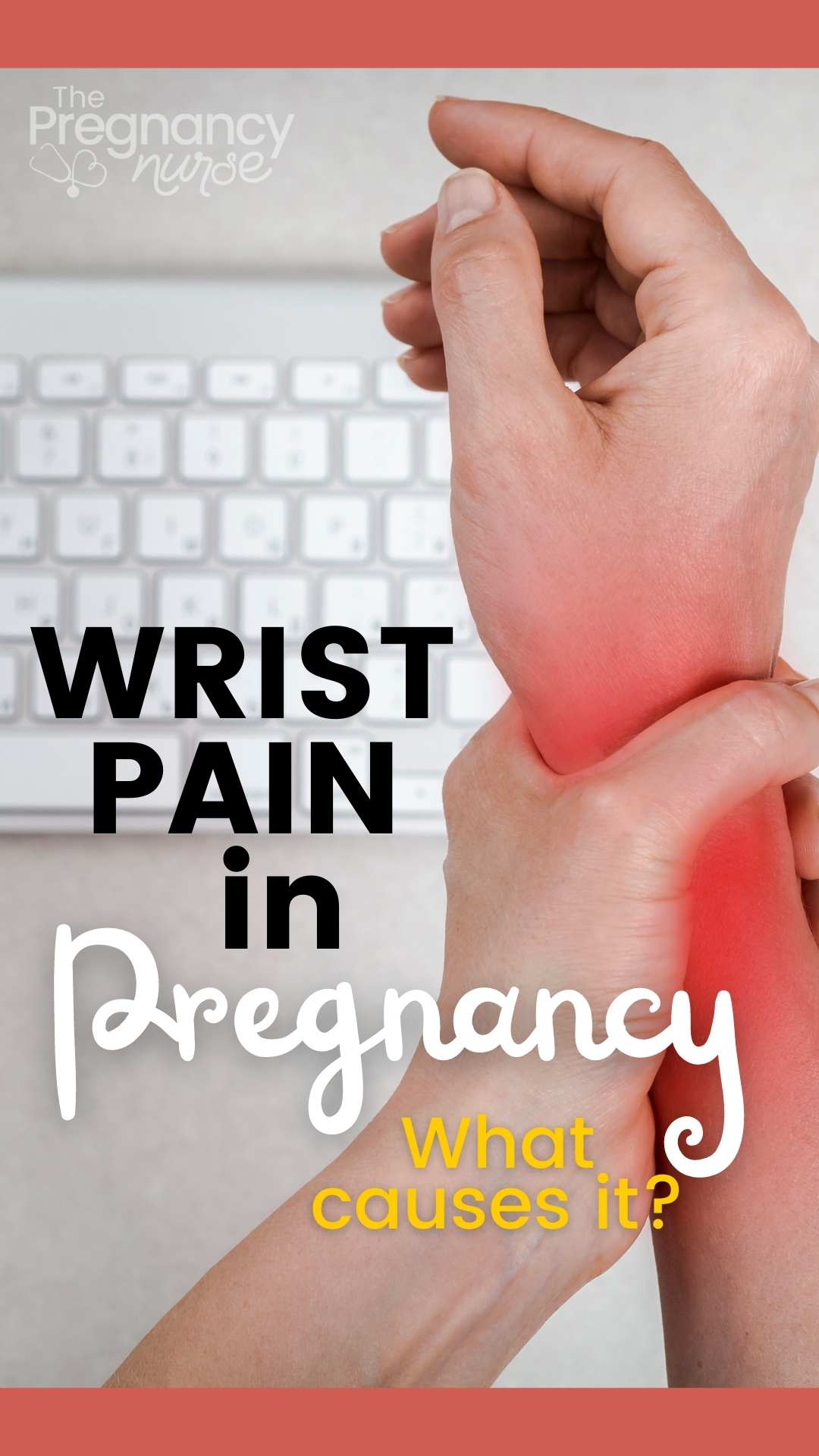 Painful forearms and wrists are a very normal symptom during pregnancy. Most often the pain will go away after delivery, but let's discuss why it happens and anything you can do to make it better.
Hi, I'm Hilary — The Pregnancy Nurse 👩‍⚕️. I have been a nurse since 1997 and I have 20 years of OB nursing experience, I am also the curly head behind Pulling Curls and The Online Prenatal Class for Couples. 🩺​ I have seen thousands of pregnant moms in my time, and so many complain of pain in their wrists and forearms, so I'm excited to give you some high quality info to think about.
Painful Wrists & Forearms in Pregnancy
Our arms have so many nerves and muscles and do so much for us. So, when things go just somewhat wrong it can translate into real issues.
This isn't always pain per se — but can also show-up as numbness and tingling, especially of the middle finger or ring fingers.
Why Wrists Hurt in Pregnancy
During pregnancy, it isn't unusual to have some increased fluid in your tissues due to increased blood flow and hormonal changes.. You'll notice it less in your feet, and ankles, but because those areas don't have as many nerves (although there's still plenty foot pain in pregnancy).
In your wrists, because there ARE so many nerves that go through that area, as the fluid builds up it can be extremely painful. Even though you don't SEE the swelling, even small changes in those tissues can impact the nerves (and this is super common during pregnancy).
You can feel it in your forearms or your wrist. Most often on the underside (where the median nerve is — it runs from your armpit to your fingers). This is more commonly known as carpal tunnel syndrome. And while different during pregnancy (due to it's cause) it feels very similar.
And, just like carpal tunnel, it can be caused by repetitive hand/wrist movements (like office work), plus the swelling and all those fun hormone changes during pregnancy.
You may feel it as pain, numbness, a tingling sensation in your fingers. It may make some hand movements more painful than others. And, it is really common during pregnancy.
And yeah, if you've been wondering why on EARTH they hurt — and now I've explained it, I can do that for labor too. 🙂
What You Can Do About Painful Wrists in Pregnancy
So, as you think about what to do about the problem, remember why it is normally caused.
Rest or Ice It
When you're feeling pain, it could just be too much work for your hand and wrist during the day. Take a break from what you're doing (especially if it is repetitive hand/wrist movements).
If it's really hurting, ice might help. This type of system has a brace and ice — so that's handy. But, any type of ice in the area that hurts could be helpful.
Stretching of Upper Limbs
Stretching out your body can really help this issue. Often times this can be an extension of issues from your neck.
A video like this could be helpful. Upper limb and back stretching can really be helpful!
Strength Building of Upper Limbs
Something else you could consider is some light weights for your upper body. Building those muscles and working all that fluid through that area could really help.
Wrist Brace
Some people find a wrist brace or a wrist splint helpful. However, it may just make it worse. The braces aren't expensive though, and it might be worth a try if you're miserable (I'd try the stretching first though). These keep your wrist in a neutral position along with all those tendons and ligaments in that area too.
Another option is a wrist compression sleeve that isn't as bulky as a brace, but may help as well (perhaps talk to your provider about which one they think would be better for you).
Increase Fluids
It doesn't make sense that you'd add MORE water to your body if you were swollen, but often increasing water helps it to flow through your body with more ease. More water is almost always an answer during pregnancy.
Seek Help
If you talk to your provider about this, they may say that it is a normal part of pregnancy, but if it is really bothering you, you could consider seeing a physical therapist or a chiropractor, depending on your preference. Always discuss with your provider about seeing one of those people first, but they specialize in bones and muscles, so they are a good option.
Most often they want to try nonsurgical treatments as having the baby will hopefully relieve the symptoms.
The main good news is that once baby is born the fluids will slowly decrease (because the swelling within the wrist will go down) and you should go back to normal. If it doesn't, you may have actual carpel tunnel, and you'd want to see your provider to see what else to do at that point.
On a painful note: the swelling and fluid retention around that nerve may get worse as you head into your third trimester or closer towards your due date — so keep your treatment options open as you continue through your pregnancy. It may lead to some occupational changes as you get further into pregnancy (at the very least taking breaks from typing or manual hand work).
Either way carpal tunnel syndrome and pregnancy often go hand in hand for many women — so you're definitely not alone.
One great way to rest those wrists is to take a prenatal class. The Online Prenatal Class for Couples let's you enjoy it from home with snacks. I also like to boil down all the difficult points of pregnancy, just like I did this one, to make it simple and easy to follow. 🙂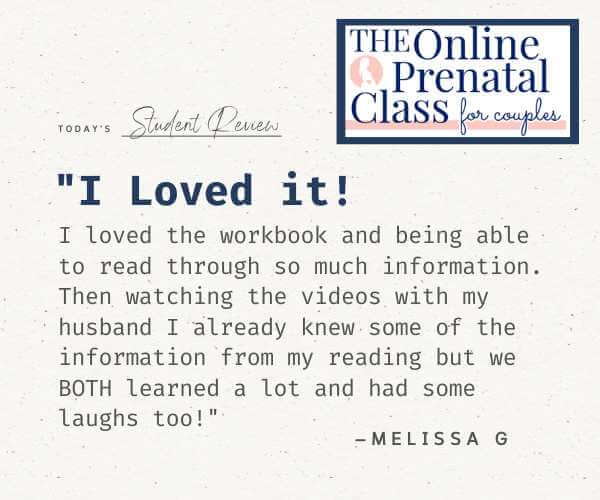 And, if you're not quite sure you're ready for that whole thing, check out my free prenatal class. It's your first step toward getting in the driver's seat of your birth.
About the Author
Latest Posts

A nurse since 1997, she has worked in various fields including pediatrics, geriatrics & hospice. She has 20 years of labor and delivery experience in the San Jose, CA and Phoenix, AZ areas.
As an evidence-based prenatal educator Hilary has delivered thousands of babies and has educated hundreds of thousands of parents from a diverse patient population to help them have a confident birth.