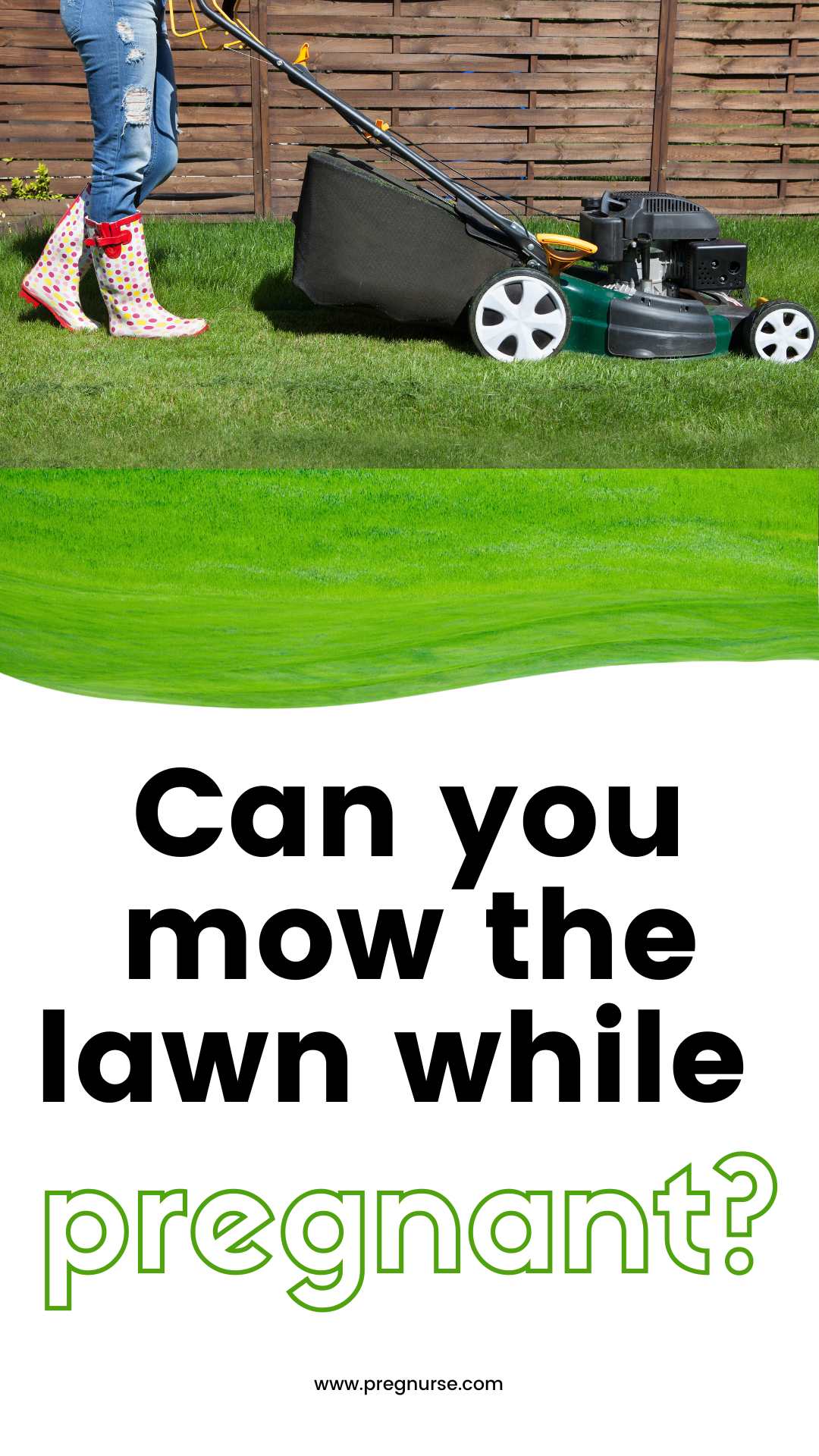 Mowing the lawn is a task that many people take on during the summer. But, can you mow the lawn while pregnant? There are pros and cons to both sides of this argument. While is generally considered safe to mow the lawn while pregnant, we will explore both sides and let you decide what is best for you and your pregnancy.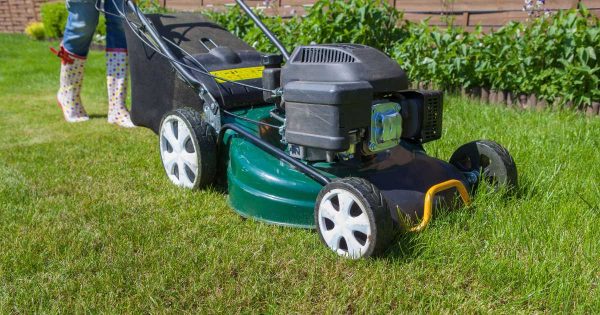 Before we get started, how do I know all of this? Hi — I'm Hilary — The Pregnancy Nurse 👩‍⚕️. I have been a nurse since 1997 and I have 20 years of OB nursing experience, I am also the curly head behind Pulling Curls and The Online Prenatal Class for Couples. 🩺​ I have helped thousands of pregnant women know what it best or safest for both their bodies and their family needs, and I think I can help you too!
Of course you'll want to talk with your provider about your physical activity limitations before attempting it, but this article can give you a good overview of what to expect from them and what to consider for yourself.
I love how you're even considering it — it's important to get exercise while you're pregnant. A good rule of thumb in early pregnancy is that if it was a task you could do before you got pregnant, you can likely do it now (as long as things are going well0. But, let's find out….
Can Pregnant Women Mow the Lawn?
Yes, for the most part you can mow the lawn while pregnant – just be sure to take some precautions
Of course, this advice wouldn't apply if you were on bedrest or "light duty" (where you really limit your physical activity) as a pregnant woman. There are a variety of reasons why they might put you into one of these categories including:
preterm labor
low amniotic fluid
incompetent's cervix
high blood pressure
Or, any other reason they tell you that you're a bit more high-risk….
So, be sure that your provider is good with you doing a good amount of physical activity before considering mowing the lawn.
Checklist of Things to Consider If You're Mowing the Lawn Pregnant:
What type of mower do you have? If you have a heavy push mower you may not feel like you're not as willing to it as you get into your third trimester (around 28 weeks pregnant). It's just going to harder to push things forward and you will tire more quickly.
Is it Gas or Electric? A gas mower with a pull string may be harder to start the further along you are. Be mindful not to pull an abdominal muscle as you pull it. Your body is already adjusting to the weird angles of pregnancy. Electric will likely also be better because you won't have any gas fumes to inhale.
Is it a riding Lawn Mower? Obviously, this will be easier to do for a while. You'd have similar safety concerns for when you're not pregnant and choosing to ride a lawn mower.
How do you empty it? If you have to lift a heavy grass bag frequently, it is likely not something you're going to want to do long term while pregnant. It just gets harder to grab things at awkward angle, and your doctor may caution you against carrying things that are too heavy.
Do you have allergies? Some people get sever allergies when they mow the lawn. Pregnancy may make you allergies better or worse, but you won't want to take a lot of antihistamines for that type of a reaction if you can avoid it. In that case it might be better to hire a lawn care service.
BTW, a good way to fill that time that you're NOT mowing the lawn with is to take a prenatal class. 😀
Things to consider when mowing the lawn pregnant:
Wear a good pair of shoes and make sure the grass is not too long (or too wet) so you don't have to push too hard.
Avoid any type of weed killer or chemical – opt for a manual weeder instead.
Take frequent breaks, and drink plenty of fluids to stay hydrated.
Be aware of the fumes from the mower, as it can be harmful to your baby. Consider wearing a mask when you are mowing for both fumes and allergies.
Have someone with you to help if needed, or use a riding mower for easier steering and less pushing.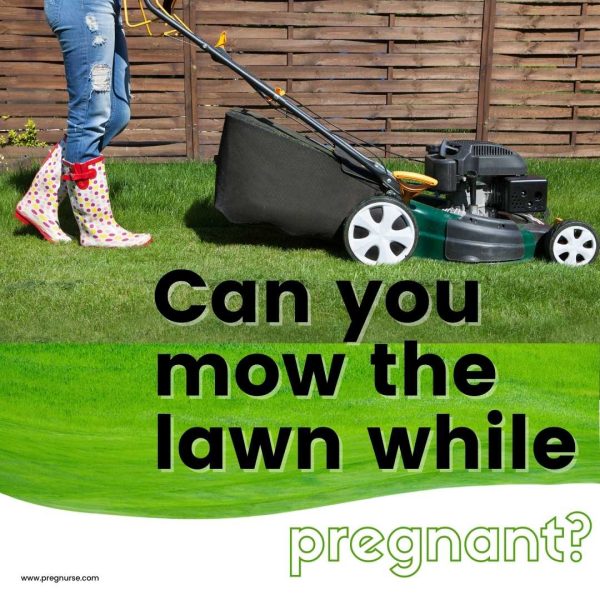 Special Considerations For Mowing the Lawn Based On Your Trimester:
There are some extra things to consider depending on how far along you are:
First Trimester Lawn Mowing — is it OK?
Normally, this would be the best time to mow the lawn as long as things seem to be fine.
Clearly, you wouldn't want to mow the lawn if you had started spotting or were trying to "take it easy" for any reason, but most women in their first trimester have pretty free range of their movement.
If you were OK to mow the lawn before pregnancy you should be OK to do it now as long as there aren't any cautions from your doctor. Mowing the lawn would be unlikely to cause a miscarriage (unless you were over-extending yourself or it was extremely hot).
At this stage the baby wouldn't be poking out much, and it should be safe to do.
Second Trimester — Can you mow the lawn?
Similar to the first trimester, most people would be fine to do this exercise during their second trimester.
Your belly may start to get in the way of the handle at this stage (feel free to lengthen it or collapse it as needed).
Of course, you want to be sure to listen to your body, but you should still be safe to mow.
Third Trimester Lawn Mowing
This would be a good time to swap this job with someone else unless you have a riding lawn mower that doesn't need to be empied. But, the awkward angle of the bar plus possibly having to PUSH the lawn power plus having a heavy baby in front of you may be too much. However, as long as you are still enjoying mowing your lawn and you don't overdo it — you can probably keep mowing as long as you don't have any cautions from your provider.
That being said, I'd put that task in my husband's pile the last 4-5 months of pregnancy. You should focus on growing fingers and toes, not blades of grass. There should be some perks to pregnancy!
If you're looking for more tips based on how far along you are, I have tons in this pregnancy series tailored just for you:
Tips for mowing the lawn pregnant:
Take breaks often and drink plenty of water. Pregnant women are more susceptible to dehydration. A good rule of thumb is to drink double the amount of water you'd normally drink. And if it's REALLY hot, don't do it (we'll talk more about that later).
Wear sunscreen, a hat, and sunglasses to protect your skin from the sun. Getting a sunburn during pregnancy puts extra strain on your body that you don't need (and it may take longer to heal).
Ensure that you are using the proper technique when mowing in order to avoid any potential hazards or accidents.
Make sure the lawnmower is in good condition and has been serviced recently
Avoid mowing near trees, fences, or other obstacles that might injure you (or make it harder to mow). You may also want to wear long pants to prevent any scrapes/scratches on your lower limbs.
Choose a time of day when it is cooler outside – preferably in the mornings or evenings. Avoid mowing the lawn in hot weather or during periods of high humidity. As I said, you want to be sure that you're staying hydrated. You're more prone to heat exhaustion because you have an extra body inside yours and you heat up faster.
When to NOT mow the lawn pregnant?
As I said, if you have any restrictions on your movement such as bedrest or "modified bedrest or "light duty" you should refrain from mowing the lawn (or, likely most forms of exercise).
If you're starting to feel light headed, or like you're overdoing it stop mowing. It is better to have half-mowed grass than it is to hurt you or your baby. You can always come back to it, or have your partner finish for you.
Mowing the lawn can be good exercise while pregnant — where you are both getting things done AND moving your body in healthy ways. It can part of a good exercise routine as long as you're enjoying it.
Ultimately, the decision to mow the lawn while pregnant is up to you and what you are comfortable with. Be sure to follow the safety tips above and consult your doctor before taking on any tasks during pregnancy. With a bit of caution and common sense, it is possible to mow the lawn safely while pregnant.
Ok, so are you planning to mow — or give that task to someone else? I'd love to know — tell me in the comments. And come join me in The Online Prenatal Class for Couples where we simplify pregnancy & labor and delivery to get you prepared for your hospital birth!
And, if you're not quite sure you're ready for that whole thing, check out my free prenatal class. It's your first step toward getting in the driver's seat of your birth.
About the Author
Latest Posts

A nurse since 1997, she has worked in various fields including pediatrics, geriatrics & hospice. She has 20 years of labor and delivery experience in the San Jose, CA and Phoenix, AZ areas.
As an evidence-based prenatal educator Hilary has delivered thousands of babies and has educated hundreds of thousands of parents from a diverse patient population to help them have a confident birth.