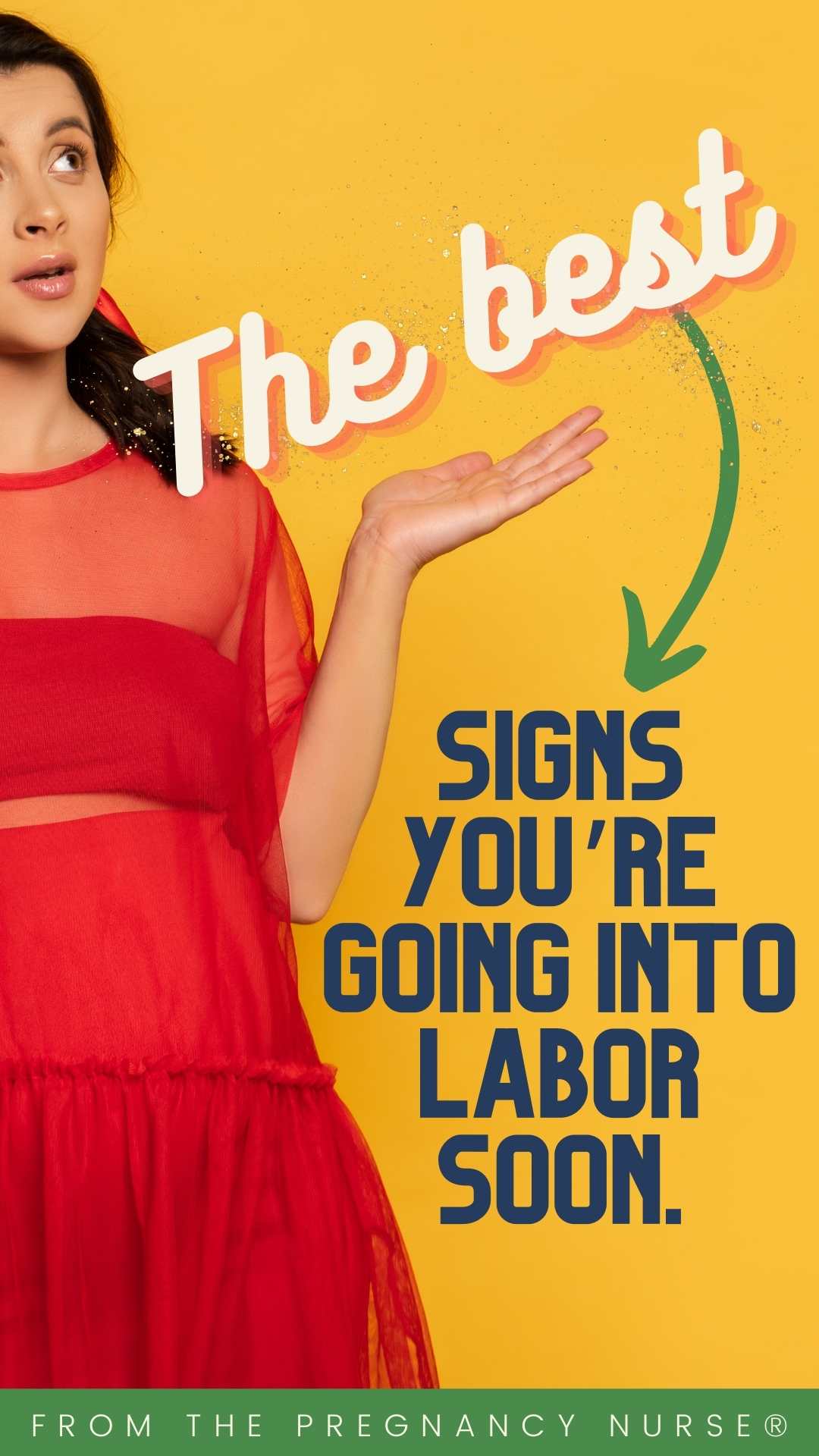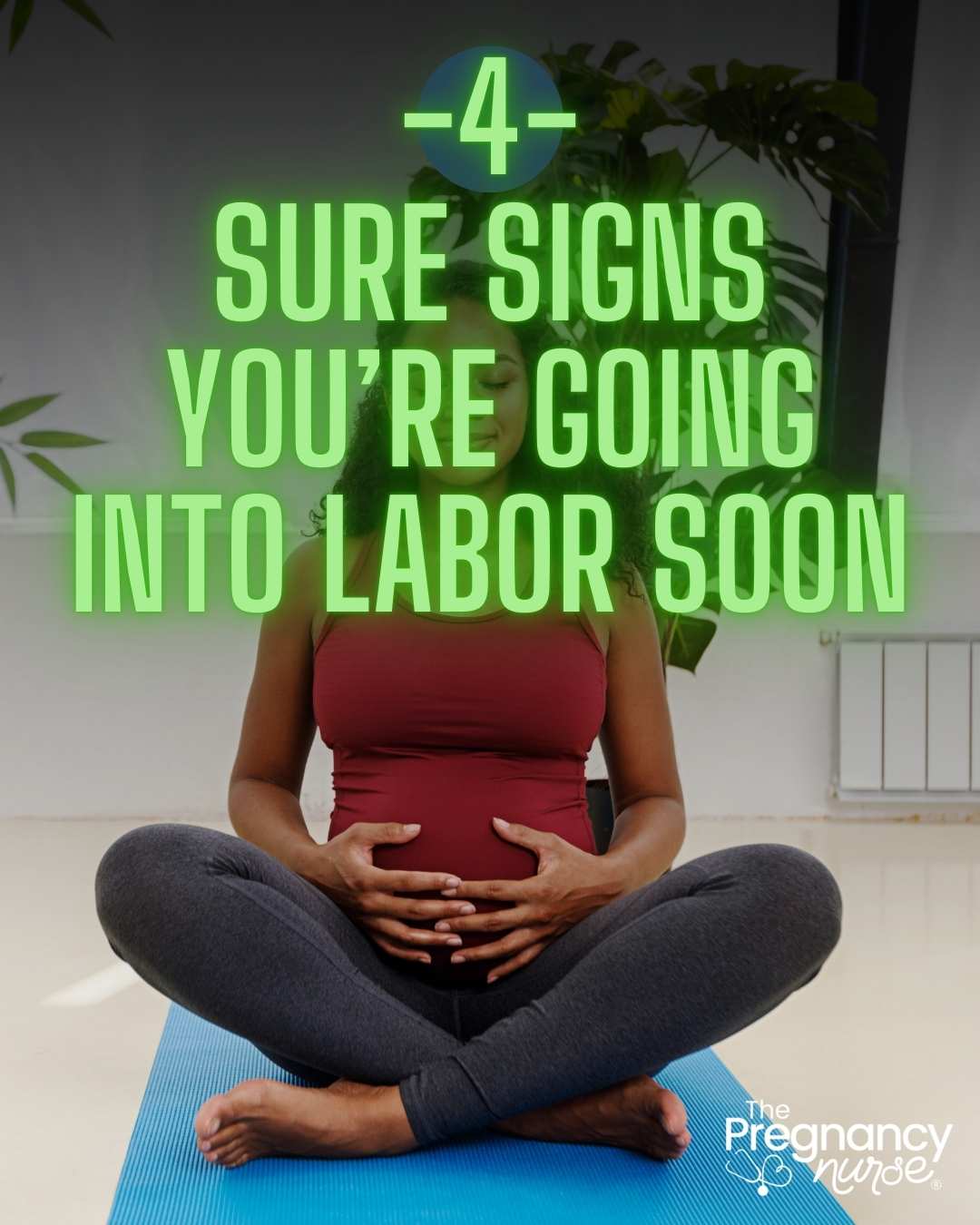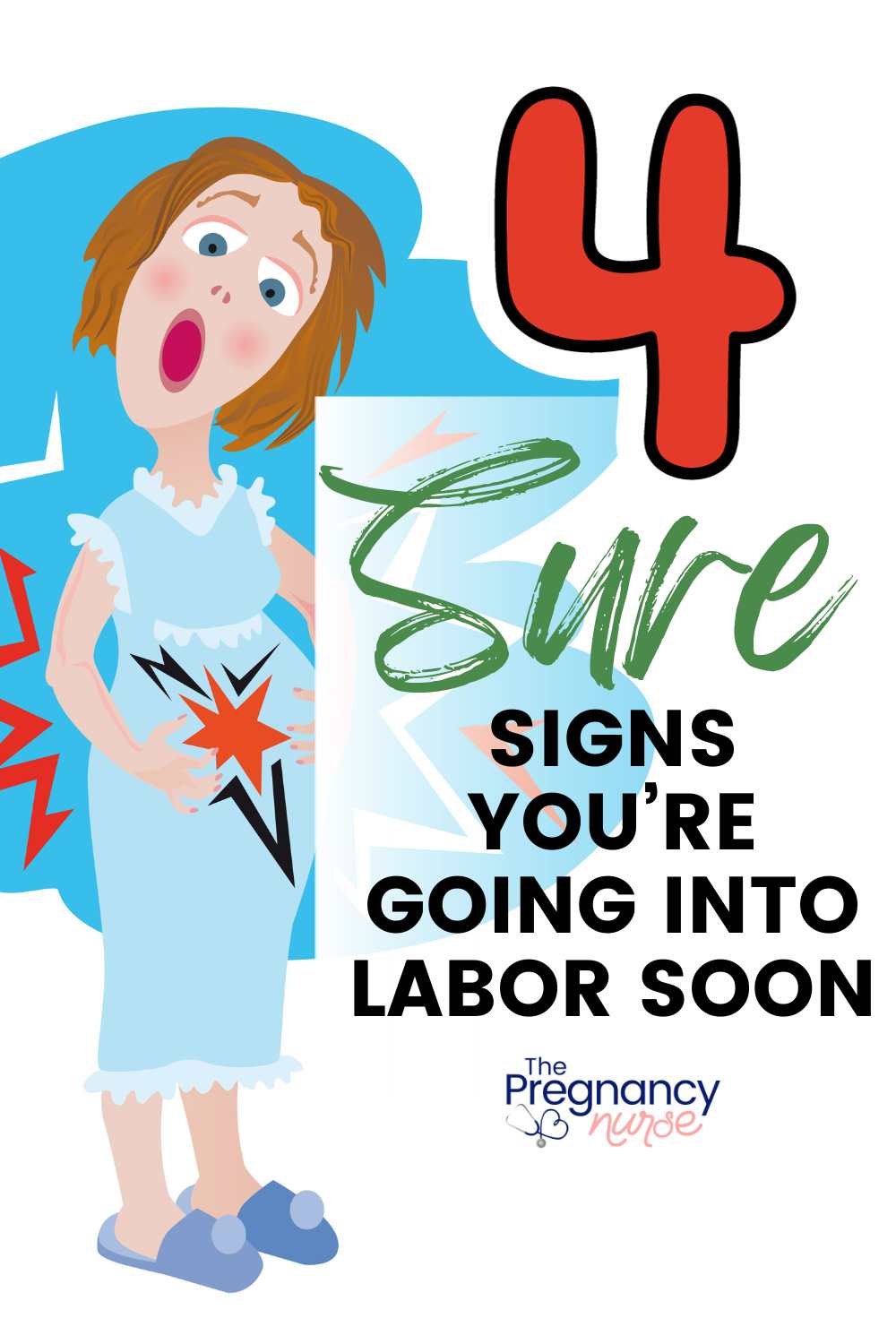 So, you're wondering if all the new signs you're seeing in your body mean labor is near? Today I'm going to give you four sure-fire signs that labor is near!
But first, how do I know so much about labor and how to tell if it's near?
Hi, I'm Hilary — I'm The Pregnancy Nurse®. I've been a nurse since 1997 and I have 20 years of labor and delivery experience. I've talked to thousands of women as they approach their due date and know what types of things do and DO NOT mean that labor is near. so, I'm excited to share this info with you guys.
Pro Tip: Labor comes as a "gang" — it's not just contractions, so grab my labor signs checklist to know what to be watching for:
Your Due Date Is Soon
I know, I know — you hate me. This isn't helpful at all! It's obvious!
But, do you know that one of the ways the whole "eggplant parm starts labor" theory started was that a restaurant gave a bunch of women who were due, overdue or due in the next few days some eggplant parmesean — and HOLY GUACAMOLE many of them had their babies in the next few days.
The reality is that 40 weeks is just our best guest as to when you'll have your baby. It's the average time for most women.
So, if your due date is soon you'll likely go into labor soon.
A lot of people at 36 weeks start to think their due date is "soon" and just hope baby is coming soon because they're tired and miserable. BUT that still means another month. It does mean it's time to prepare for those last few weeks, labor birth and life after baby though. This is the easiest way!
And by soon I mean you're 38+ weeks….
Your Water Breaks
This is actually your BEST sign that labor is going to be soon. Studies show that most people go into labor within 24-72 hours.
Studies also show that it is often fine to wait to go into labor on your own, so if your water has broken you may not need to go to the hospital right away but I'd call your provider for sure.
Now, it seems like it would be SO clear if your water has broken, but I have a "is my water broken?" quiz on my sister site that might help you out.
And, when in doubt call your provider. It isn't awesome to have your water broken long-term and not know/do anything. It can be a source of infection if it is prolonged. It is definitely something to keep an eye on.
You Lose your Mucus Plug
Now, this is where "soon" comes into play. When you lose your mucus plug you most likely will go into labor in the next few days to weeks. So yeah, soon is relative.
However, some people have their mucus plug come out early (even like 2nd trimester). While that is something I would call my provider about, it doesn't always mean you're going into labor.
In general, the cervix does need to dilate or soften some in order for the mucus plug to fall out.
It's just one of those signs that as a nurse I think — Ok, labor will probably be in the next week or so. But I've also been NOT surprised when it didn't happen for longer than that. So, maybe not a sure-fire sign….
Bleeding
Along with this, you may see some bleeding. Bleeding can vary from dark brown (which means it's older blood) to bright red (newer blood). If you're concerned about bleeding, do talk with your provider. However, some spotting (less than the size of a quarter) isn't usually problematic in these last few weeks. It is very different from bleeding earlier on in pregnancy.
Note: If you're ever worried about any sign your best bet is to always contact your provider and see what they think!
Things that are NOT sure-fire signs of labor:
There are a lot of things that people think are sure-fire signs that labor is coming that really aren't. In fact, some can be problematic! So, keep reading to make sure you're doing the right things:
Pelvic Pressure: Sometimes baby likes go "go low" during those last few weeks. And while it is SUPER annoying (your poor, poor bladder) it doesn't really mean that you're closer to labor than someone who's carrying high. Also, you may feel like you're having pelvic pressure on your bladder, but it COULD Be a UTI, so if you're feeling that, be sure to talk with your provider.
Diarrhea/Nausea: Now, this CAN happen when you go into labor. It's part of my "signs of labor" — but only when it's coming with other signs. If you just have some diarrhea it may not mean much. It could also mean you ate some bad Chinese food.
Baby is Moving Less: Somehow this has been an old wive's tale that baby moves more or less before labor. While some people do report that, big changes in fetal movement aren't usually correlated with labor. If you are having big changes in fetal movement you need to contact your provider.
And yes, be SURE to be doing your kick counts:
The thing is, this all sounds like it will be REALLY clear. You'll have sharp abdominal pains and you'll know it's time to go to the hospital. But as someone who's had 3 babies, and also delivered thousands, I can share this:
Most often you don't want to go to the hospital right away — it may not be the best place for you (but call your provider to see what they recommend)
It is rarely that "sharp pain" we see on TV. Instead it's night after night of a few hours of contractions after dinner and one night it just keeps going
You need to be really aware of the warning signs that should send you into the hospital ASAP (or a call to your provider).
But now you're like — well, how the HECK do I know all of that?
This is how you know all of that.
The Online Prenatal Class for Couples is truly the easy way to get you prepared for pregnancy, labor, birth and life after baby. In just a few hours you can understand what to watch for, and feel confident in your choices or what to do next.
And, if you're not quite sure you're ready for that whole thing, check out my free prenatal class. It's your first step toward getting in the driver's seat of your birth.
Don't miss my super helpful post all about the signs of labor. Great info for pregnancy!