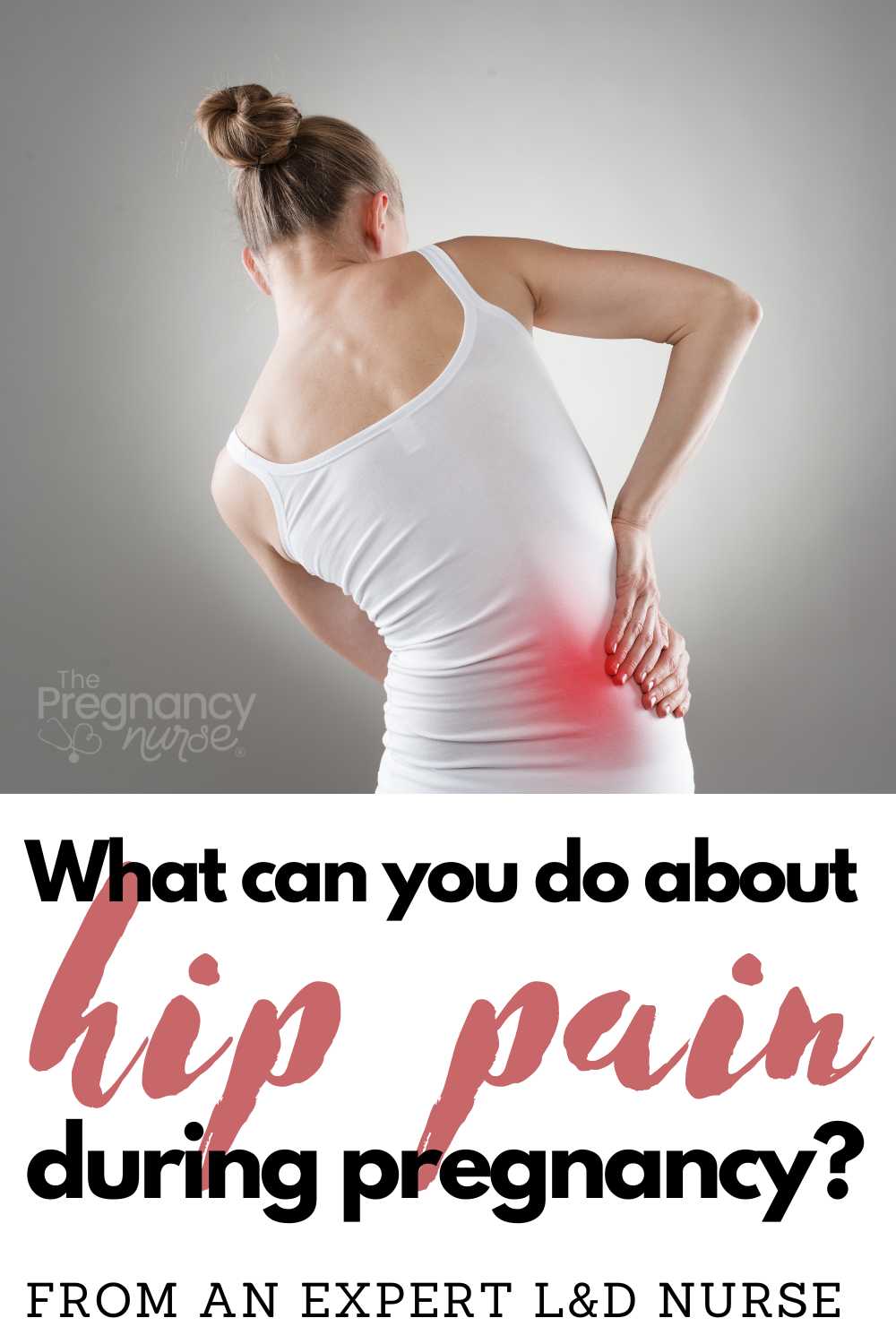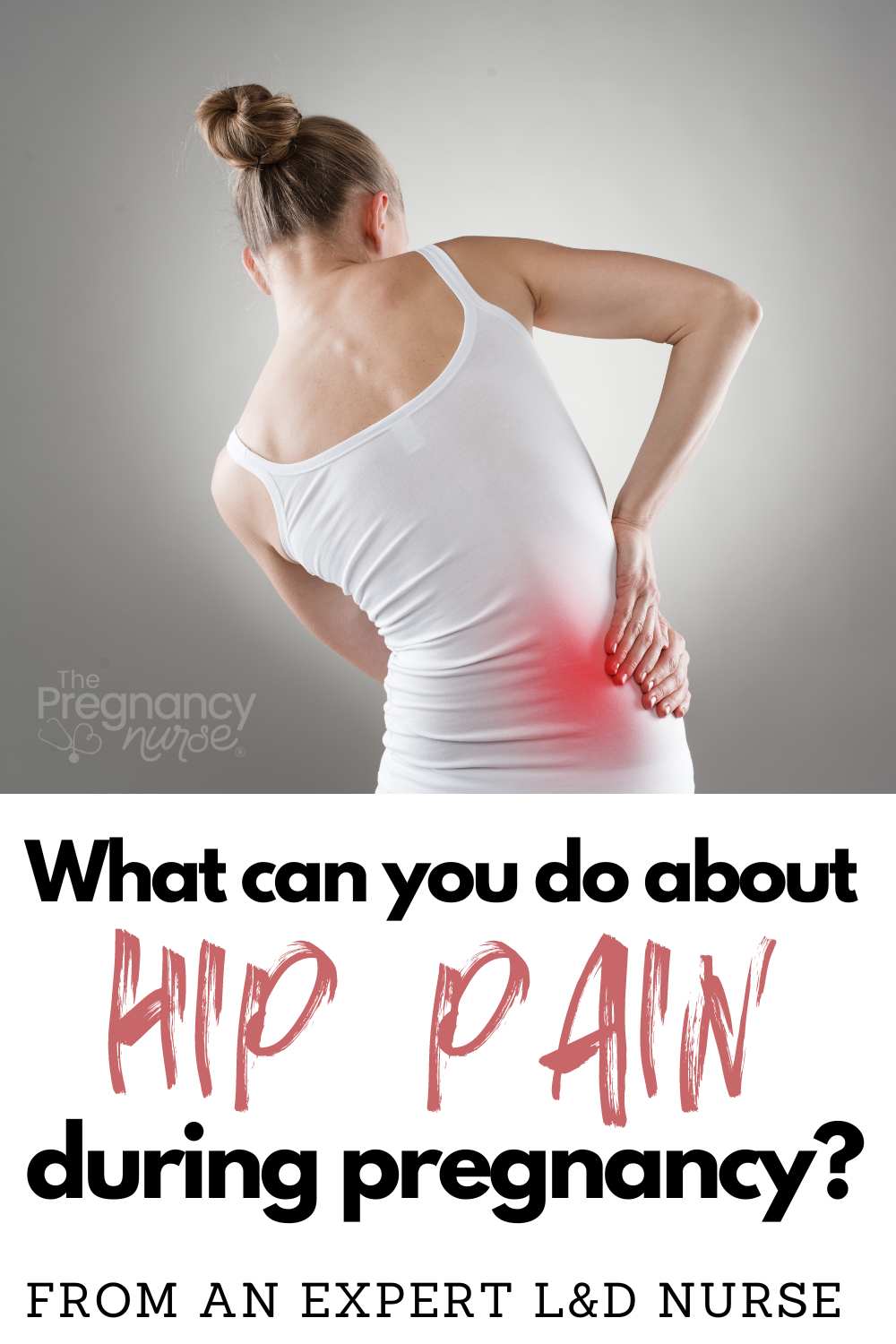 Are you experiencing hip pain during pregnancy? You're not alone! In fact, approximately 50% of pregnant women experience pain in their hips at some point during their pregnancies. While the cause of hip pain during pregnancy is often unknown, there are several things you can do to help relieve the discomfort. Keep reading for tips on how to ease hip pain during pregnancy.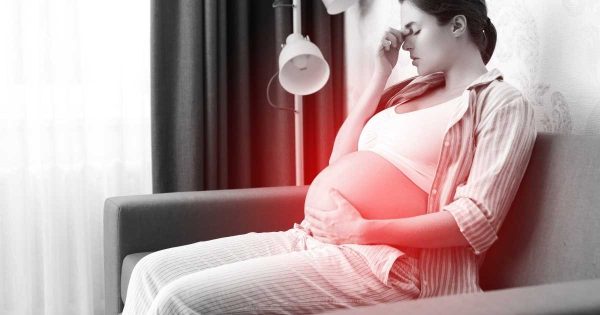 Hip pain is one of the usual "aches and pains" of pregnancy. Most often it doesn't indicate anything wrong. However, be sure to talk with your provider about things you can do. While this soreness happens for a lot of women, there are things they can do — so don't let them brush you off it if is really affecting your quality of life!
Before we get going…. how do I know so much about hip pain?
Hi — I'm Hilary — The Pregnancy Nurse 👩‍⚕️. I have been a nurse since 1997 and I have 20 years of OB nursing experience, I am also the curly head behind Pulling Curls and The Online Prenatal Class for Couples. 🩺​ I actually had severe SPD with my last baby (stay tuned for more on that) and I've done a LOT of looking into what helps! I'm excited to share what causes all of this and what you can do help it!
This type of pain can happen in your first, second or third trimester — but you can join me in my pregnancy series so I can give you tips for JUST where you're at in your pregnancy:
What is hip pain during pregnancy and what are the causes?
Hip pain during pregnancy is a common symptom that you may experience. This discomfort is most often felt late in pregnancy, during the third trimester. This occurs because your body is preparing itself for labor. The extra weight of your growing baby and the loosening of your joints due to the pregnancy hormones (one is called Relaxin) can lead to pain and instability in your hips.
The only thing that really fixes hip pain is delivering the baby. These are ways that you can reduce the pain until then….
It is very normal to experience weight gain during your pregnancy. But, as you do it puts more pressure on your hip joints. Maintaining a healthy weight for your condition can help (but even the skinniest of girls may have issues with their hip pain — so don't let them say it is JUST weight gain!).
"Hip pain" can mean a lot of things. There are a few different ones that pregnant women experience:
Pain on the outside of your hips. This often happens due to the changes in your pelvis (even in your first trimester). It can also extend what might normally just be back pain down into your hips. Stretching can help this type of tight hips pain.
Nerve Pain. Many women experience sciatic nerve pain during their pregnancy. The sciatic nerve runs down the back of the leg. The loosening of your ligaments and connective tissue (from hormone changes) and your changing center of gravity can pinch this nerve through your sacroiliac joints (a fancy name for how your hips bend and shift as you bend, walk, sit etc).. Things like heat, stretching can sometimes help sciatica as well. This often starts in the second trimester when your baby bump shifts things for you.
Pelvic Pain — this would be pain related to your pelvic bone. Most often it's called SPD (symphysis pubis dysfunction) — where the joint between the two sides of your pubic bone (above your pee hole) loosens causing "lightening crotch" or a tingling sensation and other ligament pain in those connective tissues.
Ligament Pain — Your uterus is attached to your body with ligaments. You might feel sharp pain when you couch, sneeze, laugh hard or get up too quickly. These ligaments feel over-stretched and can feel really painful. They differ from contractions but can be on the sides of your abdomen (making you think it's a contraction). You can also feel round ligament pain around your hip area as well.
Upper inner Thigh Pain — (or groin pain) This may also feel like "hip" pain as it radiates down from your pelvis. I have a whole article on upper inner thigh pain in pregnancy.
Baby being low in your birth canal — as baby gets lower in the birth canal, women can just feel like there is a bowling ball in their crotch.
Because all of those things are referred to as "hip pain" it's important that you talk to you provider about what YOU are experiencing.
Pro Tip: The more descriptive you can be in the terms of how the pain feels it actually really helps us. Even if you feel silly saying words like "tingly" or "lightening" it helps us figure out how to HELP you!
These are all common symptoms of pregnancy, but through stretching, and other things you hopefully can find some relief!
My Back Hurts Too?
It's sometimes hard to remember that all of our body is tied together. Often your back and leg muscles may be trying to kick in more because of your pelvic instability. If you have back and hip pain a lot of these things will help BOTH of them! I have some stretches below that can really help with this!
It's easy to forget ALL that is involved in your body creating a baby (or HAVING a baby). Join an expert in here who explains all of it and makes it easy to understand!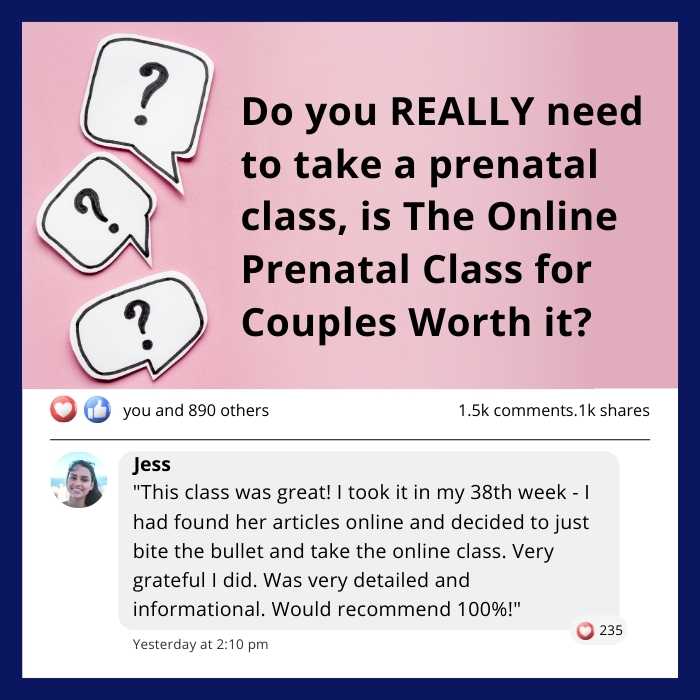 How can you relieve hip pain during pregnancy naturally without medication?
There are several things you can do to ease hip pain during pregnancy. Try these tips:
1. Sleep on your side with a pillow between your knees. This will help take the pressure off of your hips and lower back. This is one the BEST ways to try to help this, sleeping without support on your hips combined with those pregnancy hormones can be horrible. I have a whole post on pregnancy pillows.
2. Avoid high heels and wear comfortable, supportive shoes. They really are your foundation, and while you may feel frumpy, the things that don't hurt will thank you!
3. Use a heating pad, a warm compress or take a warm bath to help relax your muscles and ease pain (make sure it is WARM water, not HOT water — hot isn't good for the baby). You could also consider adding epsom salt to the bath if you have sore muscles as it is suppose to help that.
4. Gently stretch and massage your hips and lower back, You may want to try massage therapy as well (pregnancy massages feel amazing). We're going to talk about some exercises you can do in the next section.
5. Wear some belly straps, pelvic support belt or a belly band that might help support your pelvic joints more. While your pelvic area isn't always covered by these, they definitely can help with pelvic girdle pain by pushing those bones together. Those posts I linked to have lots of different options including kinesiology tape that has been proven to help!
6. If your hips are REALLY bothering you, I'd suggest asking your provider for a referral to a chiropractor or a physical therapist. They may tell you this pain is "normal" — and while is NOT unusual, there are things you can do in your day to day activities that can be helped my a professional like them..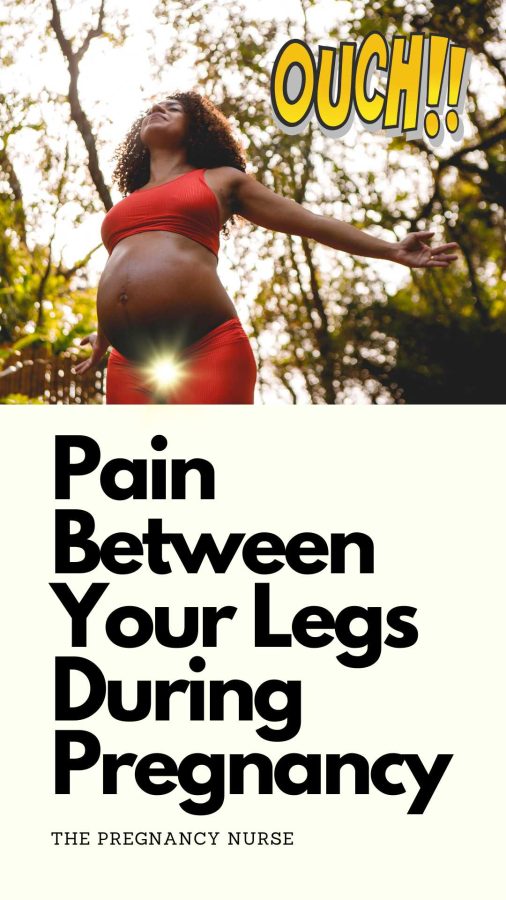 Are there any exercises that can help to reduce hip pain during pregnancy?
Yes! There are several exercises that can help to ease hip pain during pregnancy. I would recommend talking with your healthcare provider, but you can try these (if you are at risk, or have had preterm labor, be sure to talk with your provider about what's safe for you).
1. Pelvic tilts: These help to strengthen your pelvic floor muscles and ease pressure on your hips and help reduce the pain.
2. Kegel exercises: These help to tone your pelvic floor muscles and improve your overall support.
3. Cat-cow stretches: These help to loosen up your lower back and reduce pain.
4. Swimming: This is a great low-impact exercise that can help to relieve pain in your hips, back, and legs. If you're not much of a swimmer, water aerobics can feel great as well. The water helps the baby not put so much pressure on the sciatic nerve as well!
5. Walking: This is also a great low-impact exercise that can help to take the pressure off of your hips and lower back. Be sure to watch your posture too — as how you stand can affect your hip pains.
6. You may find a lot of relief just from simple stretching as they open up blood flow to your body in a good way.
The American College of Obstetricians and Gynecologists (ACOG) has a nice site with 8 stretches to help with hip pain too!
Lower back pain can also extend to your hips due to your pregnancy (like we talked about), and these stretches can help all that a LOT. You may also want to seek out a prenatal yoga class that will help both clear your mind, and stretch your body with the extra support of someone with training.
Normal vs Effecting You
So, people talk to their doctor with two questions in their mind.
Is this normal, or is something wrong? If your hip pain seems to be normal and nothing is wrong than that may alieviate your fears and you can move on.
This is effecting your activities of daily living and you need to try to fix it — in this case, your provider should provide you some ways to fix it (not say "sorry, this is just part of pregnancy").
If you find hip pain really affecting your daily life, I would definitely ask my provider for a referral to a physical therapist. I have a whole post on what they can do. They can take your own issues into consideration and provide you with some ideas that can give you some pain relief as you go through your pregnancy.
I also had a chiropractor on my podcast that said that they can do a lot of things to help with your hips. Make sure you find someone that is trained in the Webster technique.
You may not actually get relief from this pain, although some of these should give you some relief. However, your provider should try to help you fix it (either by ideas from them, or referrals to someone else). Learning to help your provider understand what you need is a good skill to have. In here we have a whole bonus video on provider communication that people find so helpful!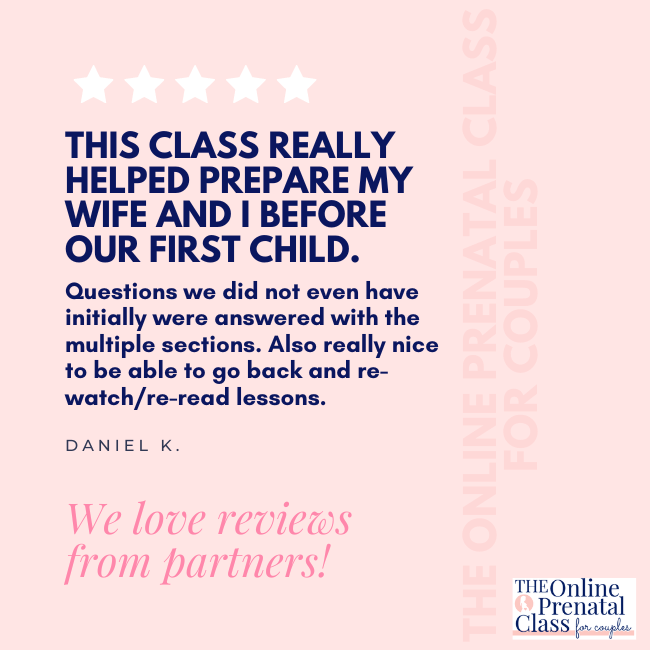 What are some tips for sleeping comfortably with hip pain during pregnancy?
Sleeping can be challenging when you're dealing with hip pain during pregnancy. Here are some tips to help you get a good night's sleep:
1. Sleep on your side with a pillow between your knees. This will help take the pressure off of your hips and lower back.
2. Use a body pillow to support your belly and back.
3. Try sleeping in a reclined position with pillows propping you up.
4. Avoid sleeping on your back, as this can cause more pain in your hips and lower back.
5. Talk to your health care provider about using a pregnancy pillow to help support your hips and lower back while you sleep.
I know this can be SUPER painful, but the more to work to focus on other things the happier you'll be. Grab my positive affirmations that can help you try to stay positive. I really do think they work:
When should you see a doctor about your hip pain during pregnancy and what treatments are available if needed?
If you're experiencing hip pain during pregnancy, it's important to talk to your doctor. They can help rule out any other underlying causes of your pain and provide you with treatment options. After that you can discuss options that might be able to help:
They may have some stretching they recommend (or a stretching class)
Physical therapy referrals
A local chiropractor they have had luck with
Note: a LOT of OB's are hesitant to send patients to chiropractic care because many of them practice outside the scope of their knowledge. You want one who is JUST helping you with your bones and bone structure, that's their job.
Some providers may just say that it's "normal" — but if you're in a lot of pain they should come up with a treatment plan that allows you to seek some help for something that is hurting for long periods.
I can't say it enough, if your provider sort of "brushes you off" and says it's normal — you can say something like:
It's hurting a lot and really affecting my ability to do the work during my day — what else can I try?
Note: You're NOT trying to get pain medication (a lot of doctors may go to pain medicine instinctively) but are looking for other specialties that could help.
There are lots of things you can try, and while they might not ALL help some of them might, and feeling like you're doing something can help you feel a lot more in control of your pregnancy.
Ok, I hope you appreciated how I simplified hip pain during pregnancy and gave you some words to talk to your provider with. That's really what I aim to do with pregnancy. In fact, I'd love to help simplify it from bump to bassinet with The Online Prenatal Class for Couples. It is the simple way to get prepared and feeling confident in the delivery room in just a few hours.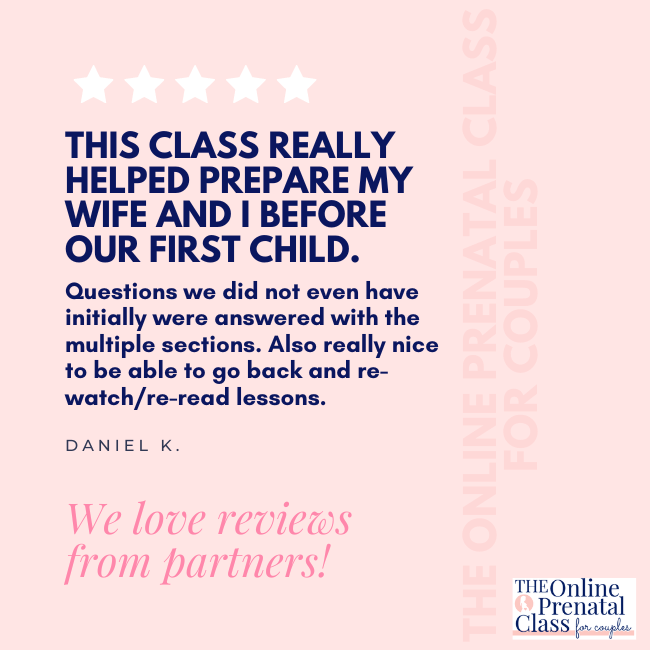 And, if you're not quite sure you're ready for that whole thing, check out my free prenatal class. It's your first step toward getting in the driver's seat of your birth.
About the Author
Latest Posts

A nurse since 1997, she has worked in various fields including pediatrics, geriatrics & hospice. She has 20 years of labor and delivery experience in the San Jose, CA and Phoenix, AZ areas.
As an evidence-based prenatal educator Hilary has delivered thousands of babies and has educated hundreds of thousands of parents from a diverse patient population to help them have a confident birth.