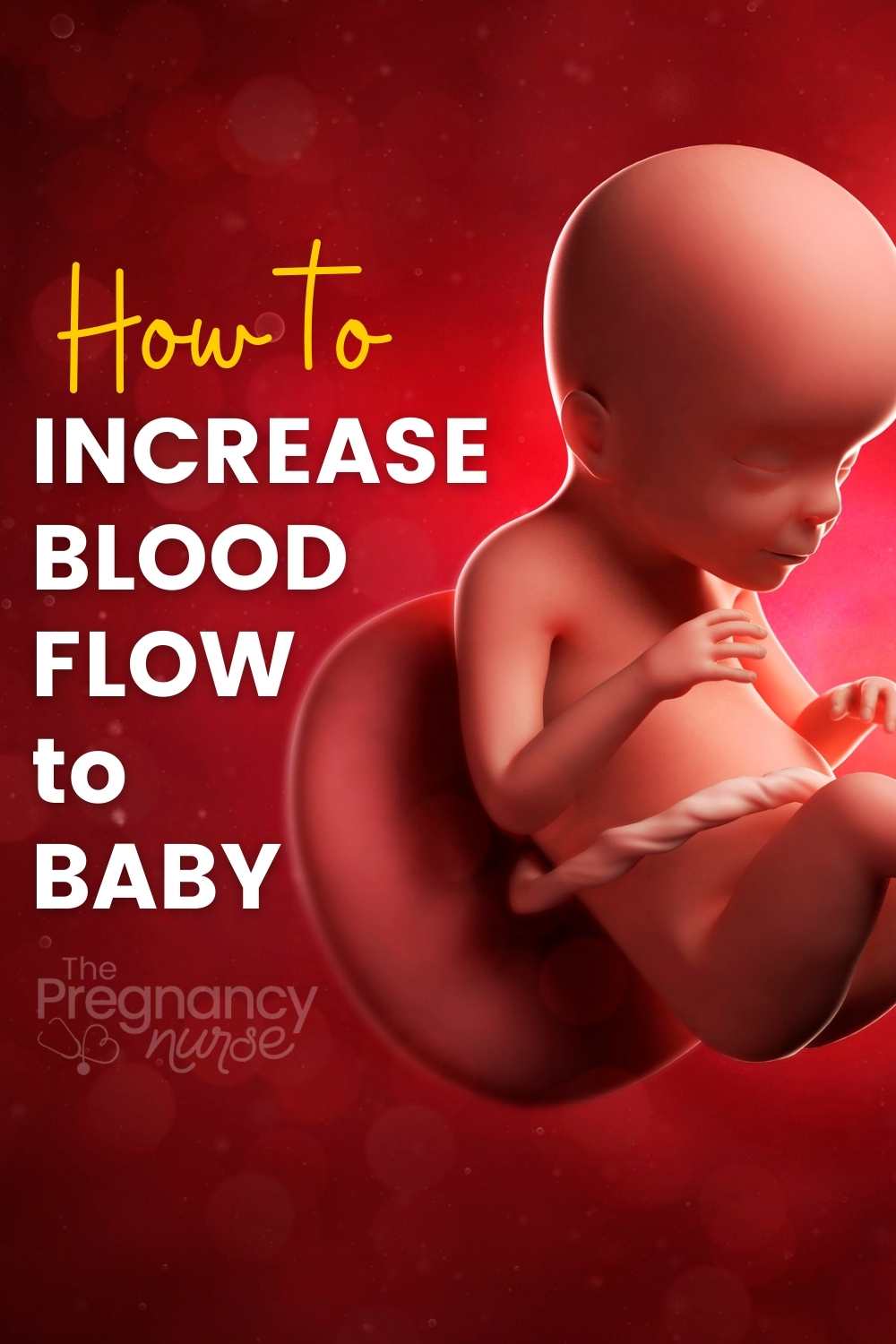 As your baby grows, it becomes more and more important to ensure that they get the blood and oxygen they need. Here are a few ways to help increase blood flow to your baby during pregnancy.
Before we get started… how do I know all of this?
Hi — I'm Hilary — The Pregnancy Nurse 👩‍⚕️. I have been a nurse since 1997 and I have 20 years of OB nursing experience, I am also the curly head behind Pulling Curls and The Online Prenatal Class for Couples. 🩺​ Making sure that babies got as much blood flow as possible was SO important during my time at the bedside, so I am a great resource to make sure you're doing what you can.
Of course, this is NOT MEDICAL advice, just some basic information about how blood gets to baby, and what you can do to promote that. Please talk to your providers about your specific circumstances and needs.
Also, just a reminder that stressing about this does not help it. Yes, there are some good tips in here for any pregnancy, but keep positive that your body is doing all the right things to create your baby.
I would guess that many of you search this on the internet with worries about stillbirth or problems with the baby. I'll have some tips for you too.
How does blood get to the baby during pregnancy?
The placenta is a amazing organ that provides nutrients and oxygen to the baby through the umbilical cord. The blood vessels in the umbilical cord take blood from the placenta to the baby. They also take waste products out of the baby (like carbon dioxide).
It involves three factors:
Your blood (and your blood pressure) to the placenta (plus all the oxygen and nutrients in your blood).
The placenta itself — this is where the exchange of nutrients takes place
The umbilical cord and it carrying it all to (and from) the baby
Any of these three things can make it problematic.
For instance, if your blood doesn't have enough oxygen, it doesn't matter how much gets to the baby. They can only take what you give it.
Medical Reasons that Affect Baby's Blood Flow During Pregnancy
These are just SOME of the medical things that can happen. Please talk to your provider if anything is affecting your baby's blood flow.
Preeclampsia can affect both your blood (if your blood pressure is so high it adjusts how the transition of nutrients happens ta the placenta). Learn about preeclampsia signs here.
Diabetes can affect your blood (especially if there is excess sugar hanging out in it)
High Blood Pressure can do similar things to preeclampsia
Illness: Heavy illnesses, like the flu or Covid-19 can affect baby's blood flow (and studies are showing that Covid can also affect the placenta quite a lot). This is the reason they recommend to vaccinate for as many diseases as you can either before or during pregnancy.
There are lots more specific, less likely things that happen as well.
Signs Baby Isn't Getting Good Blood Flow
Most of your body handles all of this SO well. Your body is designed to create a perfect baby. However, there are signs that we find, most relate to an ultrasound:
Baby Isn't Growing (IUGR or SGA)
Sometimes this is due to just how baby is growing or can be due to decreased blood flow from mom or the placenta. Is is important to watch this over time to decide if baby is "just small" or if it's not growing week to week.
Low Fluid (low AFI)
Having less fluid is often due to the baby getting less blood flow, and then less blood processes through their kidneys. Most of the fluid in the amniotic sac is due to the baby peeing. So, if less fluid is going through the kidneys, it would mean less fluid (that would show up as a low AFI on a ultrasound scan).
Decrease in Movement
If baby suddenly is moving less it can mean that it is getting less blood flow. This is why I recommend daily kick counts. Learn how to kick counts here.
I also recently had a podcast on kick counts and how important they can be.
Kick counts are an easy way to see how baby is doing day to day. If this is a concern at all for you, make SURE you are doing them. They are also a great way to bond with baby as you progress through your pregnancy.
** Baby's movements will CHANGE during pregnancy. Kicks at 20 weeks feel very different than kicks at 36 weeks. But, it should be a gradual change in the movement. You should still be FEELING movement, even right before baby is born.
Any questions about kick counts, please talk to your provider.
Loving this type of tips — make sure you check this out.
Ways to increase blood flow to baby during pregnancy
Once again, I'd like to remind you that you thinking about this, and doing any of these things is only the icing on a cake your body has already baked and manages VERY well. Stressing out that you're not giving the baby enough blood is NOT a way to give it more blood. Unless it is a problem noted by your provider, just provide your baby the most neutral environment to grow (and doing kick counts) is the best thing to do.
1. Drink plenty of fluids: Staying hydrated is important for overall health, but it can also help increase blood flow. Drink 8-10 glasses of water per day, and avoid caffeine and alcohol, which can dehydrate the body.
While these are in no particular order from here on out, this is the #1 thing you can do to promote your baby's blood flow. Your urine should be a very light yellow (I've seen a lot of people say clear but I've actually never seen clear urine in my years as an RN). Drink a LOT — it will also help you feel better during your pregnancy.
2. Exercise: moderate exercise like walking or swimming can help increase blood flow to the baby by up to 20%. Avoid high-impact activities like running or contact sports, which can cause jarring and put unnecessary stress on your body. Check with your provider about your exercise routine and if they recommend any adjustments.
3. Massage: A massage can help to increase blood flow not only to the baby, but to your whole body. It can also help to relax you and reduce stress levels. Some people also find accupuncture helpful.
4. Don't Lay on your Back: If you lay directly on your back it can make your uterus cut off blood flow to the lower half of your body. If you tilt just a bit to one side of the other, the uterus will roll off of it and things will be fine. Some people recommend laying on your left side, but the most important part is to just not lay directly on your back.
When I heard this tip I was horrified by all the times I'd caught myself on my back mistakenly during sleep. I have also heard that if this is really an issue you'll get ringing in your ears and your body will alert you to wake up and MOVE to the side. So while this is important, your body has safeguards too!
5. Wear loose-fitting clothing: Clothing that is tight around the waist or legs can restrict blood flow and cause discomfort. Choose clothes that are comfortable and allow your skin to breathe. My post on belly straps is very clear that wearing it tight on your body doesn't promote blood flow.
6. Avoid hot baths: Soaking in a hot bath may feel relaxing, but it can actually cause your blood vessels to dilate and reduce blood flow to the baby. Stick to cool or warm baths instead. Think lukewarm. And a nice lukewarm bath may ease anxiety as well (which helps promote baby's health too).
7. Eating a healthy diet: This is important for you and your baby. A well balanced diet with plenty of fruits, vegetables, and whole grains will help keep your blood flowing smoothly. I always say to just "eat the rainbow" — eating lots of naturally colorful foods keeps your body running well.
8. Elevate your feet: When you are pregnant, gravity causes your blood to pool in your lower extremities. This can lead to varicose veins and swelling. To help counter this, prop your feet up when you can, and avoid sitting or standing for long periods of time.
9. Wear Compression Stockings: This, similar to raising your feet, will make sure that blood isn't pooling in your lower exetermities and help it return to your body and your baby. Learn more about compression stockings during pregnancy here.
10. Baths & Pool Time: I had a provider BIG on patients being in a deep tub or in a bath. He said that studies showed the compression on the baby helped it to get more blood flow. Either way, I think it helps you relax. Just make sure to take in a nice big drink with you.
Bonus Tip: Decrease your Anxiety: If you're feeling anxious about doing the right things during pregnancy and delivery, talk to your provider, possibly go to some therapy but one of the EASIEST and best things you can do is to take a prenatal class like this one. Putting your mind at rest will help blood flow to baby as well!
These essential elements will also help promote YOUR health during pregnancy as well. They are the good stepping stones towards good overall health during pregnancy. Pick ones that feel right for you. Beyond drinking and eating right, the rest are mostly there if they feel good for you (or your doctor recommends them based on your unique needs).
Remember, your body was designed to do this. And yes, there are times things don't go to plan — but the VAST majority of babies are born perfectly and your body knows just what to do.
I would encourage you to also say some positive mantras about you, and your pregnancy. Things like:
My baby is growing perfectly
My body knows just how to grow this baby
I am so grateful for a body that knows just what to do.
Hang in there mama. Pregnancy is a VERY stressful time, and you can feel like it is "all on you" — but mother nature also has a GREAT deal of help for you as well! She's on your side!
Now is the time to get rid of that anxiety with a high quality prenatal class. The Online Prenatal Class for Couples is….
Quick and to the point, just 3 hours needed (but more if you want, lots of extra info)
Meant to get your partner involved too!
Taught by an experienced RN with a TON of bedside experience.
Use coupon code PREGNURSE to save 10% on the class.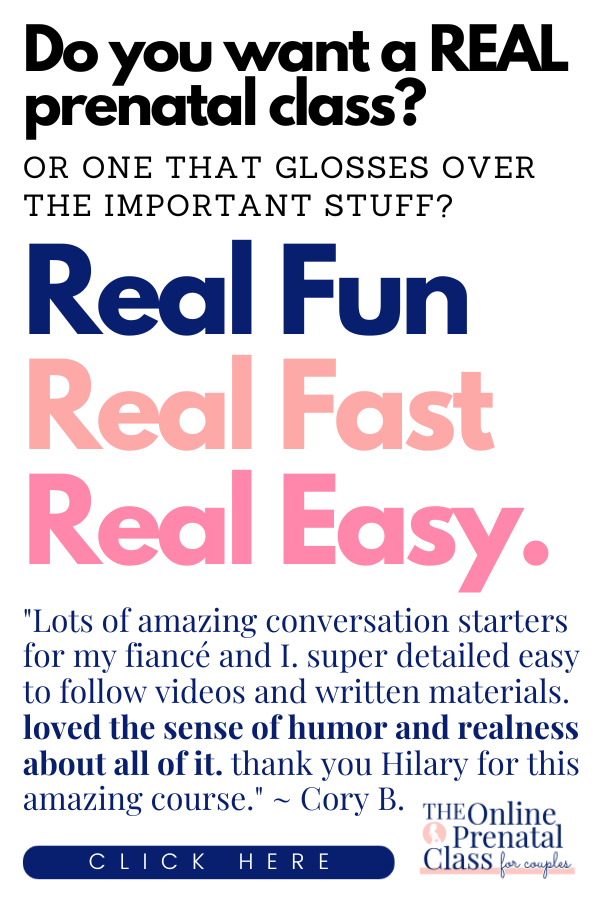 And, if you're not quite sure you're ready for that whole thing, check out my free prenatal class. It's your first step toward getting in the driver's seat of your birth.
About the Author
Latest Posts

A nurse since 1997, she has worked in various fields including pediatrics, geriatrics & hospice. She has 20 years of labor and delivery experience in the San Jose, CA and Phoenix, AZ areas.
As an evidence-based prenatal educator Hilary has delivered thousands of babies and has educated hundreds of thousands of parents from a diverse patient population to help them have a confident birth.