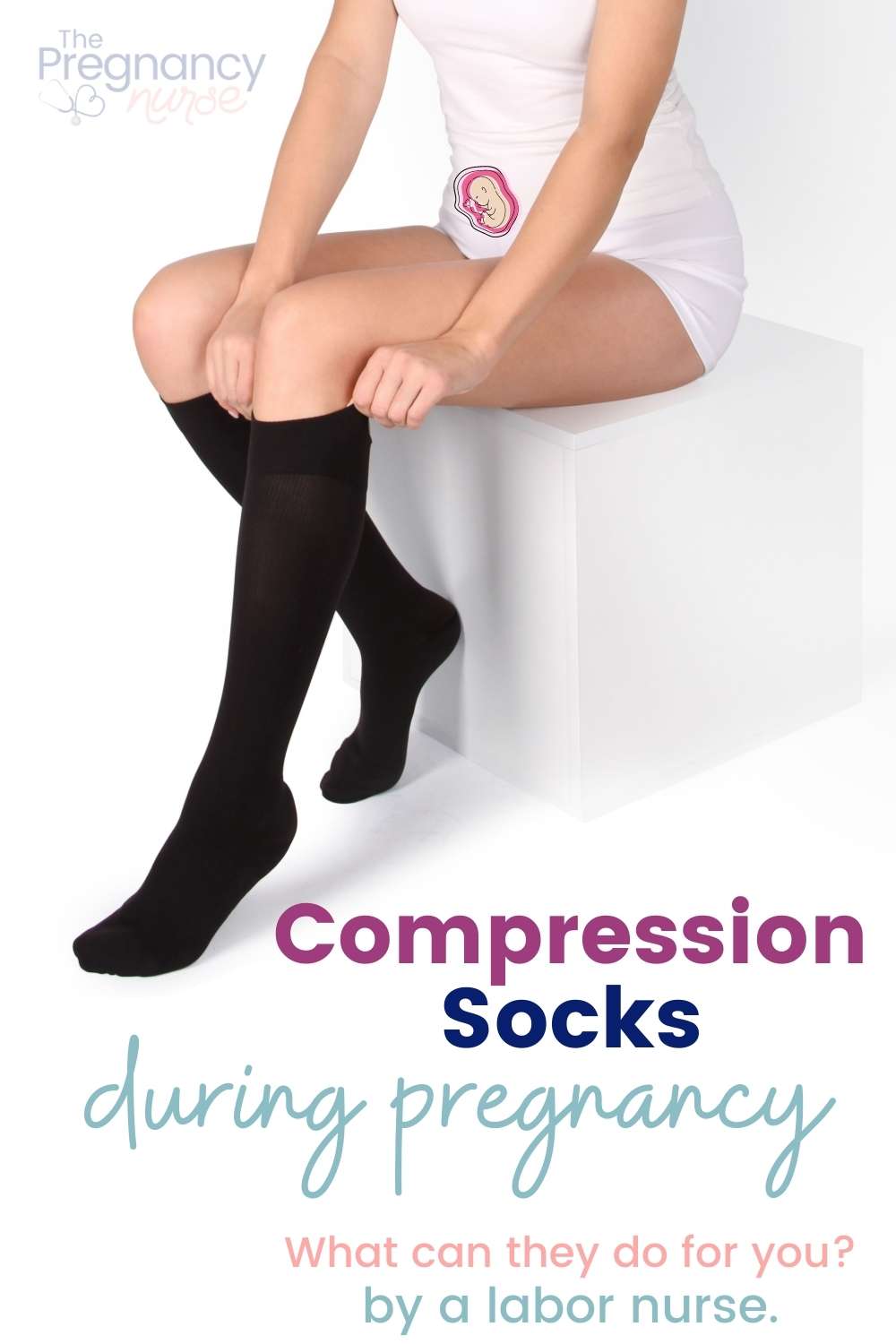 Compression socks can be helpful during pregnancy. When should you start wearing them and what do they even do?
Hi, I'm Hilary — The Pregnancy Nurse 👩‍⚕️. I have been a nurse since 1997 and I have 20 years of OB nursing experience, I am also the curly head behind Pulling Curls and The Online Prenatal Class for Couples. 🩺​ I've seen LOTS of ladies wearing their stockings, or deciding they're not right for them — so, let me help you too.
Before we get started, grab my hospital bag printable:
Ok, we're going to dive into WHY you might want to wear compression stockings, and things that would make you want to wear them.
Why Wear Compression Socks During Pregnancy
In general, compression stockings are worn to:
Stop Swelling — It uses the regular movements of your calf/feet to push the fluid back up to your heart.
Stop Pain — If fluid is pooling in your legs (may not always show as swelling — called venous insufficiency) and making it painful, socks can again help push that fluid back up to your heart.
Stop Blood Clots — Along with fluid, blood can pool in those veins in your legs and cause blood clots.
Stop Varicose Veins — Although the compression stockings won't fix varicose veins, they can help them not get worse (larger) or hurt as much.
Pro Tip: Arteries help PUMP blood through your veins out to your body. Veins don't pump, they just let the work from the heart and arteries push it back to the heart — it's the "end of the journey" for your blood.
When To Wear Compression Stockings During Pregnancy?
In general, when you want to stop any of those things.
Many women don't feel the need for compression stockings. If you're young and aren't on your feet a lot — many people don't wear them. But, many do (or could be helped by wearing them).
Swelling
If you're finding a lot of lower limb swelling compression stockings could help that.
Painful Legs
Although most often this is combined with swelling, but if you find your legs are very painful with standing for long periods — you may want to consider compression stockings.
If it's an option, sitting with your fee raised is a good option to help with this as well.
Blood Clots
Due to how pregnant women's blood functions during pregnancy (see my post on if pregnant women are immunocompromised) they are at a higher risk for blood clots.
Beyond that, there are times that blood clotting may be more likely:
Airplane Travel — since you're stuck in one spot and aren't moving your legs as much, you're at a higher risk during this type of travel (or even train travel, etc) — a good time to put on the compression stockings (even if you don't wear them other times).
Hospital Stay/ Bedrest — If you're in the hospital or stuck on bedrest you are at a higher risk of blood clots. The only issue is that putting compression stockings on is that you may over-exert yourself putting them on. So, that would be something to weigh the risks/benefits. Even during these times you can still work your legs to prevent clots (using your feet to "step on the gas" and then lift it can help prevent cloths).
Extremely Sedentary Jobs — If you're sitting at a desk all day, it can make clots more likely. Hopefully most workplaces will allow you to get up and stretch your legs now and then (or ask for a sitting/standing desk).
When Should You Wear Compression Stockings
In general the baby/fluids are enough to really mess with you until you're obviously showing. That means not til' about 20 weeks or so. But, after 20 weeks if you're having swelling, painful legs, or are at a high risk for blood clots you may want to talk to your provider about wearing them.
Great Compression Socks for Pregnancy
The good news is that there are a lot of fun compression socks out there these days. Here are some good options:
Remember that compression stockings come at varying levels of compression. I recommend starting lower (15 mm Hg) and then building up (>30 mm Hg) if you're still noticing the swelling (the more compressive, the harder they are to get on — and you may need your partner's help).
** Be sure to measure your calf to pick the right size!
I hope this helped you figure out what would be best for you.
If you're looking for MORE help — check out my Online Prenatal Class for Couples. Tons of great tips like these, available at 3 price points and can be done in just about 3 hours. I guarantee to get you more prepared, and the reviews are glowing. 🙂
Or, if you're not sure you're ready for all that — check out my free birth prep kit: