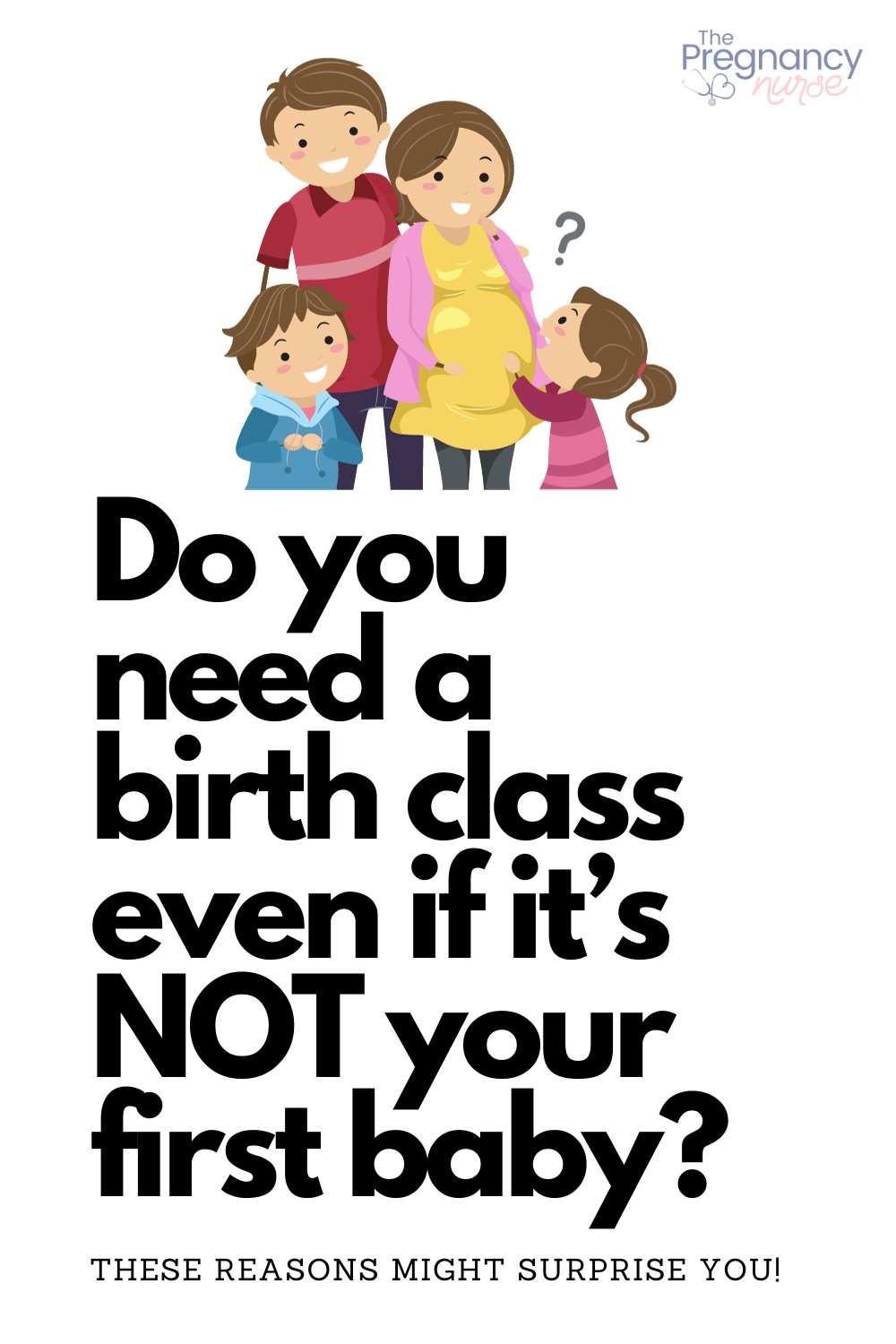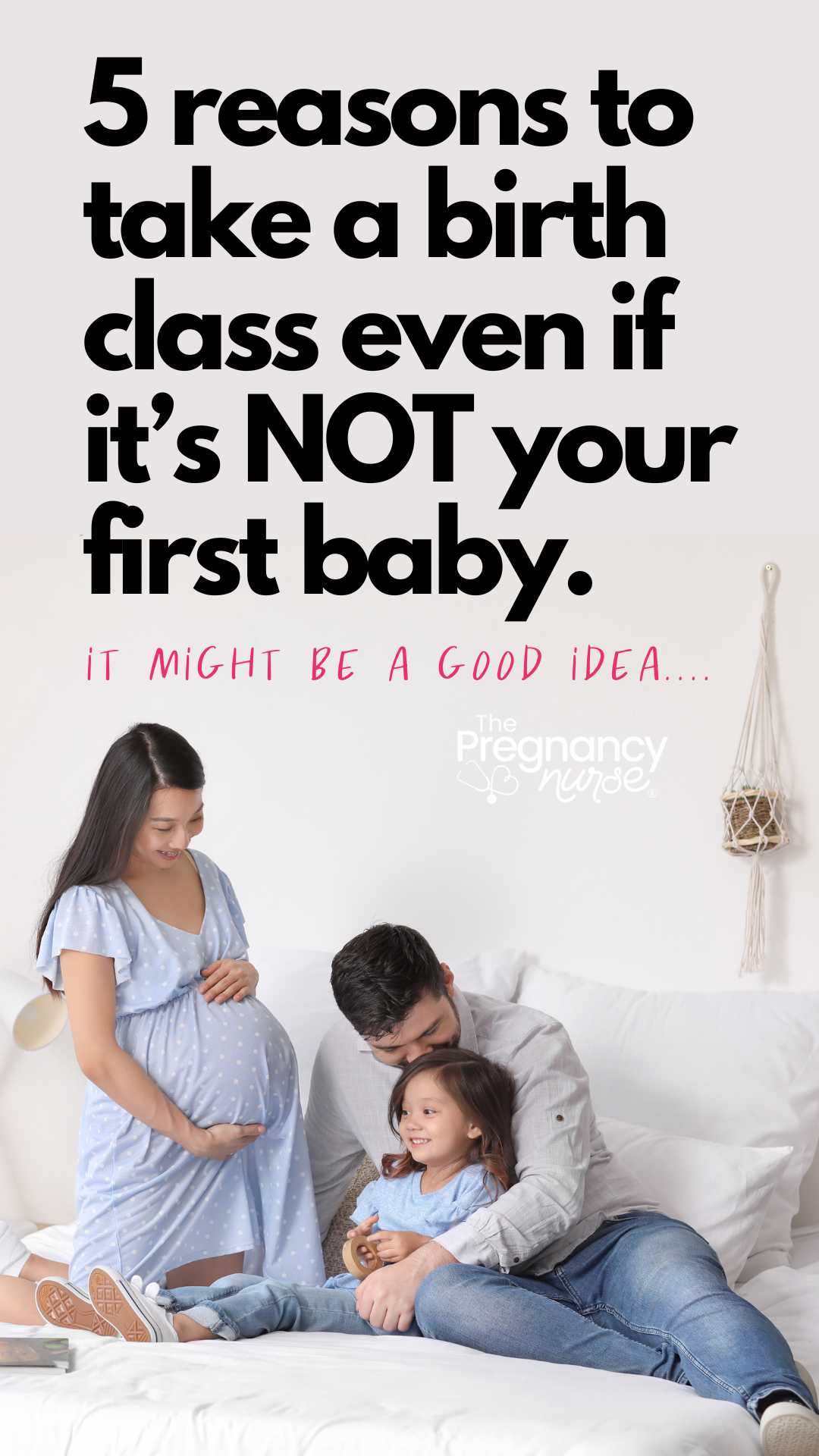 Ok, you're onto baby 2+ — and you're thinking, "I don't need a prenatal class, I've done this" — but NOT SO FAST. While I agree that not every mom who's already had a baby needs a birth class, I think that a lot should consider it to have an even BETTER birth and start to THIS child's parenting journey.
But first, how do I know so much about birth classes? Hi, I'm Hilary — I'm The Pregnancy Nurse® — I've been a nurse since 1997 and I have 20 years of labor and delivery experience. Beyond delivering over a thousand babies, I've taught birth classes for my hospital and then seen how patients implement them during their birth (and frankly, nothing gets me more excited about them).
Do you need a birth class if it's not your first baby?
As a mom of 3 myself, I know how busy (and tired) moms are. I know your time is valuable and I do NOT want to waste it. That being said — Here are a few reasons you might want to consider taking a class even if it's NOT your first baby:
New Partner
If you have a new partner it's going to be a fresh start between the two of you on a parenting journey. That means making choices from day one together about where baby will sleep, who can help after birth and all those sorts of things.
It's way important to talk through those things, even if you're raising other adult children together. Babies need a LOT of teamwork… so solidify that team with a class made for couples!
Oh, and you can always grab my partner tips right here:
Didn't Love First Birth
If you didn't love your first birth I think taking a class is a GREAT way to leave a lot of that trauma behind, and not haul it BACK into the labor room with you.
We might explain why some things happened. We might give you the tools to talk with your provider more as you make choices for this delivery.
Your next birth doesn't have to follow the same path as your previous births! You can make a change!
Higher Risk Pregnancy
If you have some higher risk conditions in this pregnancy, you're likely going to have to make some more choices. Maybe on other testing, earlier inductions or c-section options.
The thing is, on baby 2+ you're just older than you were last time, and things are likely going to be a bit more complicated this time around. Yes, you're likely going to be better at navigating the system now that you have a few years on your belt — but a little assist can be a good thing!
New Doctor
Do you have a new doctor this time? Maybe you didn't like the last one (see birth trauma above) or maybe your other one left/retired/insurance issues and you're not in love with this one.
Life is like that, and if you feel unsteady with your provider I think a birth class can be a good reminder of what's NORMAL and how to talk with your provider to get the answers you need to make choices for yourself.
The landscape of prenatal care in the United States is changing (that's where I have the most experience). Providers are leaving, hospitals are closing and things could be different than your last baby (which could be good or bad).
Changes in Birth Type
Maybe you had a c-section last time, and you're hoping to VBAC this time (a GREAT time to get a class in). Or, last time you had a vaginal birth but for some reason you're likely to have a c-section this time? Great time to get a class in to get informed on the "other side"
This class has chapters on vaginal and cesarean birth from someone who has a LOT of experience with both of them.
C-sections are often the ugly stepsister of birth classes and a lot of people sort of glaze over them. I don't think that's a good plan at all. Knowledge is power and by knowing what to expect in that situation can be REALLY empowering if/when it happens.
Generalized Birth Anxiety
GBA — generalized birth anxiety. You think about birth and it's something you just close your mind to. You don't want to think about it, there's a pit in your stomach. Just not your favorite.
Well, maybe it's time to open up that spot in your brain and clean it up.
Learn what to expect and how to get the birth (and postpartum) experience you can have. With an expert.
This class has been shown to decrease birth anxiety by an average of 60%.
Truth be told, I don't think anything will take away the anxiety of birth. It is a day that will commence a lot of changes in your life. There are still quite a lot of unknowns and preparation can only do so much.
So yeah, if you have the same doctor, you loved your last birth — I think you're good to spend more time making freezer meals for your family than a birth class (although you could 100% watch this class WHILE making freezer meals).
But, if there's a part of you that wishes it had gone different, or knows this pregnancy is different come join me in The Online Prenatal Class for Couples. It truly is the EASY way to get prepared for birth.
I think the basic course is a GREAT option for busy couples with lots of obligations (like other mouths to feed). It can be done in just three hours and can easily be split into a few post-bedtime binges so you feel ready and NOT overwhelmed by it! Oh, and did I mention that course has a best price guarantee on it! You really can't lose.
AND if you're not quite ready to jump into the whole class… maybe you want an appetizer, check out my free prenatal class. It has a free chapter of The Online Prenatal Class for Couples to see if we're a good fit!