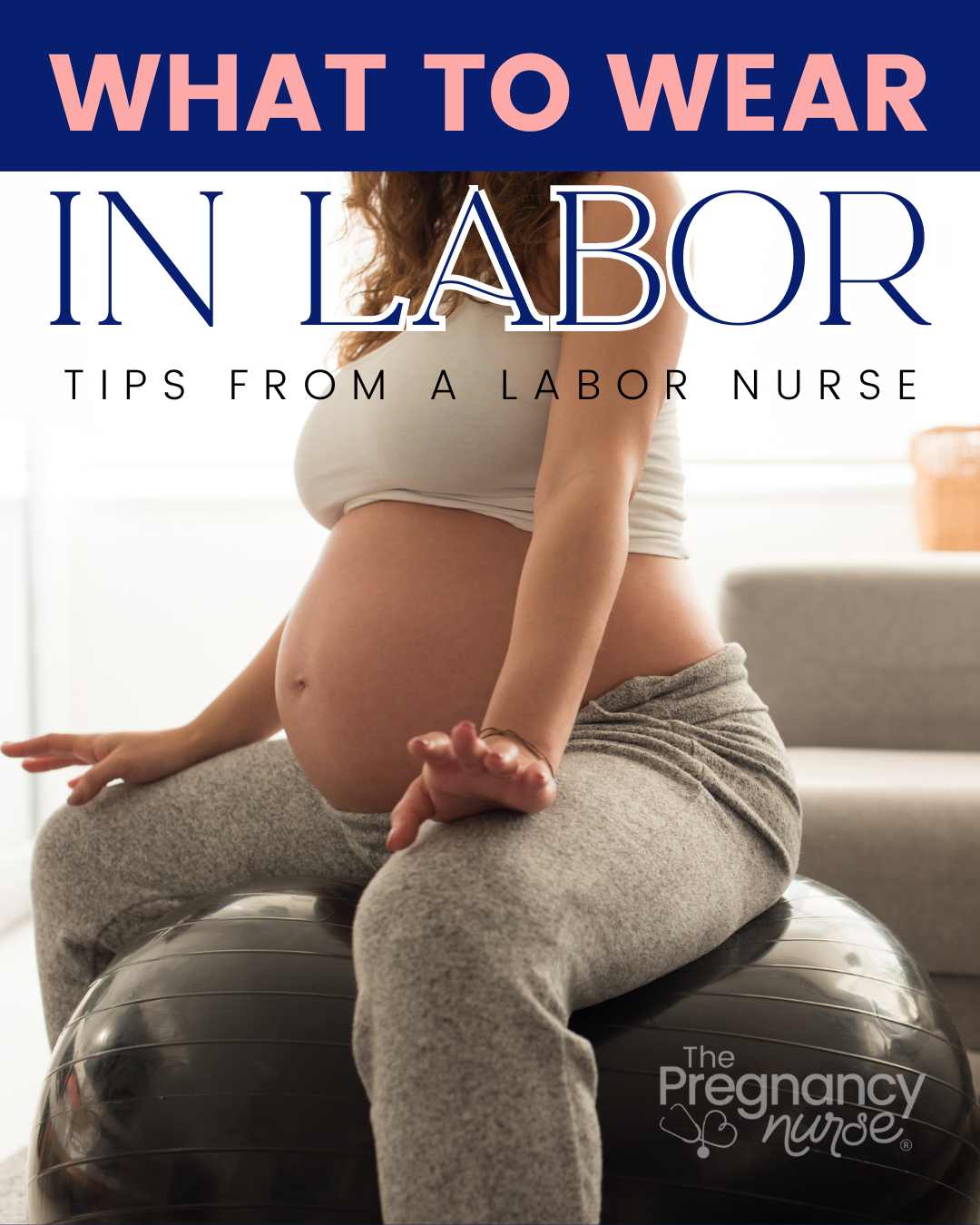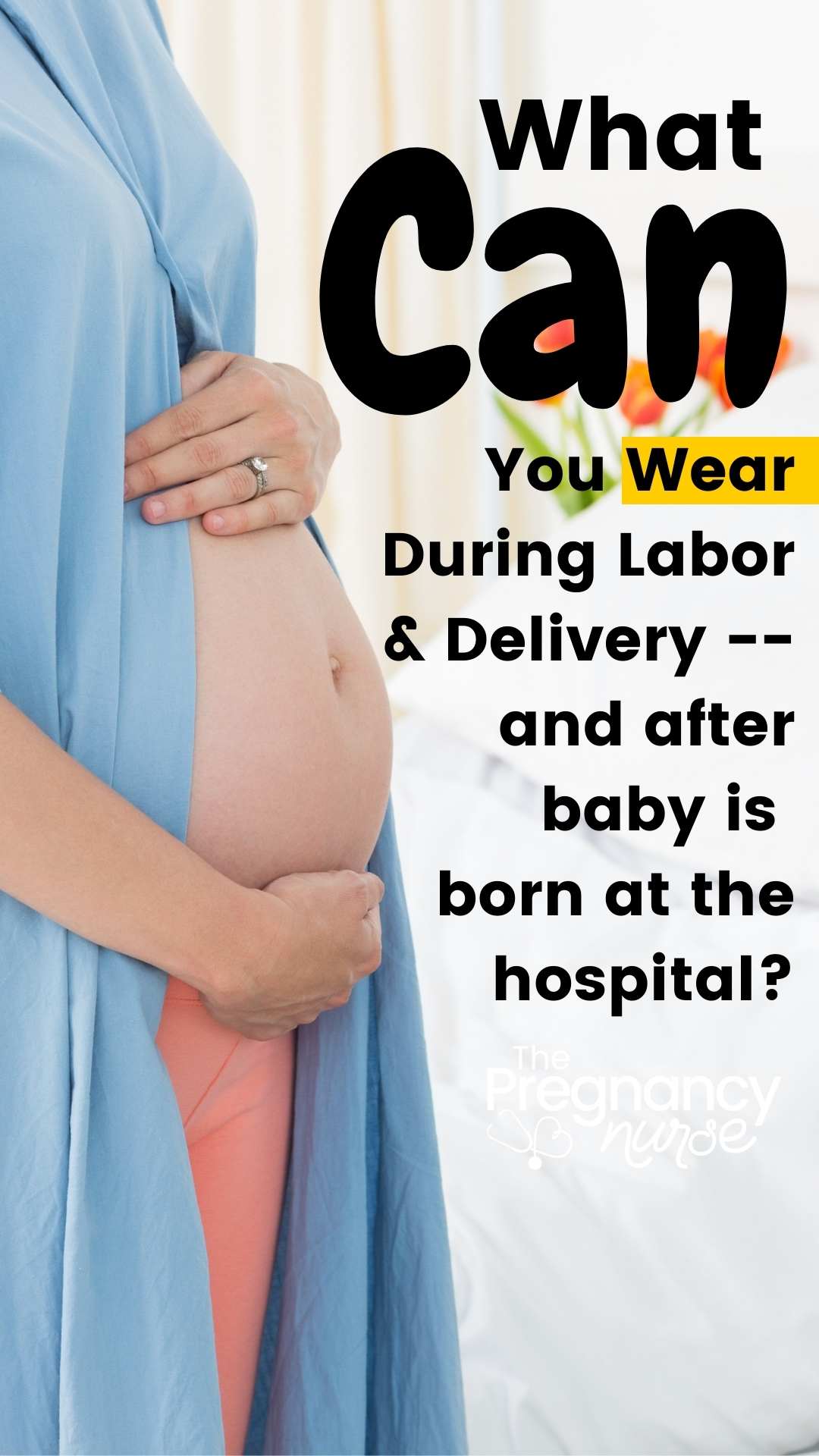 Today, we're going to chat about a few things: What to wear during labor and delivery, what not to wear during labor and delivery. We'll talk about what outfits to pack for your hospital bag and what outfits to pack to go home in. \Wearing the right clothes during labor can make your experience more comfortable. Wearing clothes that are too tight, too short, or make you uncomfortable can make the experience more intense and stressful. There are a few different clothing types that are good options for labor
But first, how do I know all of this? Hi — I'm Hilary — The Pregnancy Nurse 👩‍⚕️. I have been a nurse since 1997 and I have 20 years of OB nursing experience, I am also the curly head behind Pulling Curls and The Online Prenatal Class for Couples. 🩺​ I have helped thousands of women in labor, and I've seen even more as I help other nurses with their patients. I've also had 3 of my own, so you could say I'm an expert on this topic.
Come join me in my free beginning prenatal class where I put you in the driver's seat for your birth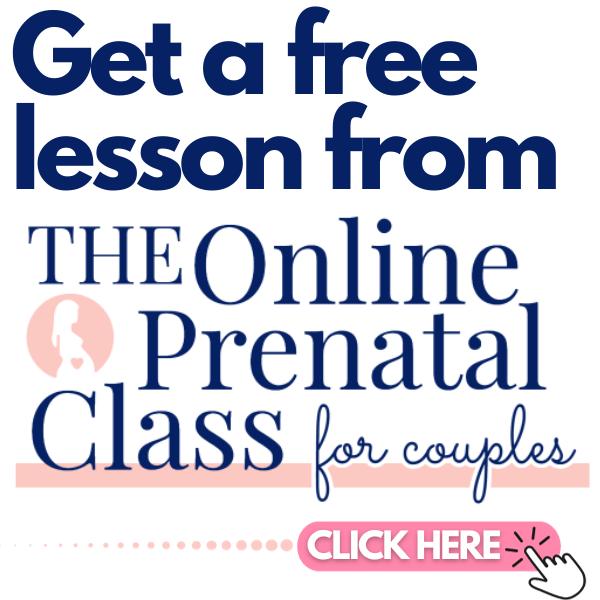 But first off — somehow this is a big controversy on social media (never been an issue in the hospital though, just so you know):
Can you wear your own gown during labor?
Yes, most often you can wear your own gown. Every now and then I hear a story where a nurse wouldn't let a patient wear their own clothes, but I think that is few and far between.
Just keep in mind that you may get that gown SO dirty you never want to see it again — and you nurse may add her two cents on that one. Just because nurses had laundry so much. 🙂
Also, if your gown has metal snaps, it can be an issue if you go for a c-section, so that can be a concern as well — just so you know.
Should you bring your own gown or wear the hospital's?
This is the big question a lot of people have. So, let's talk about the pro's and cons of each option:
The hospital gown
The best part about wearing the hospital's gowns is that the hospital will wash it. Meaning, you don't have to care what gets on it. And I think a lot of people are surprised by HOW MUCH FLUIDS are involved in labor and birthing. Giving birth is a messy task.
Also, the gown opens in the back, meaning you're less likely to get fluids on it (you can just flow onto the absorbent pad we have on the bed (we call this a chux). This allows for easy fetal monitoring as well.
Also, if you want an epidural they need your back exposed for the procedure.
It also provides easy access for IV's and needing to do emergency interventions on it. It has snaps along the top that make it easy to undo for nursing (or again, iv's). It's oversized (sometimes too much so), so you won't feel cramped in it.
Your Own Gown
The best part of your own gown is that you can wash it in your own favorite laundry detergent in advance, and it won't feel crisp, hard to itchy to you. There are a lot of gowns that come at a nice low price point, but you need to come to terms with the fact you may ask us to throw it away after you're done having a baby in it — just because it is SO dirty and you really don't want to consider washing it.
The hospital will NOT wash your own gown. Well, they will — but you will never see it again. Often hospital laundry is done off-site.
Often these gowns do have easy access, but some don't. Some are also REALLY expensive, which is a bummer.
Things to look for in your own delivery gown:
Something that opens in the back
Comfortable fabric
A way to access to breastfeed & skin-to-skin
Bonus if it has a way to open up the sleeves for access.
Here are a few that I found on Amazon that you might like:
This type is probably my favorite (you'll see it as a few brands on Amazon) — it has back access (but snaps if you want to stay modest out of the bed) and easy access for IV's or breastfeeding. They also have it in long sleeve.
This one is similar, and I think the fabric may wash better than the one above.
This one is awfully cute, would be great if you're often hot. Not as EASY to access with the whole velcro thing in the back, but can be done pretty easily.
This one is so pretty and great if you want to stay a bit more modest (honestly, I'd love this one for after the baby is born, stay tuned for more info on that!
Does Everyone Wear a GOWN in Labor?
Heck no. There are a lot of options:
Many people like a tank top with a shelf bra. Most of the time you'll be in bed (or you can throw a gown on if you'd like) — this gives your chest some mild support, you feel covered (from what's not covered by a sheet) and it's comfortable. I like this one with a bit wider straps.
Many people like to labor naked (especially towards the end), and honestly, your labor staff doesn't care at all. It may help to bring a couple of options for how you feel comfortable at the time.
What Should I Put in My Hospital Bag?
I have a whole post on when you pack your hospital bag, and I have a whole post on my sister site on what to put in your labor bag. It actually breaks it down into three or four bags that can be really helpful.
Grab my free hospital packing list while you're here!
What is the Right Bra for Labor & Delivery?
Many pregnant women are surprised to learn that the right bra to wear during labor and delivery is often the same bra they wear every day.
The most important thing is that the bra is comfortable, supportive and easy to take on and off. It should be made of fabric that breathes, has no underwire and has wide straps.
A bra should fit well before pregnancy, but as your breasts change during pregnancy, you may need to switch to a larger bra size. A maternity bra typically has wide straps for comfort, a front closure for ease of taking it on and off quickly, and a band that is comfortable.
I do recommend, if possible, to wear a wire-free bra. If there was an emergency we just prefer it due to complications in the OR — although most anesthesia doesn't have an issue with it (as long as the wire is completely covered.
I do love nursing bras though, makes for easy access for baby after it's born and you want skin to skin time. Something like this would be nice.
Do most women wear a bra in labor?
I'd say it's about 50/50.
A lot of times, during pregnancy, you find that you need to wear a bra almost the entire day to feel comfortable — even when you sleep (because of growing, tender boobs). If that's you, definitely bring a bra to L&D.
If that's not you, I'd have one in your bag in case your breasts start to become uncomfortable, but a lot of women labor without one.
You will likely want one after you have the baby for support (because your breast will likely grow more and get more tender).
I actually have a whole post on if you should wear a bra during labor, so that might be helpful as well.
What Shoes Should You Wear to Labor & Delivery?
You'll want something waterproof, or that you don't care about.
Crocs are a good option (so are flipflops, but crocs are a bit more sturdy), but if you get cold feet you can add some fuzzy socks (which, again, you are OK to throw away).
Many women bring fuzzy slippers but they make me nervous and we definitely don't wear them your first few times up to the restroom as you often get blood running down your legs. Sorry to be the bearer of that bad news. I am a big fan of fuzzy socks that you feel OK to throw away — a few pair will be nice if your feet get cold easily.
Most important: Maximize Your Comfort & Don't Be Afraid to Change
Bring what makes you comfortable — I agree with this 100%, but be aware that things in labor and delivery can get dirty. Real dirty. So, don't be afraid to use the hospital's stuff.
A happy medium can be bringing a favorite blanket from home (but not one you love so much you would die if you had to throw it out) to snuggle up with (and then put away when things get messy).
Also, don't be afraid to wear one thing in the beginning, and shift to something else if that item is annoying you. It's so normal and not a trouble at all for your nursing staff.
What to Wear AFTER Baby in The Hospital (on the Postpartum Unit)
About 12 hour after baby is born, I feel like you're in a safe zone to start wearing your own clothes or your own gown if you want.
At this point many women put on pajamas or a nightgown. You're just much less likely to bleed on it. This one that I mentioned above would be so nice.
Once you've had your first shower (which feels AMAZING btw) many find they want to wear their own clothes. And many prefer to put on PJ pants for modesty as well, which is totally fine.
However, a lot still wear the hospital gown for convenience. I do recommend bringing a fuzzy robe to wear and keep you a bit warmer. I actually went to a thrift store and bought one (in case I had to throw it away — are you seeing a theme here?)
What to Wear Home from the Hospital
You'll want an outfit that fit you well at about 5 months pregnant. While the BABY and amniotic fluid will be out of your system, your uterus still takes a bit of time to shrink back down to how it was before.
So, What did I Wear?
I wore the hospital gown in labor, and I brought a bathrobe to wear over my gown after baby was born. I switched to my own clothes before I went home.
Because I hate laundry. A lot.
Conclusion- Tips for Moms on How to Dress During Labor & Delivery
It's important to be comfortable during labor and delivery and dressing appropriately can help.
It's important to be comfortable during labor and delivery and dressing appropriately can help. Your comfort should be a top priority.
Wear clothes that are loose and comfortable
Avoid clothing with tight waistbands, zippers, and buttons
Wear clothes that can be easily undone if necessary
Wear socks or slippers
I hope you found this helpful. If you'd like to peek behind the "curtain" a bit more into labor and delivery, I'd love it if you'd join me in The Online Prenatal Class for Couples where we aim to prepare couples from bump to bassinette for the confident hospital delivery that they're looking for. It takes just 3 hours, and comes in three price points — so I know there will be something just for you!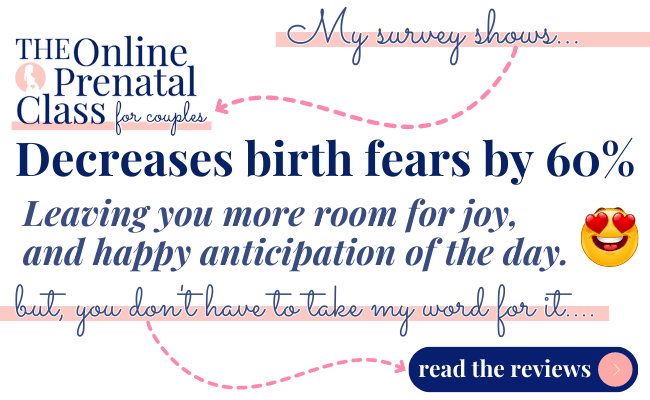 And, if you're not quite sure you're ready for that whole thing, check out my free prenatal class. It's your first step toward getting in the driver's seat of your birth.
About the Author
Latest Posts

A nurse since 1997, she has worked in various fields including pediatrics, geriatrics & hospice. She has 20 years of labor and delivery experience in the San Jose, CA and Phoenix, AZ areas.
As an evidence-based prenatal educator Hilary has delivered thousands of babies and has educated hundreds of thousands of parents from a diverse patient population to help them have a confident birth.