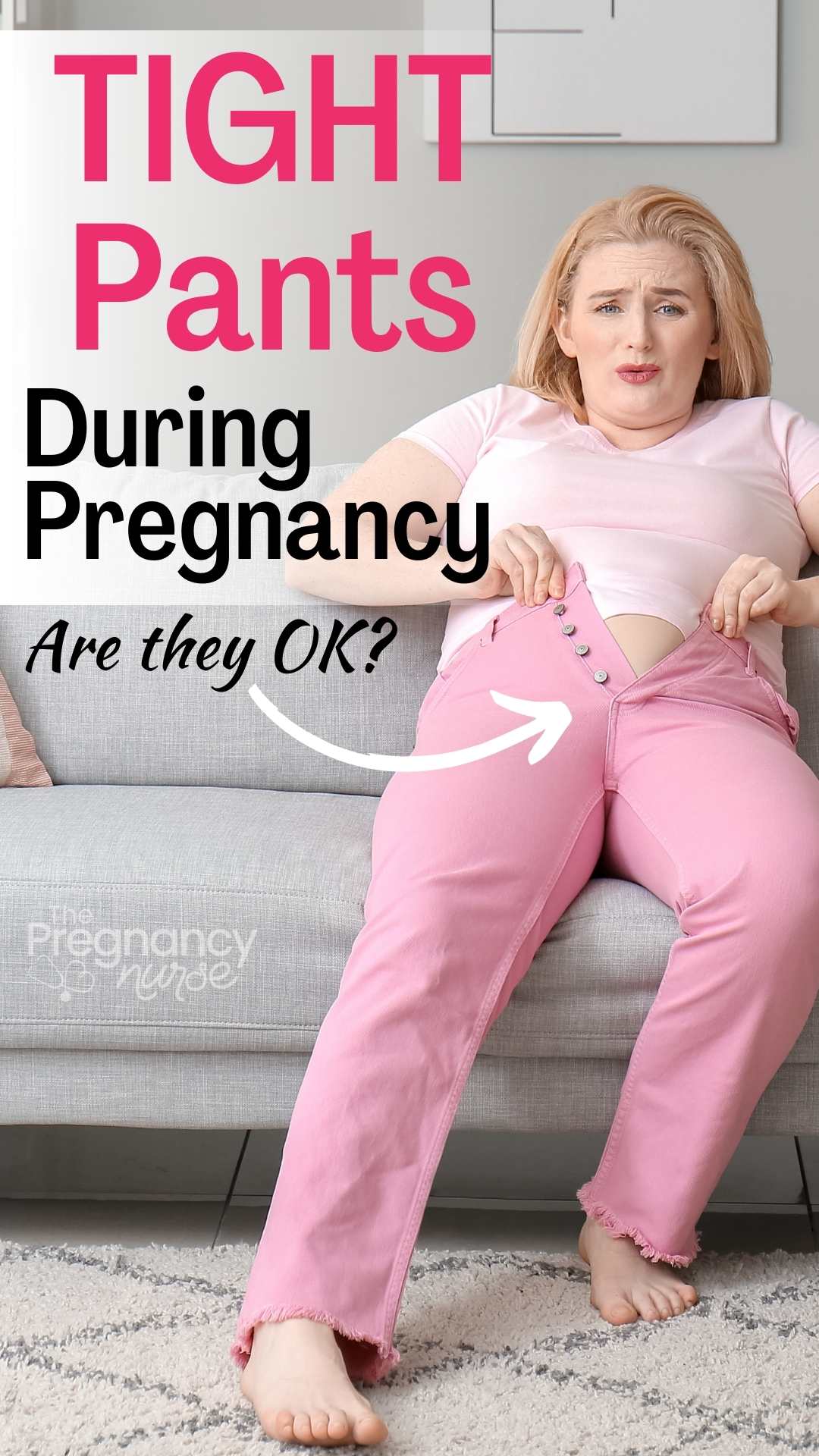 Are you pregnant and struggling to fit into your clothes? Are you worried about how tight your pants are around your waist? You're not alone. Many pregnant women find themselves in the same situation. In this blog post, we'll discuss the reasons why your pants might be tight and offer some tips on how to make them more comfortable. Keep reading for more information.
But first, how do I know all of this? Hi — I'm Hilary — The Pregnancy Nurse 👩‍⚕️. I have been a nurse since 1997 and I have 20 years of OB nursing experience, I am also the curly head behind Pulling Curls and The Online Prenatal Class for Couples. 🩺​ I have seen LOTS of pregnant women in LOTS of types of clothes (in addition to wearing my own maternity clothes three times), so I'm a great resource for this.
Come join me in my free beginning prenatal class that highlights pregnancy testing, movement during/before labor & birth plans: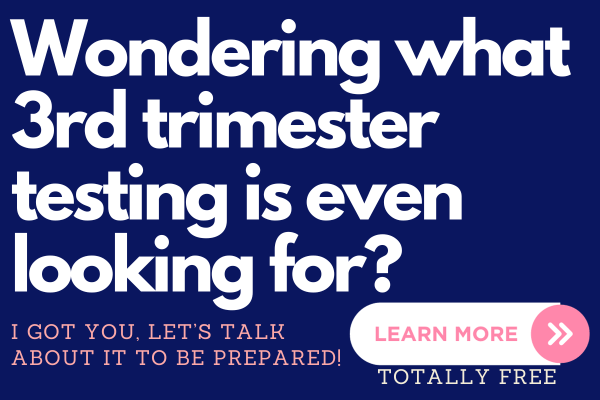 What are the dangers of wearing tight pants around your waist during pregnancy?
There are a few dangers associated with wearing tight pants during pregnancy.
First, they can cause discomfort and even pain. Most often this is from them digging into you either on your waist, or sometimes on your hips (especially when you sit down).
Second, they can constrict your blood flow and lead to circulation problems. Most often you'll find yourself feeling "achy" in your legs or having other symptoms if this is the case though.
Third, they can increase your risk of developing a yeast infection, or vaginitis. Tight pants can be an issue that doesn't allow the circulation your lady bits area needs to remain healthy (especially if you're wearing them frequently). This can be especially true if you're wearing certain types of fabric as well.
Finally, you will just hate having to pull them up, or feel weird about them. It just weighs on you day to day…. no one likes that!
Benefits to tight pants during pregnancy?
There are a few benefits to wearing tight pants during pregnancy.
First, they can help support your growing belly, and pelvis. With my last pregnancy I had some symphysis pubis dysfunction and pants that were tighter on my hips (not always on my waist) helped my pelvis "stick" together rather than feeling like I am falling apart.
These tended to be the pants that had a "cut out" for my belly (so the pants went below my belly like these) but I loved those tight pants. My hips didn't ache near as much when I wore them. However, I didn't wear them when I was lounging at home (because they just weren't that comfy).
Second, some pregnant women may feel more comfortable and confident in their body in those types of pants. How you FEEL is important too (just be sure you're honest about what's digging into you vs thinking you still look hot in your skinnies).
Also, the fact of not having to buy new pants is something as well. In those last few weeks you may feel like ALL pants feel tight, but it might not be worth it to buy new ones since you're going to be done with this baby soon (or just wear those stretchy pants you have on most days). I have a tip for this type of fit down below! I also have a post on if you can suck in your stomach when pregnant.
Ultimately, though, the decision of whether or not to wear tight pants during pregnancy is up to you and your individual preferences.
Pro Tip: I would say that "tight" really varies person to person — someone's "tight" is someone else's "fine". So if in doubt you could wear them to your next appointment and see what your provider thinks.
How can I make my tight pants more comfortable during pregnancy?
If you decide to wear tight pants during pregnancy, there are a few things you can do to make them more comfortable.
First, try wearing a maternity belt or band. This will help support your belly and take some of the pressure off of your waist. You can also try some belly straps.
Second, make sure to choose a fabric that is stretchy and breathable. This will help keep you from getting too hot and sweaty.
Third, avoid wearing tight pants for extended periods of time. If you must wear them for long periods, take breaks often to walk around and stretch.
If you're just looking to make pants fit a bit longer you can try a button extender to get you a few more weeks in those pants. These can be helpful postpartum as well!
How to wear loose-fitting clothes for a more comfortable pregnancy
If you're not interested in wearing tight pants during pregnancy, there are plenty of other options. Loose-fitting clothes are often more comfortable and can be just as stylish.
Some good choices include flowy dresses, loose-fitting skirts, and baggy pants.
Here are some of my favorite dresses:
You can also layer your clothing to create a more customized fit. For example, you might wear a tight tank top under a loose dress or shirt. This way, you can adjust the amount of coverage and support you need as your pregnancy progresses.
You can also wear a belly band to cover up if anything shows when you bend over, etc.
The best types of clothing to wear during each stage of your pregnancy
Every woman and every pregnancy is different. That's why there's no one-size-fits-all answer to the question of what to wear during pregnancy. However, there are a few general guidelines that can help you choose the best clothing for each stage of your pregnancy.
In the first trimester, you might want to stick with your regular clothes. However, you might want to invest in a few maternity pieces, like leggings with a stretchy waistband, flowy dresses, or a comfortable pair of flats (don't forget the shoes, comfortable shoes are IMPORTANT during pregnancy!).
In the second trimester, your body will continue to change and grow. You might start to feel more comfortable in maternity clothes at this point. However, you can still wear your regular clothes if they fit well and you're comfortable in them.
In the third trimester, you'll likely be most comfortable in maternity clothes. Look for items that are designed to support your growing belly and breasts. You might also want to invest in a few nursing-friendly pieces so you can easily feed your baby after he or she is born.
Ultimately, the best way to figure out what to wear during pregnancy is to experiment and see what works best for you. Don't be afraid to try new styles or silhouettes. And, most importantly, listen to your body. If something feels uncomfortable, don't wear it. Pregnancy is a time to focus on your comfort and wellbeing. So, make sure to dress in a way that makes you feel good.
Great places to look for maternity clothes:
What should I wear after baby is born?
Many people think they'll be right back into their pre-pregnancy clothes as soon as baby is born. I haven't found this to be the case. Most people go back to clothes they wore at 5-6 months pregnant (and then slowly shrinking from there).
If you had a vaginal delivery, you especially don't want pants fitting tightly in your crotch area. That area will be healing and needs LOTS of air flow for that.
If you had a cesarean section, most of those moms LOVE dresses for the first few weeks. You won't want anything pressing on your incision for both healing (it could open the wound) and comfort.
You'll still want comfortable (roomy) shoes for those first few weeks after delivery as your feet might be swollen.
So, hopefully that gave you some ideas on if it's OK to wear tight pants. I just want you to know that how you feel is important too! It's easy to think you'll only wear these clothes for a few months, so you don't need anything nice — but I think that a few nicer outfits are well worth the cost for your own self image.
I've had good luck getting good maternity clothes at Goodwill, or getting hand-me-downs if I mentioned my need, so don't let the prices scare you. With a bit of "treasure hunting" I bet you'll find an outfit you feel like you're putting your best foot forward in.
And, if you want to put your best foot forward for your delivery make sure that you take a high quality prenatal class. In just 3 hours I can prepare you for your confident hospital birth, along with your partner in The Online Prenatal Class for Couples. There's 3 price points for every budget, and I can't wait to see you inside!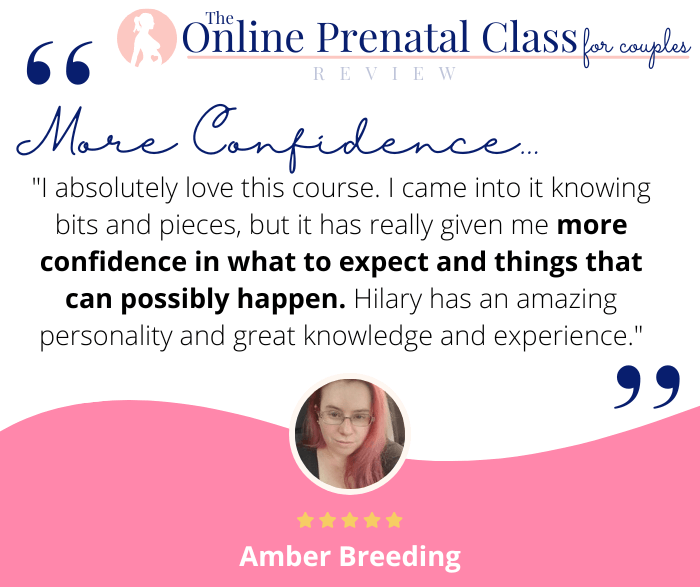 And, if you're not quite sure you're ready for that whole thing, check out my free prenatal class. It's your first step toward getting in the driver's seat of your birth.
About the Author
Latest Posts

A nurse since 1997, she has worked in various fields including pediatrics, geriatrics & hospice. She has 20 years of labor and delivery experience in the San Jose, CA and Phoenix, AZ areas.
As an evidence-based prenatal educator Hilary has delivered thousands of babies and has educated hundreds of thousands of parents from a diverse patient population to help them have a confident birth.