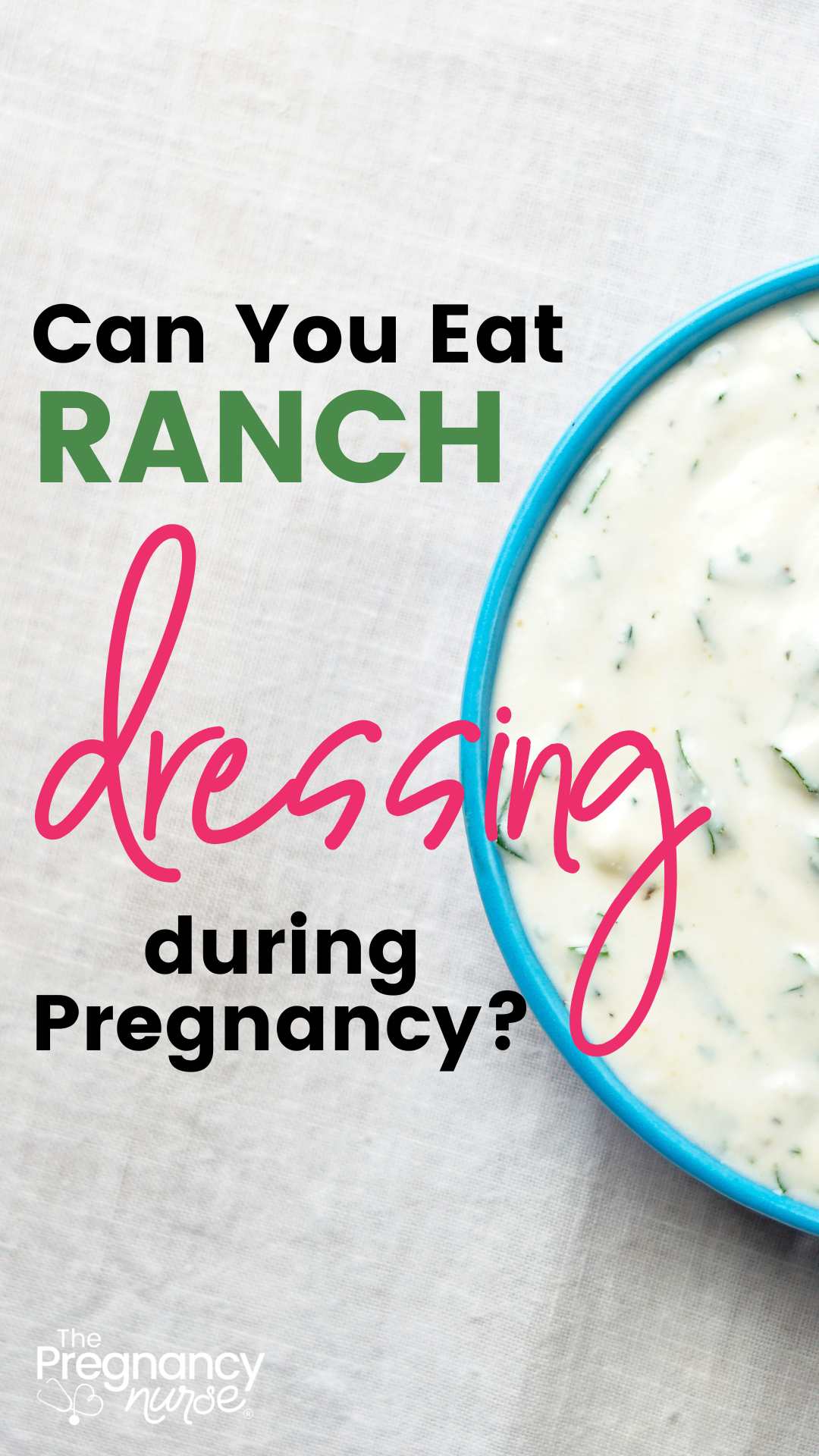 Are you a parent who's expecting and wondering what foods are safe to eat? You may have heard that ranch dressing isn't recommended for pregnant women, but could this be true? In this blog post, we'll explore whether or not pregnant women can eat ranch dressing and discuss the potential risks associated with doing so. With information from medical professionals as well as general advice on pregnancy nutrition, you can make an informed decision about consuming ranch dressing while pregnant.
But first, how do I know all of this? Hi — I'm Hilary — The Pregnancy Nurse 👩‍⚕️. I have been a nurse since 1997 and I have 20 years of OB nursing experience, I am also the curly head behind Pulling Curls and The Online Prenatal Class for Couples. 🩺​ I know how confusing it is to figure out what you can/can't eat when you're pregnant and I know the basic safety guidelines to help you.
As always, talk with your provider about any eating guidelines for you during your pregnancy. That's the best way to know if things are safe for you (and they can educate you on the actual risks/benefits in your area etc.).
Be sure to grab my safe eating tips here:
Is ranch dressing safe to eat during pregnancy.
While ranch dressing is generally safe to eat in moderation during pregnancy, it's important that you know the ingredients used in your particular salad dressing.
Most store-bought brands contain pasteurized eggs which are considered safe for pregnant women, however some may also include raw egg which can contain salmonella bacteria.
Depending on how conservative you are about your eating during pregnancy — some store-bought brands contain unhealthy preservatives and other ingredients which may not be what you want for yourself.
Commercially prepared dressings are normally prepared with pasteurized eggs Or, you could make your own with mayonnaise that you know to be pasteurized (or take out the mayo).
At a restaurant, you may want to make sure it's either commercially-prepared or not prepared using raw eggs (most often they note if raw eggs are being served though).
Eating small amounts of store-bought ranch dressing that does not contain raw egg is generally considered safe during pregnancy. However, it is always best to check with your doctor before consuming any type of food or dressing while pregnant.
Eggs in Ranch?
I know, I don't think "eggs" when I think about my ranch dressing. BUT many ranch dressing types are made with mayonnaise — which is an emulsion of oil and eggs (meaning they whip the eggs quickly while they drizzle in the oil).
Eggs can be pasteurized before this process by raising their temperature enough to kill the Salmonela bacteria. It is done this way for Best Foods Mayonnaise (my personal gold-standard mayo — also known by Hellman's) and most store-bought mayos are as well.
And yes — this seems more confusing than it SHOULD be. Let me help you simplify pregnancy in here.
What is ranch dressing?
Ranch dressing is typically made with a combination of mayonnaise, buttermilk, sour cream, garlic, onion powder, paprika, dill weed, and other herbs and spices. Most store-bought brands of ranch dressing also contain added preservatives to increase shelf life. While ranch dressing is normally served on salads, it can also be used as a dip for vegetables or chips.
How much ranch dressing can pregnant women eat
In general (as most people don't eat ranch as a meal) having Ranch as a dressing or a dip should be OK. Some people may be sensitive to the sodium in it, but otherwise they should be fine. In fact, if you're diabetic it's a better option than many dressing out there. As always, check with your doctor to ensure that the amount
Are there any risks associated with eating ranch dressing during pregnancy
The primary risk associated with eating ranch dressing during pregnancy is the potential for salmonella infection. Raw egg, which could be used in a ranch dressing, can contain salmonella bacteria and can potentially lead to food poisoning.
However, unlike listeria (which is found in deli meats) salmonella rarely affects the fetus. You'd just have food poisoning which could be problematic due to dehydration. But, it's not quite as dangerous as listeria.
Can Pregnant Women Have Blue Cheese Ranch Dressing?
This ones depends on if the blue cheese used in the dressing, and the milk (and possibly eggs) are pasteurized. Also, if the blue cheese is considered "soft" or "hard".
Honestly, when I think about ALL that, unless you're married to the idea of blue cheese dressing, I'd probably avoid it.
Blue cheese ranch dressing is made up of a combination of blue cheese and items similar to ranch dressing. The blue cheese gives it a distinct flavor and the ranch dressing provides the creamy texture.
Not all blue cheese dressing has eggs in it, but you can always ask, or check the bottle. But, the biggest issue would likely be the blue cheese in this situation.
All inter-state commercial milk products are pasteurized (except for some cheeses) due to their high propensity to have bad bacteria in the milk. You can learn more about the FDA's regulation on milk in the US here.
Blue cheese can be made as unpasteurized (and as far as I can tell most blue cheese is NOT pasteurized), and if it's a "soft" blue cheese it has a higher water content, which makes it more likely to have issues.
Most of the "popular" shelf dressings in grocery stores are pasteurized and made with a hard blue cheese. When in doubt I'd check with the company or your provider.
My favorite blue cheese is Bob's Famous salad dressing and it appears:
The butter milk is pasteurized ✅
The sour cream is pasteurized ✅
The blue cheese is made from pasteurized milk ✅
However it SEEMS to be Roquefort — meaning it is a "semi-soft" and should probably be avoided. ⛔
Bob's is found in the refrigerated section though (vs a "shelf" dressing that doesn't need to be refrigerated until opened).
So, if you want to make your own (which is probably the safest):
Use your own pasteurized milk/milk products, use a pasteurized mayonnaise and use a hard & pasteurized blue cheese.
Can pregnant women eat Caesar Dressing?
Pregnant women can safely eat Caesar dressing, but it is important to ensure that the dressing is made with pasteurized eggs and dairy.
If you're unsure whether the Caesar dressing you're planning on eating was made with pasteurized eggs or not, it's best to check before consuming it just to be sure.
Also safe to consume while pregnant are store-bought or pre-made Caesar dressings that have been pasteurized. While these dressings may not have as much flavor as homemade dressings, they will still provide a delicious addition to your meal and are safe for pregnant women to eat.
Personally, I make my own Caesar dressing with my own Mayonaise and it's so yummy.
Can pregnant women eat other dressings
Pregnant women can eat a variety of dressings, including vinaigrettes, herb-based dressings, and yogurt-based dressings. These dressings are typically lower in calories, fat and sodium than ranch dressing and often contain fewer preservatives. It's always best to check with your doctor before consuming any type of food or dressing while pregnant.
How to make your own ranch dressing
You can make your own ranch dressing at home using pasteurized eggs, low-fat buttermilk, plain Greek yogurt and herbs such as dill weed. This homemade version is typically lower in calories, fat and sodium than store-bought brands and does not contain preservatives or other additives. You can also buy the packet of Hidden Valley Ranch and make it according to the directions. Hidden Valley Ranch dip mix just uses sour cream (which, as long as it is pasteurized is fine).
Phew, that's a lot to throw at you for one simple question. I think your best bet is to grab this safe eating guide to help you mostly know what to avoid:
There are SO many confusing parts of pregnancy. Come join me in The Online Prenatal Class for Couples where I simplify pregnancy and the labor process to make it easy to understand. Plus, it only takes a few hours of time.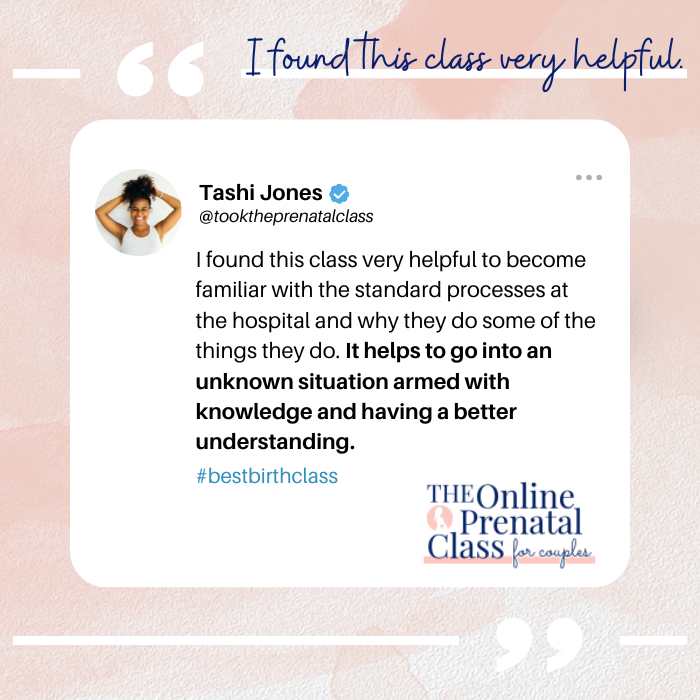 And, if you're not quite sure you're ready for that whole thing, check out my free prenatal class. It's your first step toward getting in the driver's seat of your birth.
About the Author
Latest Posts

A nurse since 1997, she has worked in various fields including pediatrics, geriatrics & hospice. She has 20 years of labor and delivery experience in the San Jose, CA and Phoenix, AZ areas.
As an evidence-based prenatal educator Hilary has delivered thousands of babies and has educated hundreds of thousands of parents from a diverse patient population to help them have a confident birth.