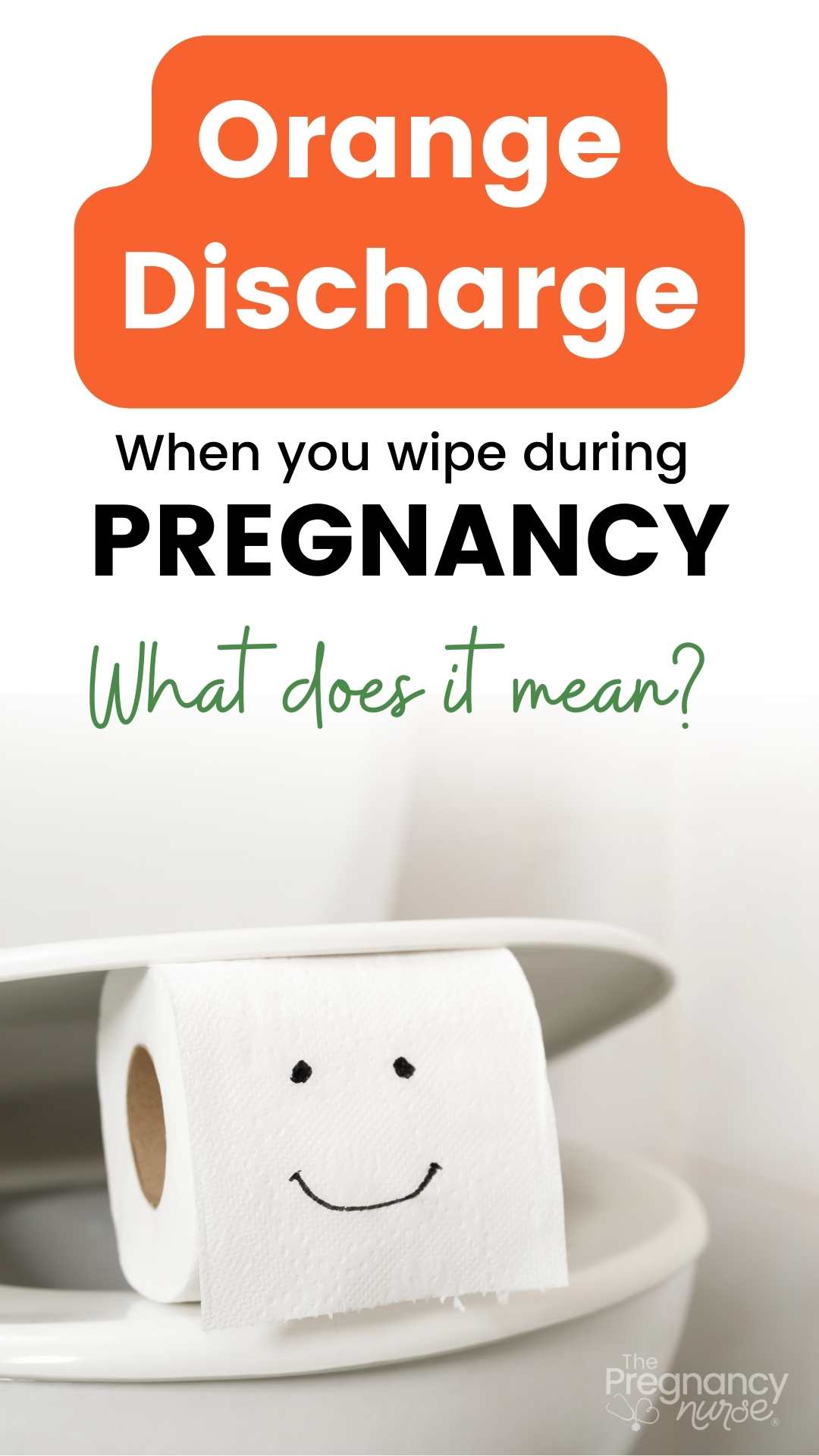 Discharge during pregnancy could have it's own whole website. It's just different, and confusing. Today we're going to talk about orange discharge and what it could mean during your pregnancy?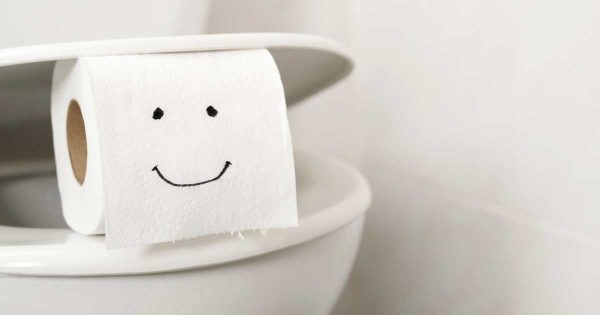 This (or any article on The Pregnancy Nurse) should be taken as medical advice, this purely educational. Please talk with your provider about your specific needs and circumstances.
But first, why am I some sort of expert on discharge in pregnancy?
But first, how do I know all of this? Hi — I'm Hilary — The Pregnancy Nurse 👩‍⚕️. I have been a nurse since 1997 and I have 20 years of OB nursing experience, I am also the curly head behind Pulling Curls and The Online Prenatal Class for Couples. 🩺​ I would prefer not to be an expert on discharge during pregnancy — but with all my experience I've seen a LOT and have seen when it's problematic, or nothing. So, although I don't love it — I am a bit of an expert on it. so, let's get to the real question:
What does it mean when I'm pregnant and I have orange discharge when I wipe?
Normally, it's a small amount of spotting, possibly mixed with an infection. Could also be a sign of implantation bleeding if you just think you're pregnant. BUT discharge during pregnancy can be complicated, so keep reading to find out more what yours might be.
Pro Tip: Sometimes there is some bleeding as the fetus attaches to the uterine wall — this is called implantation bleeding and can be one of the earliest signs of pregnancy. This would happen prior to a positive pregnancy test (so early it wouldn't show up as positive).
Questions to ask yourself about discharge during pregnancy:
How far along are you? If you're in early pregnancy it could be a sign of implantation, or possibly a sign of miscarriage (although it would generally be more than just a small amount when you wipe). If you're later along it could mean you've had sex or an exam…. really depends.
What other symptoms? Are you also having itching, burning, pain with urination or sex. These could be signs of infection (think yeast, vaginitis, or an STI) And, you'd definitely want to have that checked out with your provider. It might not be a bad idea to ask your partner if they've had any similar symptoms.
Any cramping? Is your uterus involved in this as well? If you're having cramping or pain in your abdomen that is something to take note of also.
Does it smell? I know, I know… gross 🤢. But the smell can definitely tell us something. So, take a wiff. If it's pretty foul that's something to mention to your provider.
Pro Tip: First trimester bleeding is very different than bleeding later in pregnancy — so be very mindful how far along you are as you read this article.
These are questions your provider will likely ask you also as you follow-up with them, so they are good questions to think about for yourself before your visit.
And if you love knowing what to expect before things happen come join me in here.
But, let's go back to the basics here:
What is discharge and why do we get it during pregnancy
Discharge is a natural occurrence that all women experience. It's made up of cervical mucus, bacteria and dead cells from the vagina. During pregnancy, discharge can increase due to hormone fluctuations and your body producing more cervical fluid in order to keep your baby safe. Normal vaginal discharge is usually white or milky most days.
And, the further you get into your pregnancy, discharge may change on the daily (including increase). Most people in the last few weeks of prregnancy are wearing a pad or panty liner just because …. wait for it…. things are moist down there. Sorry to use the word moist. But it's true.
Pregnancy discharge is just NOT the same as normal discharge that you've had the rest of your life.
Did you know that your body creates something called the mucus plug that "plugs" up your cervix and protects baby from "stuff" that might be in your vagina? Kind of cool, right (and also, pretty gross).
Remember that having that discharge is NORMAL. It's not something you need a douche or a spray for — especially during pregnancy.
Colors of Discharge — What do they mean?
• White or milky: This is a normal part of pregnancy and doesn't mean anything bad.
• White and thicker (possibly more like cottage cheese): Could be a sign of a yeast infection — any issues with itching or burning? May need treatment (talk with your provider).
• Yellow or green: This may be a sign of an infection such as bacterial vaginosis (BV) or trichomoniasis. See your provider for treatment for yellow discharge. It would be worth it to make an extra appointment for this one.
Pro Tip: please don't look on the internet for ways to "cure" this on your own during pregnancy. A vinegar douche or something like that can make this worse — so PLEASE talk with your provider.
• Brown: Normally, brown discharge is older blood. While not always a "great" sign in the first of pregnancy, it's not as disconcerting as bright red blood. Later in pregnancy this can be part of your mucus plug, or maybe is blood your body has held onto from sex or an exam.
• Pink or Red: This is normally bleeding. However, bleeding can come from either your vagina (often from sex or an exam) or from your uterus — which is not normally a good sign unless you're ready to have the baby. If you're bleeding, I always recommend you call your provider. Smaller amounts (like, just when you wipe) is better than larger amounts.
I have a whole post on pink discharge at 38 weeks that might be helpful for you!
Pro Tip: I know we call all of it vaginal bleeding, but that mostly means it's coming through your vagina, not really that it's always coming FROM your vagina. Confusing, right?
• Orange: This can be a sign of an infection and should be checked out. Orange vaginal discharge could also signal the end of a menstrual cycle or implantation. See your doctor for testing.
*** There are medications and supplements that can turn your urine orange as well.… make sure that's not the culprit!
Pro Tip: Remember you have THREE holes down there, and each one can have some discharge. It can be smart to "blot" at each of the 3 holes to see where the discharge is coming from. If you have hemorrhoids it can look like "orange spotting" sometimes.
What color discharge is normal during pregnancy
Most of the time, pregnancy discharge is white'ish in color. It can also be clear and watery or stretchy like egg whites. Any other colors are abnormal, including pink, brown, yellow and orange discharge.
When you're at your next appointment, ask your provider about the things you should be watching for based around your own healthcare needs and how far along you are in your pregnancy.
What to do if you have orange discharge when you wipe
If you experience orange discharge when you wipe, it is important to see your doctor. Orange discharge may indicate an infection or other issue that requires medical attention. Your doctor may suggest testing for bacterial vaginosis, yeast infections, or sexually transmitted infections. If any of these are present, they will require treatment in order to ensure both your and your baby's health. Additionally, your doctor may suggest taking antibiotics or other medication in order to treat the infection and reduce any risk of complications. It is important to follow all instructions given by your healthcare provider.
And yes, that includes taking the entire course of antibiotics even it feels better. And also abstaining from sex until they say it is safe to do so. So often couples just pass the infection between themselves because one or the other isn't cured, and that just leads to increased antibiotics treatment (and possibly it becoming resistant to antibiotics, in which case you have a really big problem).
When should you call your doctor about discharge during pregnancy
If you are experiencing any type of abnormal discharge, it is important to call your doctor. This includes a change in color or consistency as well as any odor that is unusual. Additionally, if the discharge is accompanied by other symptoms such as itching or burning sensation, these should be reported to your healthcare provider right away. Your doctor will advise on the best course of treatment. It is important to follow all instructions given by your healthcare provider in order to ensure the safety and health of you and your baby.
Finally, remember that vaginal discharge during pregnancy is normal and can vary from day to day. If you have any questions or concerns about changes in your vaginal discharge, it is important to discuss them with your healthcare provider. With their help, you can ensure that both you and your baby stay healthy throughout your pregnancy.
Other symptoms that may occur with orange discharge when you wipe
During pregnancy, problematic symptoms can include itching or burning, pain during sex, and irregular discharge color and consistency. If you experience any of these symptoms alongside orange discharge, it is important to seek medical attention right away. Your doctor will be able to diagnose the cause of the orange discharge and provide treatment if necessary. It is important to follow all instructions given by your healthcare.
And with that we're done talking about discharge during pregnancy. PHew! Not my favorite topic, but I know you might have a lot of questions about it.
Pregnancy is FULL of questions. Come join me in in The Online Prenatal Class for Couples where we prepare you from bump to bassinet and we are NOT afraid to answer the less "fun" questions like this one. 🙂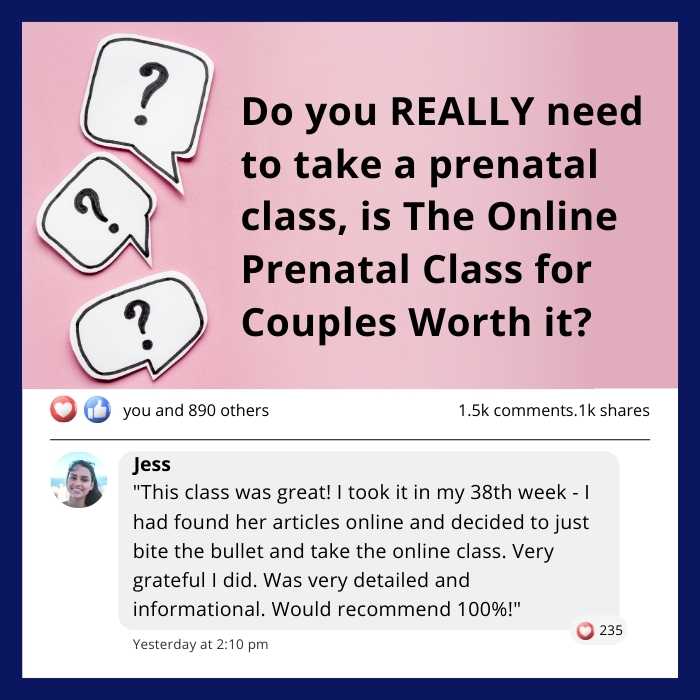 And, if you're not quite sure you're ready for that whole thing, check out my free prenatal class. It's your first step toward getting in the driver's seat of your birth.
About the Author
Latest Posts

A nurse since 1997, she has worked in various fields including pediatrics, geriatrics & hospice. She has 20 years of labor and delivery experience in the San Jose, CA and Phoenix, AZ areas.
As an evidence-based prenatal educator Hilary has delivered thousands of babies and has educated hundreds of thousands of parents from a diverse patient population to help them have a confident birth.