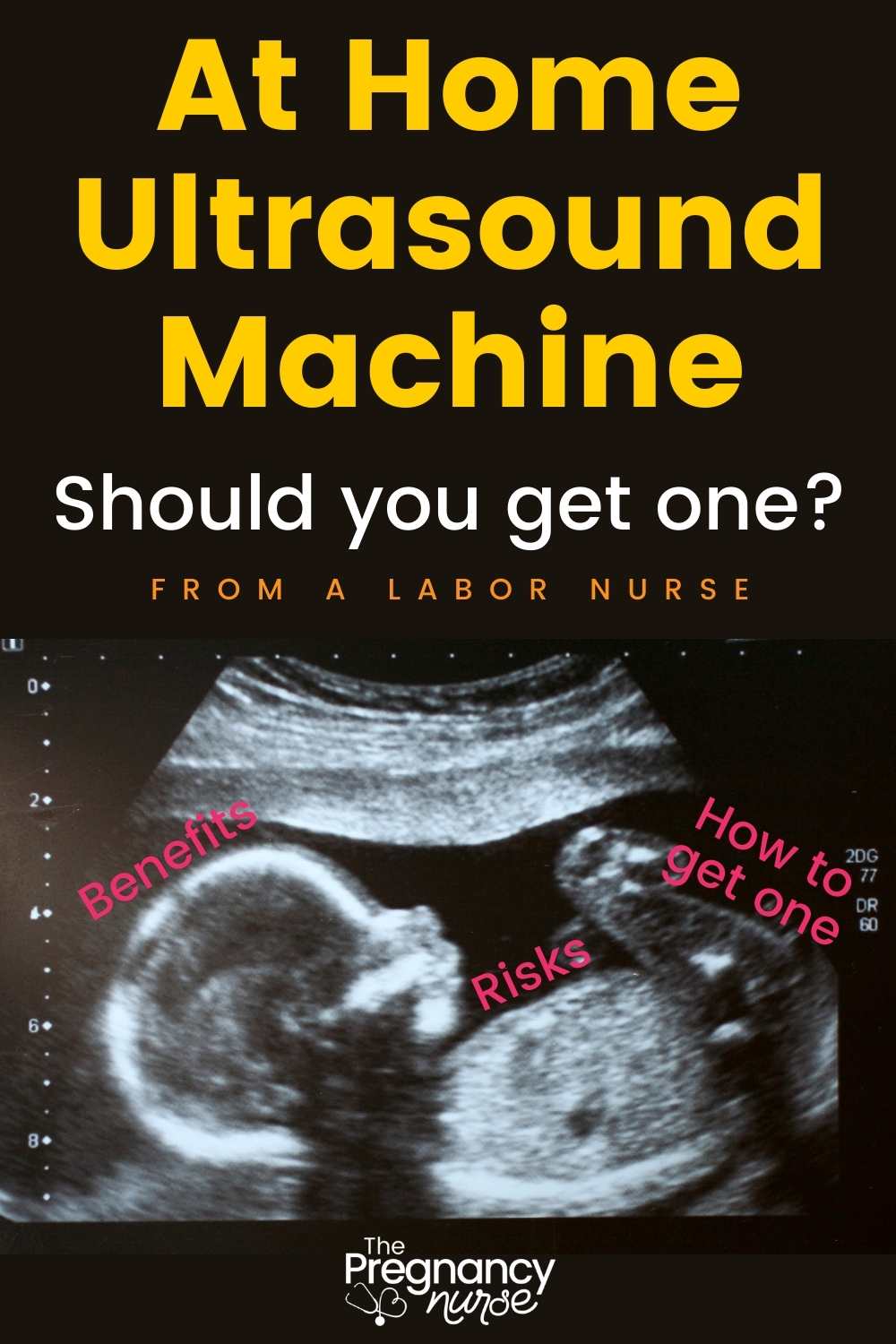 Ultrasounds are a common prenatal diagnostic procedure used to measure the baby and check for general fetal health. Until recently, ultrasounds have only been available in a clinical setting. However, there are now at-home machines. Today we're going to chat about the pro's and con's of these types of machines and where you could find one if you ultimately want one.
But first, how do I know all of this?
Hi — I'm Hilary — The Pregnancy Nurse 👩‍⚕️. I have been a nurse since 1997 and I have 20 years of OB nursing experience, I am also the curly head behind Pulling Curls and The Online Prenatal Class for Couples. 🩺​ I have also had three children of my own (and absolutely LOVED seeing them on ultrasound). I definitely get the draw to wanting to do them frequently.
However, in my professional career I have seen thousands of ultrasounds and can see a lot of drawbacks to an at-home machine that I'd love to discuss with you.
And of course, discuss with your own provider any decisions you're making for yourself or your baby's well-being before you take the advice in this article. This is NOT MEDICAL ADVICE.
And yes, if you're feeling like you have way too much to remember to talk to your doctor about, to-do lists and things to remember flying through your brain — that's NORMAL. But I finally created a fix for you!
What is an Ultrasound?
An ultrasound is a diagnostic tool that uses high-frequency sound waves to create an image of the inside of the body. Ultrasounds are commonly used during pregnancy to assess the baby's growth and development.
Most women routinely get:
An early ultrasound to check for size and make sure your due date is accurate
Another ultrasound around 20 weeks to check for anatomical anomalies (and many couples find out the gender at this ultrasound).
I chatted with an ultrasound tech about routine ultrasounds on my podcast.
Some women have other ultrasounds ordered including:
Make sure baby is still growing (or not growing too large)
Check blood flow to the baby
Check if the cervix is dilating
Checking what part of the baby is presenting (if baby is cephalic or breech)
Placental positioning
How much fluid is in the uterus
I also talked with that tech about diagnostic ultrasounds (separate episode)
How Does an Ultrasound Work?
The machine emits sound waves that bounce off the structures in the body and are then converted into images. The machine is able to create real-time images, meaning that you can see the movement of the baby in real-time. This is beneficial because it allows you to see how the baby is growing and developing over time.
But, I think it's important for us to understand that there are possible risks to ultrasounds (especially repetitive ones) that you may not be considering because they are so routine anymore.
FDA statement on Ultrasounds:
Although ultrasound imaging is generally considered safe when used prudently by appropriately trained health care providers, ultrasound energy has the potential to produce biological effects on the body. Ultrasound waves can heat the tissues slightly. In some cases, it can also produce small pockets of gas in body fluids or tissues (cavitation). The long-term consequences of these effects are still unknown. Because of the particular concern for effects on the fetus, organizations such as the American Institute of Ultrasound in Medicine have advocated prudent use of ultrasound imaging in pregnancy. Furthermore, the use of ultrasound solely for non-medical purposes such as obtaining fetal 'keepsake' videos has been discouraged. Keepsake images or videos are reasonable if they are produced during a medically-indicated exam, and if no additional exposure is required.

FDA Statement on Ultrasound Imaging: https://www.fda.gov/radiation-emitting-products/medical-imaging/ultrasound-imaging
So, ultimately they recommend only using ultrasound when medically indicated.
Actually, back when I was pregnant with my first (in 2000) many friend went to the mall to get ultrasound keepsakes, however this practice has diminished.
BTW if you're loving this type of information about your pregnancy and testing — check out this class. It's well worth your time to get in there. The reviews are amazing!
What Are the Benefits of Ultrasounds in Pregnancy?
Ultrasounds provide a number of benefits during pregnancy.
First, they can be used to help determine the due date.
Second, ultrasounds can help assess the baby's growth and development.
Third, ultrasounds can help detect any potential problems with the baby or the pregnancy.
Fourth, ultrasounds can provide bonding opportunities between parents and their baby.
I have a whole post on ultrasounds at 32 weeks and what they're good for.
At Home Ultrasound Machine for Pregnancy?
The at home ultrasound machine is a new development that allows you to perform your own prenatal ultrasounds without having to go to a clinic. This machine is designed for use during pregnancy and can be used to assess the baby's growth and development. The machine is easy to use and provides real-time images of the baby.
Pro's of At Home Ultrasounds
There are a number of benefits to at home ultrasounds.
They are convenient because you can do them in the comfort of your own home.
They are less expensive than clinical ultrasounds.
They provide bonding opportunities between parents and their baby.
They could be used to detect any potential problems with the baby or the pregnancy.
Personally, I do see them as convenient and fun to see the baby. I might feel assured if I saw the heart beating that things were fine.
Con's of At Home Ultrasounds
There are a few potential drawbacks to at home ultrasounds.
They require you to have a certain level of knowledge about how to use the machine.
You don't have any ability to read the ultrasound (unless you are a radiologist, a perinatologist or an OB ultrasound tech)
You will not have the opportunity to speak with a medical professional about the results of the ultrasound.
You may end up thinking there is a problem because of your limited abilities/use of the machine when things are actually fine.
You may rely on the ultrasound to make sure baby is ok instead of doing kick counts
Possible unknown issues if the baby is subject to repeated ultrasounds as noted in the FDA statement
Where can I Purchase an At Home Ultrasound Machine?
If you have decided that is something you want for your pregnancy, there are a few options. Not all are available in the US as far as I can tell (probably because of the FDA concerns previously noted):
This Baby Scan one looks most convenient. I can't actually add it to my cart to see how much it is though. I see pricing is not available in US Dollars (which makes me wonder if they can't sell it to US addresses).
This one seems to be more for at home telehealth visits. I can see that being more important, especially during Covid when many visits were converted to at home options. However, I still can't seem to purchase it (or see pricing).
Amazon has this one. It doesn't have reviews, and seems complicated. Honestly, I don't do ultrasounds (but have seen a LOT done) and there are a lot of buttons I don't understand at all on that machine.
Alternatives to At Home Ultrasounds
If you are not interested in at home ultrasounds, there are a few alternative options.
Go to your clinical ultrasounds as ordered
Ask your provider if they can do/order an extra ultrasound if you really want to see baby again (may not be an option, but some offices allow you to pay cash for an extra ultrasound as your insurance would deny it)
Purchase a doppler device which allows you to listen to the baby's heartbeat at home.
Do kick counts
I know it seems dumb, and old-school, but kick counts are SO important. And I think they are underestimated in baby's safety.
By monitoring babies movements for a few minutes each day you:
Bond with baby
Know when something has drastically changed
Get some rest and hydration time in
Not sure how to do kick counts I have a whole post on them, and I did a podcast that shares just how to do them:
There are absolutely no con's to doing kick counts other than the time it takes to do them. I would encourage you to set an alarm for a time of day you can most likely do them.
Unlike ultrasounds that are untested in how they might affect your baby if done frequently, the studies on kick counts are decisive on how helpful they can be! Don't forget that you can very much bond with the baby by feeling them. You can also encourage your partner to feel for baby as well.
If you are not feeling bonded with your baby I would encourage you to do kick counts without looking at your phone or TV. Imagine how amazing life will be as new parents, and think positive affirmations about baby's birth.
Want to get dad more involved in all of this. This class is beloved by thousands of dads (and moms!).
What is a Doppler?
A doppler is a device that uses sound waves to measure the movement of objects. Dopplers are commonly used to measure the flow of blood and are often used in pregnancy to listen to the baby's heartbeat.
If you are desperate to hear baby's heartbeat there are a lot of doppler devices on the market that are reasonably priced. I would encourage you to talk to your provider if you are planning to purchase one though.
The main con to these (beyond the cost) if you not being able to find the heartbeat and having worries about that, when in reality baby may just be hiding and it would take a professional to find them.
And honestly, if you did find a big problem — you're at home, and will require transportation to a hospital to be evaluated. In the hospital, if we find a problem we can take action within minutes (and have the professional knowledge to assess the situation better).
So, that's my opinion on an at-home ultrasound machine. I've seen this type of thing come and go. The reality is that these types of products may make you worry needlessly, and would rarely catch an actual issue. Plus, kick counts can bond you just as much to your baby and have no risks!
Ok, now is the time to get prepared for your birth, so there is no fear between you and delivery day with a birth class Use coupon code PREGNURSE to get 10% off your class!
That class is:
To the point, in just 3 hours you can get all the info you need to prepare for baby!
Taught by an experienced (and fun) nurse
Is meant for couples to get both of you on the same page!
And, if you're not quite sure you're ready for that whole thing, check out my free prenatal class. It's your first step toward getting in the driver's seat of your birth.