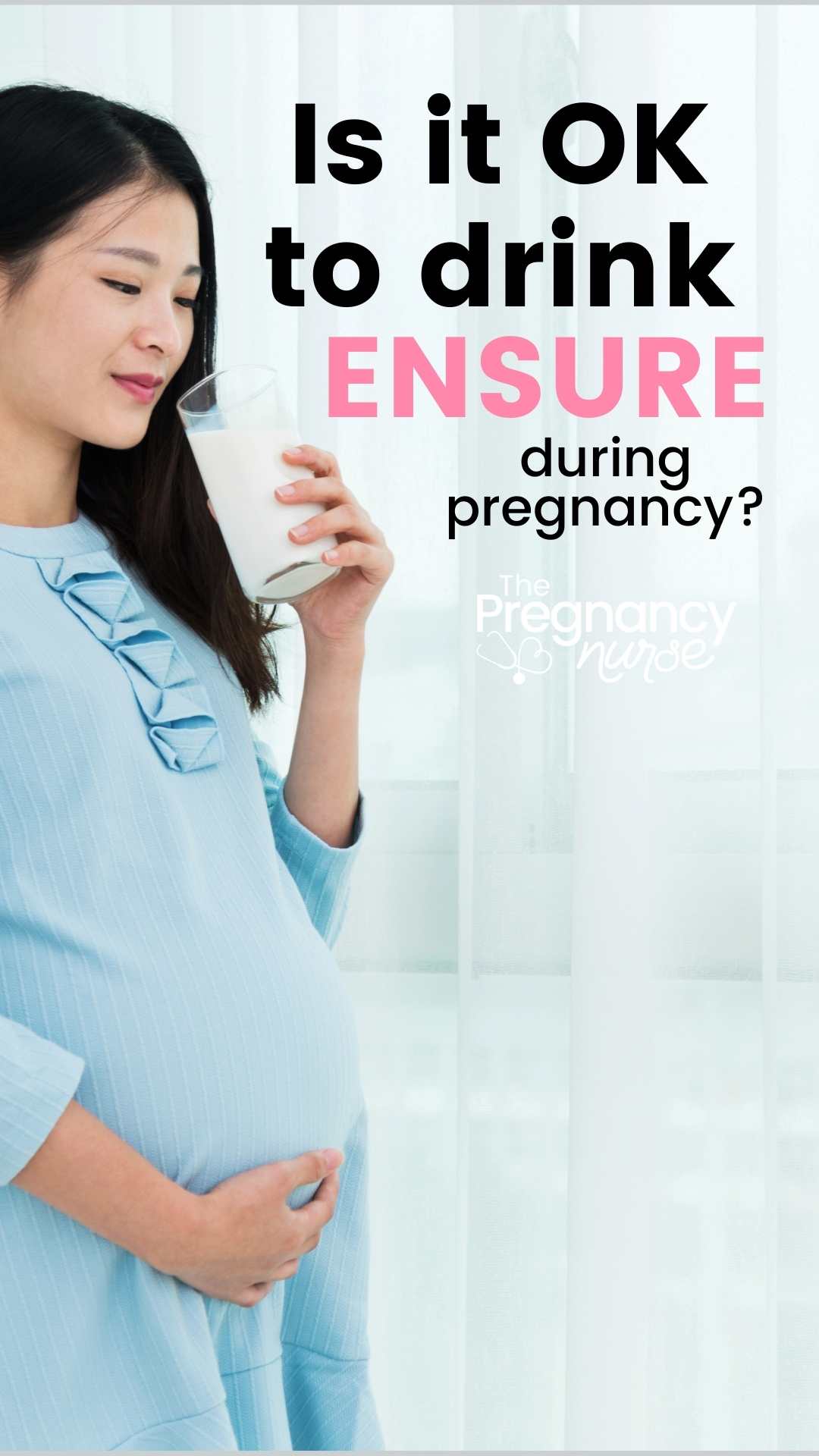 Is it OK to drink ensure while pregnant? Is it safe to drink during pregnancy? Pregnant women may be looking into an ensure product (or something like it) to fulfill their nutritional needs during the pregnancy. Let's talk about why you might want a shake like that or why it might be better not to take it?
But first, how do I know all of this? Hi — I'm Hilary — The Pregnancy Nurse 👩‍⚕️. I have been a nurse since 1997 and I have 20 years of OB nursing experience, I am also the curly head behind Pulling Curls and The Online Prenatal Class for Couples. 🩺​ I am acutely aware of the needs of pregnant ladies both nutritionally, and living their regular life — so I'm a good one to share this.
Plus, as a former geriatric and hospice nurse, I've served my fair share of iced Ensure glasses. SO, let's go. 🙂
Oh, and now is the time to DOCUMENT all that you're feeling during this pregnancy. Check out my pregnancy planner. Lots of room for task lists, things to ask your provider, plus write down ALL that's going on in your mind!
As a note, it's always best to discuss these type of nutritional needs or changes with your providers. It's no secret that babies take good nutrition, so be sure to talk with your provider about what is best for you!
What is Ensure?
They are a nutritional drinks designed to help adults meet their nutritional needs.
"Ensure" is the name we give to a variety of this nutritional shakes in this genre of "food" — other names include Boost, Carnation Instant breakfast and other names that are looking to help you meet your nutritional needs.
There are also several types of Ensure — including Ensure original, Ensure Max and Ensure plus. Ensure has long been known as the main brand in this area. Make sure you're picking the right item for your nutritional supplement.
I would call these items separate from a protein drink, as they contain a very balanced portfolio of nutrients, including carbohydrates, fats and proteins along with vitamins and minerals. Most people call this a "nutrition shake" instead.
Those vitamins and minerals in Ensure can be very important. However, you should also be sure to take a quality prenatal vitamin as well. If you have a hard time with the tablets, you can always try the gummies. Just be sure that it fits the needs you have (discuss that one with your provider).
When I worked in the nursing home, we gave them out a LOT. Ensure drinkers are mainly the elderly.
Is Ensure Safe to Drink During Pregnancy?
Ensure doesn't include anything that would be toxic to you and your pregnancy. However, it does have a large amount of calories, which you may or may not need. There isn't anything particularly bad about Ensure for you in your pregnancy.
What Are the Benefits of Drinking Ensure?
Ensure is a drink that is full of vitamins and minerals. It is often given to pregnant women to help get their nutrients in with morning sickness. It is also used frequently in the elderly to get in their nutritional needs.
However, anyone can drink it. It is a great way to get your daily vitamins, especially if you have a busy lifestyle. A serving of ensure has as much calcium as an 8 oz glass of milk. It is also a good source of fiber. You can drink it on an empty stomach or mix it with a shake.
Ensure has many of the prenatal vitamins that you will want to have during your pregnancy. So, that's a win.
Most often Ensure drinks are provided ready-to-drink — which makes it easy to use — and take with you to work or whatever.
Mostly, it would be good for people who aren't able to meet their nutritional needs through a regular diet. So, if you were losing weight or something like that — you'd want to consider something like Ensure.
Are there Con's to Drinking Ensure During Pregnancy?
The main con would be increased weight gain from the nutrients in it. If you are able to eat a variety of foods, it is a better option than drinking ensure, for the most part.
The other con would be the taste. A lot of people do not like the taste. That's one of the main problems for women who have morning sickness. They just can't stomach the taste. Which doesn't help a lot if they throw it up afterwards.
How many extra calories do pregnant women need?
Most pregnant women need about 1800 calories in their first trimester, 2200 in their second, and 2400'ish in the third trimester. So, in reality it's not a whole lot more calories, but if you need more calories in your pregnancy diet, and you're having a hard time maintaining a healthy weight, Ensure could help you have complete and balanced nutrition.
Can Ensure Help with Morning Sickness?
So, morning sickness is hard, because sometimes you start getting sick because you're so dehydrated. SO, if you can get down some ensure (or frankly, any fluids) it's a win — because you may feel a bit better after having SOME fluids. Morning sickness and nausea are tough. If you suffer with them, I am so sorry. Hopefully it doesn't last too long.
And yes, any nutrients you can get in you if you're throwing most things up is a win. It would definitely be a good fit for a mom who's having trouble keeping down a regular diet. Or if you just have cravings for low-protein foods, you could use Ensure to fill the gaps for things that make you feel sick.
Things to Remember Before Drinking Ensure While Pregnant
The main thing to remember is that a varied diet is better than drinking ensure, as long as you can get the calories you need through those regular foods.
Also, you shouldn't be drinking ensure in addition to your full diet, unless you are losing weight — or underweight. You'd want to do that under medical supervision. Ensure has a good number of calories as well as 9 grams of protein (sometimes more). You want to make sure you're not gaining excess weight.
But, if you're in a spot where you're not getting enough calories, ensure can be a good addition (if you can stomach it), and is safe to drink while pregnant. This would be extra true for people pregnant with multiple babies (twins, triplets, etc).
Can I drink Ensure while breastfeeding?
Similar to pregnancy, it would be important to only use ensure shakes as a supplement to your nutritional needs while pregnant or breastfeeding. If you aren't able to get all your nutritional needs through your diet while breastfeeding, you could consider using Ensure to fill nutritional gaps.
Pregnant and lactating women do have an increased nutritional need.
Final Verdict: Is it safe to drink Ensure during pregnancy?
Ensure is safe to consume during pregnancy. The main issue would be if you need to gain weight, or if you're already eating a good diet throughout your pregnancy. However, ensure can help you get the calories you need during — like a nutritional boost when you need it. Ensure might help you achieve balanced nutrition, and could be a good way to supplement your diet. However, Ensure should not be your sole source of nutrition and is not meant as meal replacement.
AND, be sure to talk with your provider about what's best for you.
And FINALLY, please do join me in The Online Prenatal Class for Couples where I aim to get you prepared for your upcoming birth in 3 hours.
And, if you're not quite sure you're ready for that whole thing, check out my free prenatal class. It's your first step toward getting in the driver's seat of your birth.