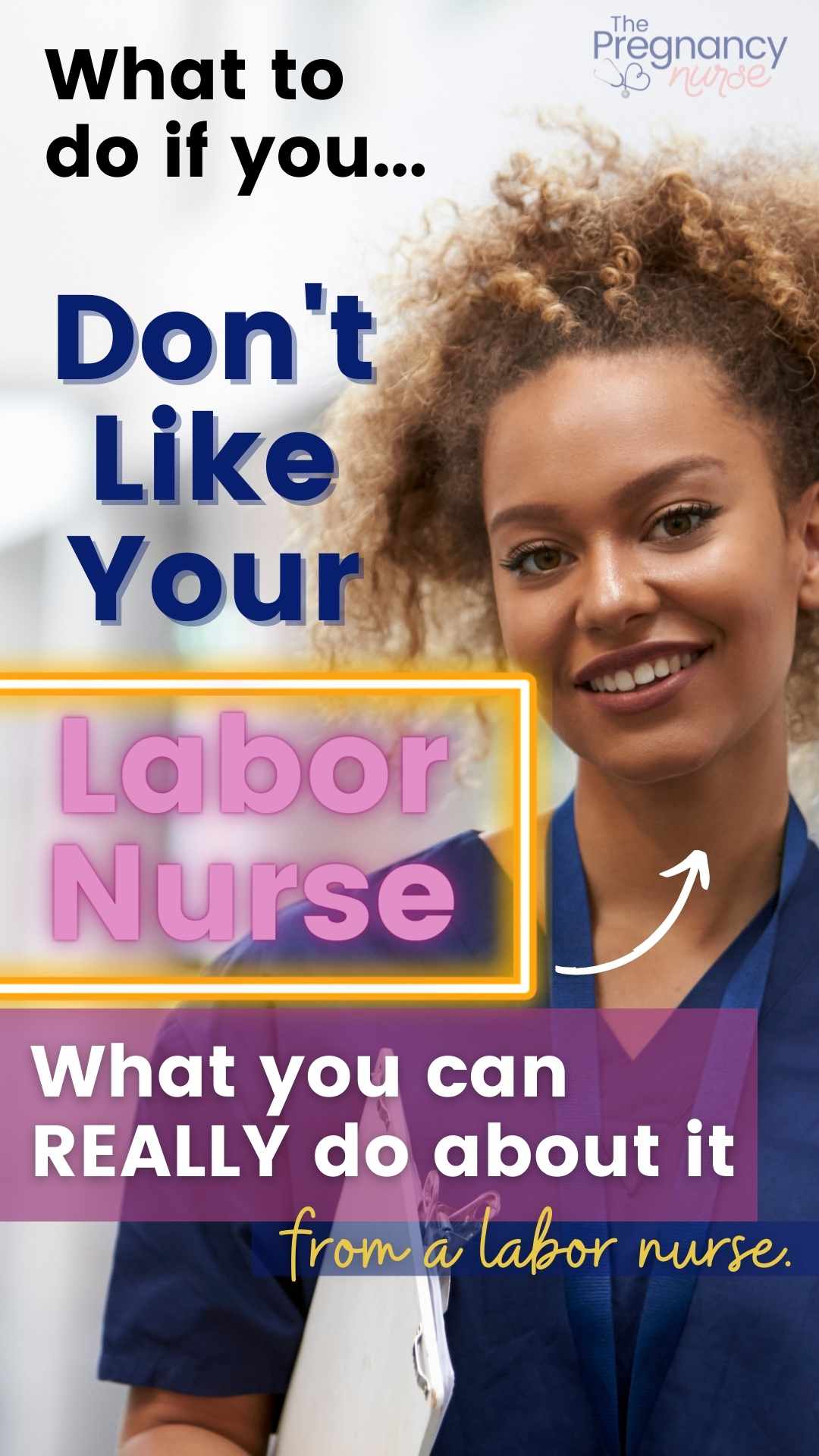 Google, Tiktok, Pinterest is full of people saying you can "just ask for a new one" if you don't like your labor nurse. But, today I'm pulling back the curtain on what you should REALLY do if you don't like your labor nurse. That being said — I have found this to be a REALLY rare situation — most patients really love their labor nurse. That's great, because your nurse probably really likes you too!
Hi, I'm Hilary — The Pregnancy Nurse 👩‍⚕️. I have been a nurse since 1997 and I have 20 years of OB nursing experience, I am also the curly head behind Pulling Curls and The Online Prenatal Class for Couples. 🩺​ I have helped tens of thousands of moms in labor and I've had 3 children of my own — so I know what labor feels like and what you can do to really feel confident in the labor room along with your supportive staff.
I'd love it if you joined me in my free beginning prenatal class:
Like I said in that intro paragraph, I can't tell you HOW many times I've seen Doulas or other moms (hello mom bloggers) just say "ask for a new nurse, it's your right." And while I believe that the ENTIRE staff in your labor and delivery unit DOES want you to have a positive birth experience — this situation presents a lot of variables.
5 Things to Consider/Do if You Don't Like your Labor Nurse
Staffing is Tight
It's not like we have a lot of extra nurses at the nursing station just waiting for a chance to jump in. Often nurses have two patients, and switching patients mid-shift can put a kink in a lot of things (and could ruin someone else's birth experience). We are unlikely to break a good nurse/patient relationship to switch a nurse to you. We really avoid moving nurses if at all possible because studies show the most likely time for errors is during a staffing change (which is part of why nurses do 12-hour shifts, it requires less changing of patients).
However, as people deliver or discharge there CAN be a time where we can swap nurses for you.
The other good news is that nurses work in shifts, so it's possible a shift change is coming up that can be a positive change for you. You can always ask when your nurse will swap. Something like "oh man, your shift seems so long, how late do you work?" or something along those lines….
Your "Right" is Respectful Care
Patients 100% have rights in the hospital. But, all of those rights are likely being met. The right is to have respectful care and for the nurse to carry out the providers orders.
I think often people think of us as a waitress or just a gateway to the things they need, when in reality our mind is going a million times/minute thinking about ALL the things with your care. We're:
Watching your baby's heart rate
Watching your vital signs
Making sure we can watch baby's heart rate (and adjusting that monitor)
Considering delivery and what we will need for that
An eye on complications and planning for possible ones
Giving consideration to all the things your provider wants
I see a lot of people saying things like "she didn't even bring in water when I asked."
On the other side of that coin, you have no idea what's going on when we leave that door. Maybe we have a stillborn baby we're also caring for across the hall. Or, we jumped into an emergency situation in another room. I often forgot water, I'll admit. I tried though, and I appreciated it when patients patiently asked again.
SO many things are going on the unit that you can't even know about. So, be sure to cut your nurse some slack.
Could it Be You?
I am not saying that often nurses and patients just don't "vibe" — that 100% can happen. We'll talk about what to do in that type of situation next. But first, could it possibly be you? I mean, you're in an impossible situation. You're in pain, you're scared, you have a lot of stuff going on.
It's a hard time to love a complete stranger who's asking you to do hard things. Sometimes it's good to do a check-in with your partner about what they think about your nurse and if you're just over-reacting.
Remember that you can choose to have positive thoughts about your nurse and try to keep the situation as positive as possible.
Ask to Speak to the Charge Nurse
The charge nurse is basically the supervisor on the shift. If you feel like you just need a change, I'd just quickly say — "hey, could I talk with the charge nurse?" You don't need to elaborate to your current nurse. Sometimes this can be extra easy to do if someone else walks in the room (and this will likely happen), or you could ask your doctor/midwife if they're in the room — that way you don't have that awkward moment with your nurse.
When the charge nurse arrives (and it could take a while, she often has a lot on her hands) just say that you're having a rough time with your current nurse, and you're wondering if it might be possible to change. Also mention your realize that it's super busy, and it is likely you and the situation — but you'd like to change it up.
Try and keep this interaction as positive and non-blaming as possible.
Mostly because it is pretty unlikely you'll get a new nurse for a little bit. That means your current nurse and you will still need to hang out for a bit longer (and sometimes til' the end of their shift).
Also, because as nurses we work as a team and we're protective of each other. If you have a super negative interaction with your nurse and the charge nurse it is likely to spread to the other staff. By keeping things positive and not placing blame it can help you move from this situation into a more positive one.
Speak With the Manager
While the charge nurse is our supervisor at that point in time, the manger is our actual boss. If you really feel like a nurse has been unsafe, rude or demeaning you'll want to talk with the supervisor. Just tell her what happened — trying to stay very "just the facts" with her.
This interaction is to make it so that nurse improves and knows areas that aren't working out. The manger can then relay that to the nurse and make a plan to change (or possibly change units).
The best part of nursing is that there are a LOT of things that we can do, and there are ALWAYS openings on other units — so, switching is not unheard of. Most mangers really want that nurse to succeed and be happy in their work.
I've seen patients have VERY valid complaints against nurses that were passed on, and that nurse found a new job that they liked more. It ended up being a win for them.
The Reality
I bet a lot of you are reading this worried that you won't like your nurse. Perhaps you've heard horror stories and are really worried about that relationship.
I get that. A super vulnerable time in your life that you want to be amazing. It's odd that you get no choice in the matter, it's simply up to chance you who you get (although I do think charge nurses do try to match patients to nurses based off of what they need).
That being said, the VAST majority of patients (I'd say close to the 99% mark) absolutely love their nurse. They feel like they are going the extra mile for them, and are really looking out for their positive birth experience. That's one of the real joys of being a labor nurse — being able to help someone have an AMAZING day that they will always remember fondly.
If you're thinking about this AHEAD of your delivery, I would encourage you to say some positive affirmations about the staff that will take care of you. Some good ones are:
The staff that will take care of me will care about myself and my baby
I will get the best nurse for me, I can't wait to meet her
My nurse is highly trained, and is watching out for my well being her entire shift
I am lucky to have great staff at my birthing facility, they are great.
Honestly, those affirmations really ARE true. Labor nurses are some of the best humans on earth. Many were previously hospice nurses (myself included) because they have a love of supporting people during HARD times. They really sacrifice themselves to make sure you're OK during their time with you.
I will say I have heard a LOT of people who did not like their postpartum nurse. This is often due to that nurse just having more patients than your labor nurse did. She is unable to be as attentive to you as she now likely has 4 mom's and babies to take care of. So, be mindful of that. The good news, is that you aren't as reliant on your postpartum nurse and you can do a lot for yourself at that point.
Please be respectful of your nursing staff. Those shifts are long. They often are eating at random times (if at all) or holding very full bladders to make sure you're safe and sound. Many people like to bring a gift for their nurses (although not required). Doing so really shows them that you're appreciative of the care that they will/did provide you.
One of the best gifts is saying thank you and being specific about what you liked about them. By keeping things in a positive note, and being prepared — I believe you're going to have a GREAT delivery day!
Ok, the BEST gift is a prepared and excited patient, so join The Online Prenatal Class for Couples to get prepared for YOUR delivery today!