Are you experiencing any period-like pains at 37 weeks pregnant? You're definitely not alone! In this post, we'll explore what's causing those pains and what you can do to ease them. Plus, we'll give you a few tips for staying comfortable during this stage of your pregnancy. Keep reading for all the details!
But first, how do I know all of this? Hi — I'm Hilary — The Pregnancy Nurse 👩‍⚕️. I have been a nurse since 1997 and I have 20 years of OB nursing experience, I am also the curly head behind Pulling Curls and The Online Prenatal Class for Couples. 🩺​ I have helped thousands of pregnant women decide if what they're experiencing is normal or not. I have also seen thousands of women go into labor, so I can really tell you what types of signs to watch for!
As always, this post is only entertainment and definitely not meant for medical advice. I hope I can just thoroughly explain what your body might be experiencing in this post. Please talk to your provider with any questions about you and your own pregnancy!
Don't miss my post on 37 weeks with lots of movement & pressure.
And, if just not sure of all these weird signs and symptoms… do yourself a favor and join me in here. In just a few minutes I can get you prepared on what to watch for, and what you can do in early labor to keep things going (plus, when to know when you should call or go into the hospital).
What are the different types of period pains you can experience during pregnancy?
There are three types of period pains you might experience during pregnancy: round ligament pain, Braxton-Hicks contractions, and going into labor.
Round ligament pain is caused by the round ligaments stretching to support your growing uterus. These ligaments attach your uterus to your pelvis, and as your uterus grows, the round ligaments must stretch to accommodate it. This can cause sharp, shooting pains on either side of your lower abdomen. The pain is usually temporary and should go away on its own, but you can try lying down and placing a heating pad around your abdomen to ease the pain (but not directly across your abdomen — I talk about how to use a heating pad during pregnancy in that post).
How to tell if it is round ligament pain:
The pains are normally sharp, not crampy — with a peak of pain at the beginning and then easing
They have no rhythm where they come every 3 minutes
Often women feel these pains when they cough, sneeze or get up too quickly.
Braxton-Hicks contractions are false labor pains that can occur during pregnancy. These contractions are caused by your uterus practicing for labor and delivery. Braxton-Hicks contractions are usually irregular and infrequent, but they can become more frequent, regular, and intense as you get closer to your due date. You might be able to ease the pain of Braxton-Hicks contractions by drinking plenty of fluids, taking a warm bath, or using a heating pad on your lower abdomen.
How to tell if it is Braxton-Hicks contractions:
The pains are only in one part of your abdomen, and don't wrap around your torso
They space out, and get shorter
They go away during a certain activity (often laying down)
They end — they don't go into active labor.
You may be going into labor. People often describe the beginning of labor as similar to how they felt when they were on their period. Symptoms like backache, "pelvic fullness" and cramps are things many people report. However, most often these start to turn into rhythmic contractions that start to get closer together an last longer
How to tell if you're going into labor
(this is beyond the scope of this post, I'd definitely recommend taking a prenatal class to learn more about what to watch for and know you're going into labor — however this is the cliff notes):
Cramps turn into contractions that get longer &/or closer together
Pains wrap around your whole torso
It progresses and you have a baby
Don't let anyone fool you, Braxton-Hicks contractions can hurt a LOT — very similar to "regular" labor pains. Really, the only way to tell them apart is that labor pains continue until you're in active labor and have a baby. Often, you can't tell until you're looking back…. BUT, make sure you're not hurting for no reason by drinking LOTS of water if you're feeling them. Dehydration is a huge reason for "false labor"
How can you relieve period pains during pregnancy
Please note, I am only speaking to those of you who are about 37 weeks pregnant. If you're much prior to that, period pains could be a sign of preterm labor and should be evaluated by your provider. At 37 weeks you're no longer considered pre-term and we expect you to go into labor sometime soon.
There are a few things you can do to ease the pain of period-like pains during pregnancy:
• Drink plenty of fluids: Staying hydrated is important for your overall health, and it can also help to ease the pain of Braxton-Hicks contractions.
• Take a warm bath: soaking in a warm bath can help to relax your muscles and ease the pain of both round ligament pain and Braxton-Hicks contractions. Please note I said WARM not HOT — you don't want to "cook" your baby.
• Use a heating pad: using a heating pad can help to relieve the pain of both round ligament pain and Braxton-Hicks contractions. Make sure you don't drape it right over your abdomen. I have a post with my best heating pad during pregnancy tips.
• Practice relaxation techniques: deep breathing, visualization, and other relaxation techniques can help to ease the pain of both round ligament pain and Braxton-Hicks contractions. Not sure how to do this — The Online Prenatal Class for Couples has a whole bonus video on things like this.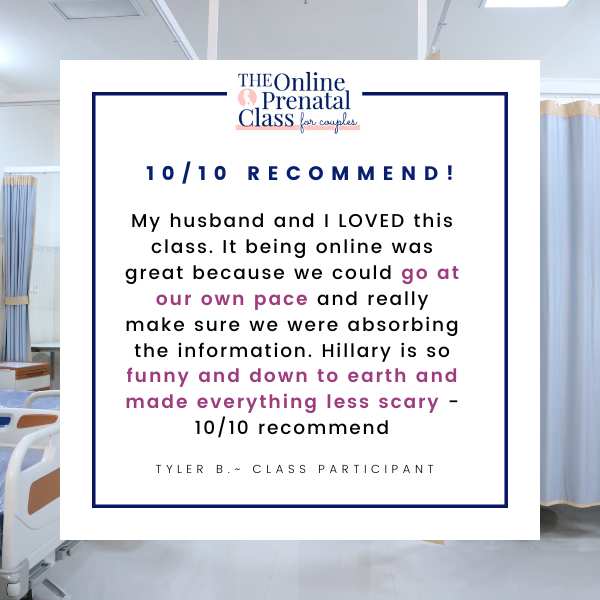 When should you consult a doctor about your period pains during pregnancy
If you experience any of the following symptoms, you should consult your doctor:
• Severe pain that does not go away with home treatment
• Pain that is accompanied by bleeding or discharge
• Regular contractions that are becoming more intense and frequent
• Contractions that last more than two hours or occur more frequently than four per hour
At your appointments, your provider should go over what to contact them about — so make sure you listen and ask any questions at that point.
The good news is that most providers have someone "on" for them 24 hours/day — usually another doctor or a nurse who could answer these types of urgent questions for you if you're really wondering.
FAQs about 37 weeks pregnant period pains
Q: Will my period pains during pregnancy go away after I give birth?
A: Yes, your period pains will go away after you give birth. However, you may experience some cramping and discomfort for the first few days after delivery as your uterus contracts back to its pre-pregnancy size.
Q: Is it normal to have period pains during pregnancy?
A: Yes, it is normal to experience period-like pains during pregnancy. However, if you experience any severe pain or other symptoms that concern you, be sure to consult your doctor.
Q: Can I take medication for my period pains during pregnancy?
A: You should always consult your doctor before taking any medication during pregnancy. In general, it is best to avoid taking medication for period pains unless absolutely necessary.
I Feel Worried, What Should I Do?
It is normal to feel anxious as a big life event might be happening. Labor is hard since it may come and go for a while before it actually happens.
Now is the time to take a birth class. You really will feel SO much better about what is going to come if you are prepared.
I love what Shaella had to say:
"This was so quick to do and very easy to understand. I especially liked the fact that she talked about postpartum and after baby comes home. She was so honest about her own experience and made me less anxious about what'll happen."

The Online Prenatal Class for Couples Review by Shaella.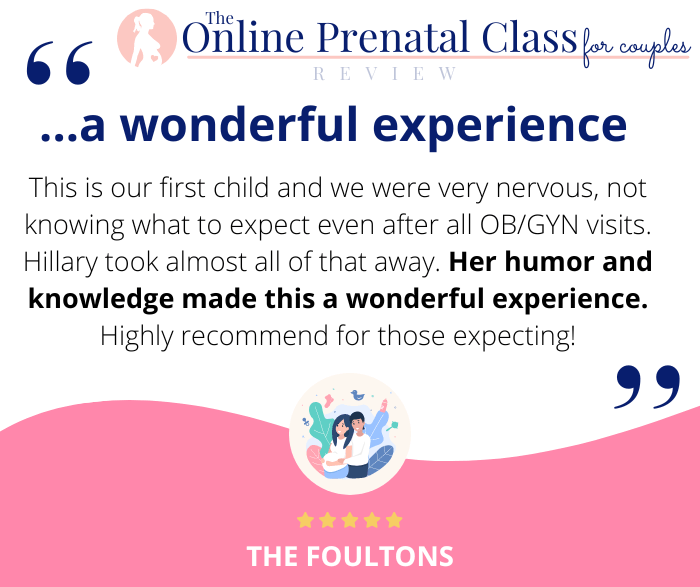 And, if you're not quite sure you're ready for that whole thing (but man — it's time to do the class NOW), check out my free prenatal class. It's your first step toward becoming your own birth boss.
Don't miss my super helpful post all about the signs of labor. Great info for pregnancy!
About the Author
Latest Posts

A nurse since 1997, she has worked in various fields including pediatrics, geriatrics & hospice. She has 20 years of labor and delivery experience in the San Jose, CA and Phoenix, AZ areas.
As an evidence-based prenatal educator Hilary has delivered thousands of babies and has educated hundreds of thousands of parents from a diverse patient population to help them have a confident birth.