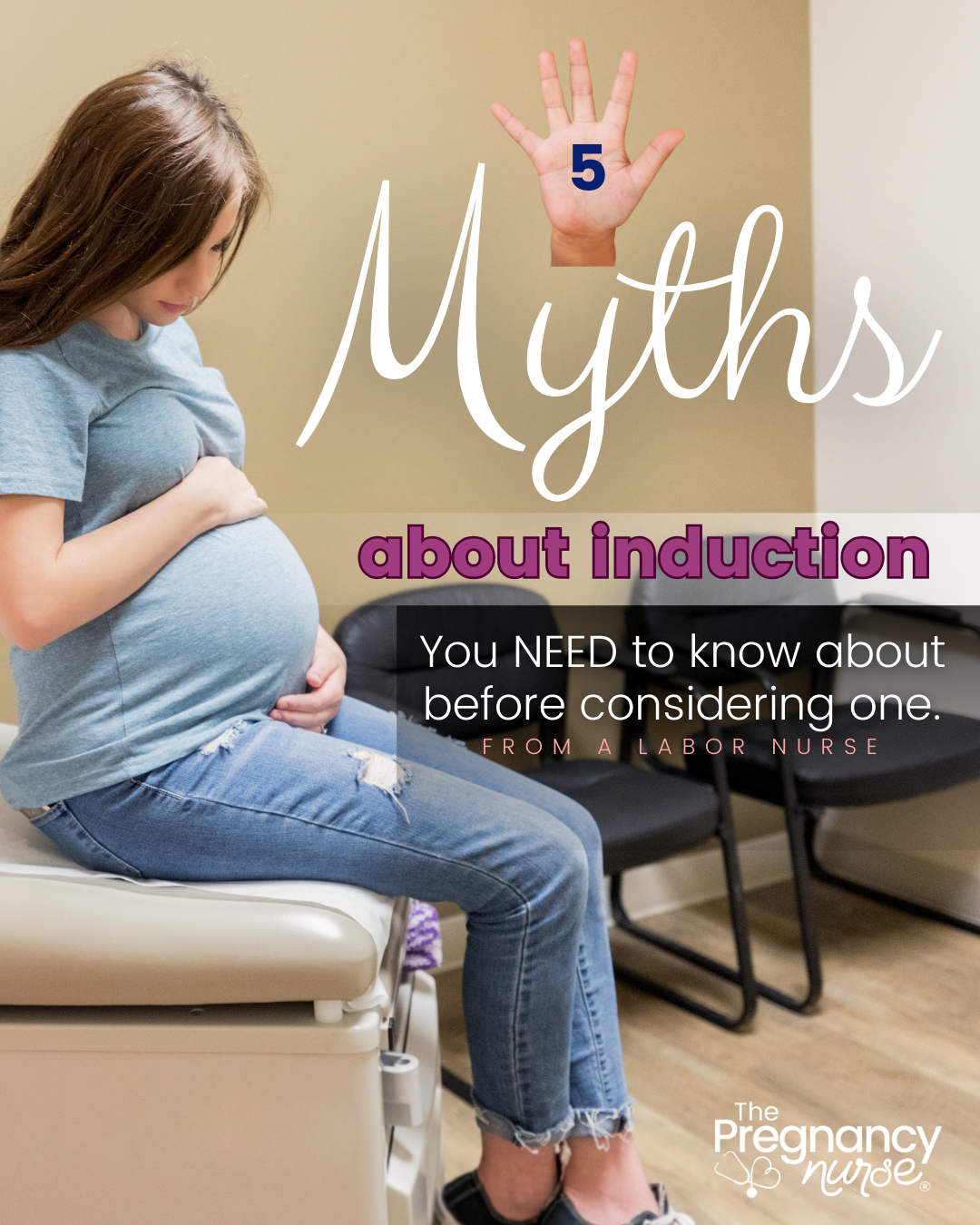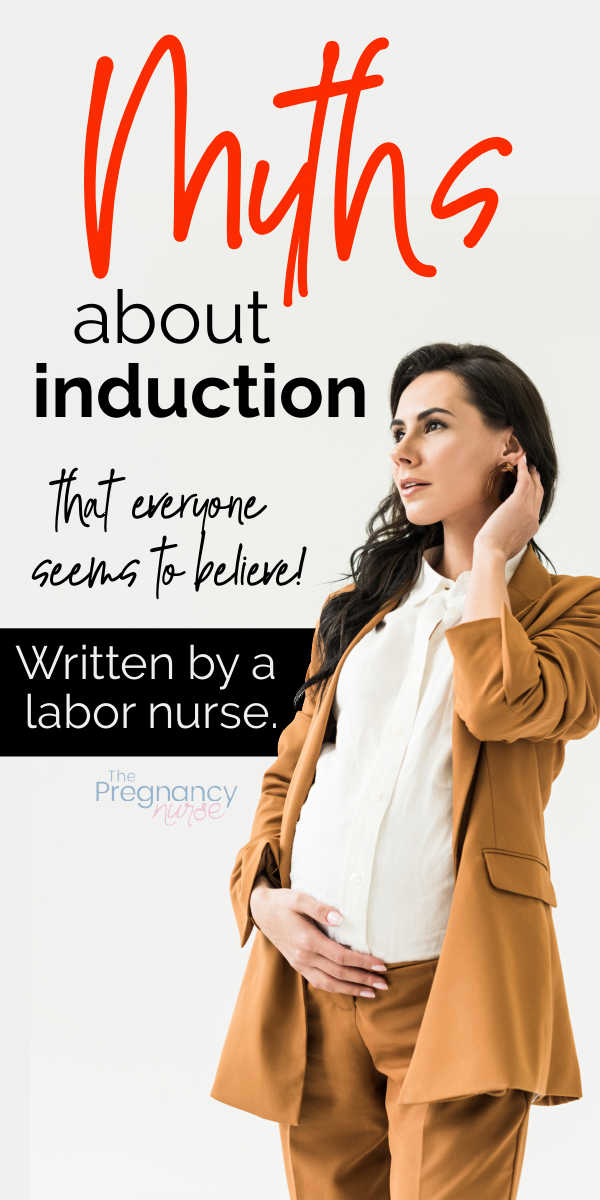 Today I want to share five myths about induction. Things everyone thinks is true, but isn't always (or ever).
How do I know all of this? Hi, I'm Hilary. I'm the pregnancy nurse.
I am also the creator of The Online Prenatal Class (jazzy name, right?). I just wanted to be clear what you're getting. You deserve to have a confident birth, with an engaging class to get you there. I think you'll love it!
I actually just did a podcast on being informed about your induction that you might enjoy:
Myths about Induction
They Hurt More
Everyone says inductions hurt more.
The thing is, all labor hurts about the same. BUT, labor hurts less when you're at home. Where you can watch your favorite shows in your couch or bed. You can take long showers, eat brownies. Get stuff done.
You're distracted.
The hospital is nice enough to take away all those distractions leaving you just with the pain and deciding if you need to get up and pee.
SO, it may feel like it hurts more, or that it takes longer. Often you're starting behind the ball without all those "practice" contractions you might have had if you had gone overdue.
Of couse, the hospital also have plenty of pain management options as well.
You can't eat during them
A lot of healthcare providers say you can't eat when you're on pitocin (which is why I recommend eating before an induction).
I believe the reasoning is that it is a higher risk medication (more likely to have cesarean section). Also, that you might vomit if you eat.
However, that's just a doctor's order.
And turns out, the only one who has to follow those is me (the nurse/hospital staff). I can't order or bring you food. What you do is up to you.
Yes, you might throw up, but that's up to you.
Note: A LOT of women think it will be MISERABLE to go without food during labor. However, your body is so concentrating on getting the baby out it just doesn't get hungry.
However, if you are hungry in labor and the nurse says she can't feed you, maybe ask why.
If there truly is a high risk of a cesarean section soon I probably wouldn't eat, but I would recommend having a frank conversation with your providers.
Also, when you're on other medications like Cytotec, you often CAN eat (depending on how they give it to you).
You just have to do what your doctor tells you to.
Going along with the last section, if your doctor says you need to be induced that should be accompanied by informed consent.
That means:
The risks (all inductions do come with potential risks different than spontaneous labor)
The benefits
The alternatives
You wouldn't have a flooring contractor come in your home and tell you that you need wood floors and then just have them put them in.
You'd ask them why they think that would be best, what will be good or bad about them, and if they had any other suggestions.
Your body and your delivery should be the same way.
Doctors don't make decisions for you, you do. They recommend things.
In fact, as I look at it — a caesarean section is both a risk and an alternative to an induction, so it's complicated.
BTW, I talk a TON about Informed Consent in my class. All about how to do it work — and feel like you're in a partnership with your healthcare team!
I also have a podcast where I talk about some of the reasons you might want to get induced:
Pitocin is the best for induction
For many providers pitocin has been their standard of care, but there are a few ways to start an induction. So, after you decide an induction is best. See how your doctor recommends to do it, and if you're OK with that as well.
I talk ALL about the different ways to be induced in my post on 37 week inductions. They include medications or even just rupturing your amniotic sac.
These different types of induction methods (like prostaglandin gel) are chosen based on your cervix, your medical needs etc.
You can pick when you're induced
Now, I've talked a lot about you having a choice in all of these things.
The one thing you don't really get a choice over is if it happens.
It is strongly recommended doctors don't do an elective labor induction (that means not medically-necessary) until at least 39 weeks of labor (in fact, my hospital won't schedule inductions before 39 weeks of pregnancy if they don't have a reason).
Many places won't schedule an elective induction until after your due date.
Of course, you can definitely get induced if you have a medical reason like high blood pressure, low amniotic fluid, gestational diabetes, and other medical conditions or a clear medical reason that require baby to come out earlier.
Even if they schedule you, if inductions are medically necessary (meaning you have medical reasons to be induced) they may "bump" you. It's not like a reservation at a restaurant. As a hospital we often have to take cases based on a medical need vs a reserved spot.
Induction FAQ's
So, that's my five myths of inductions. If you want the WHOLE story about induction, don't miss my Online Prenatal Class. You can get prepared for your entire delivery in 2-3 hours (or stretch it out much longer if you'd like to take your time). It's all up to you! Come join me at 10% off with code PC10.