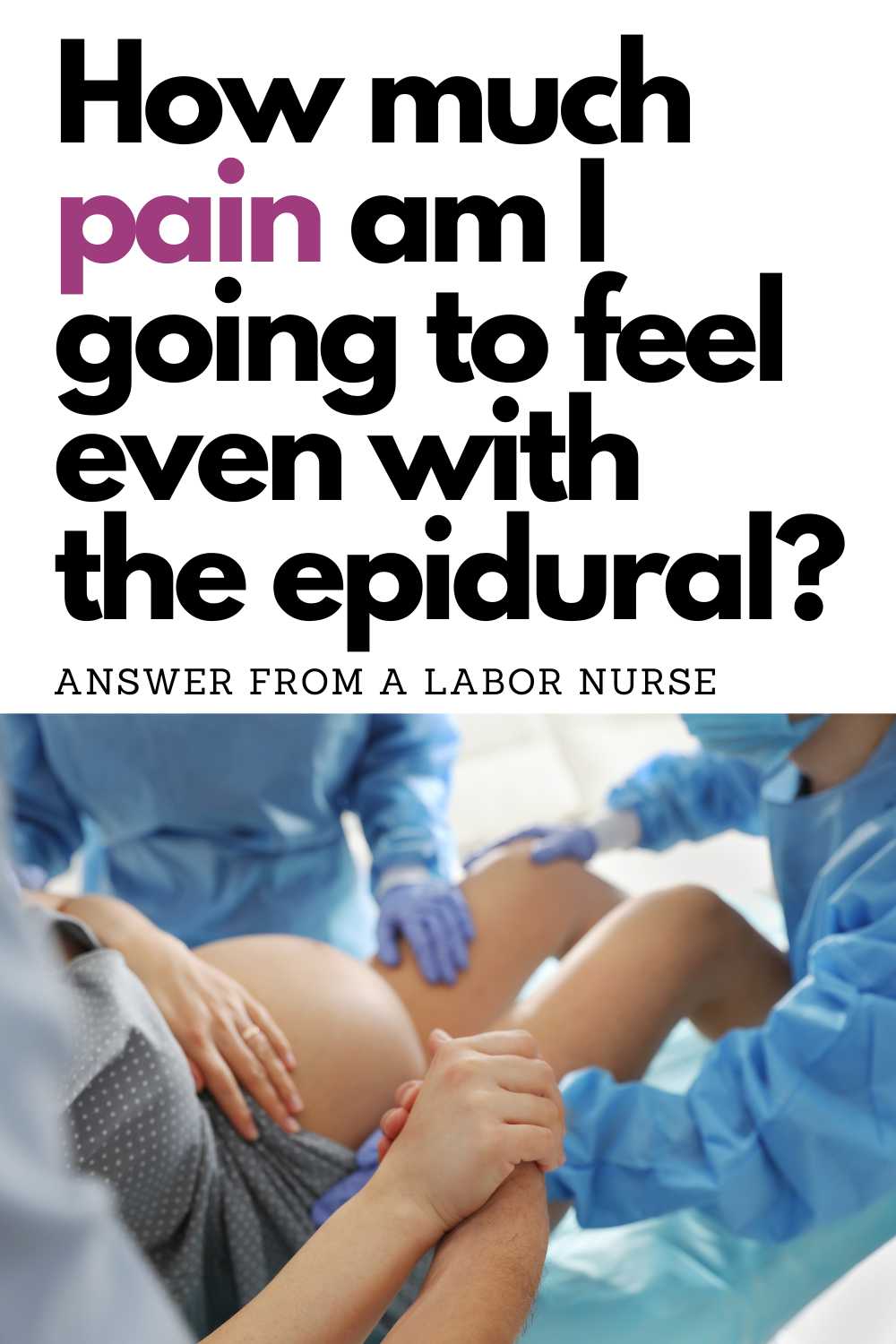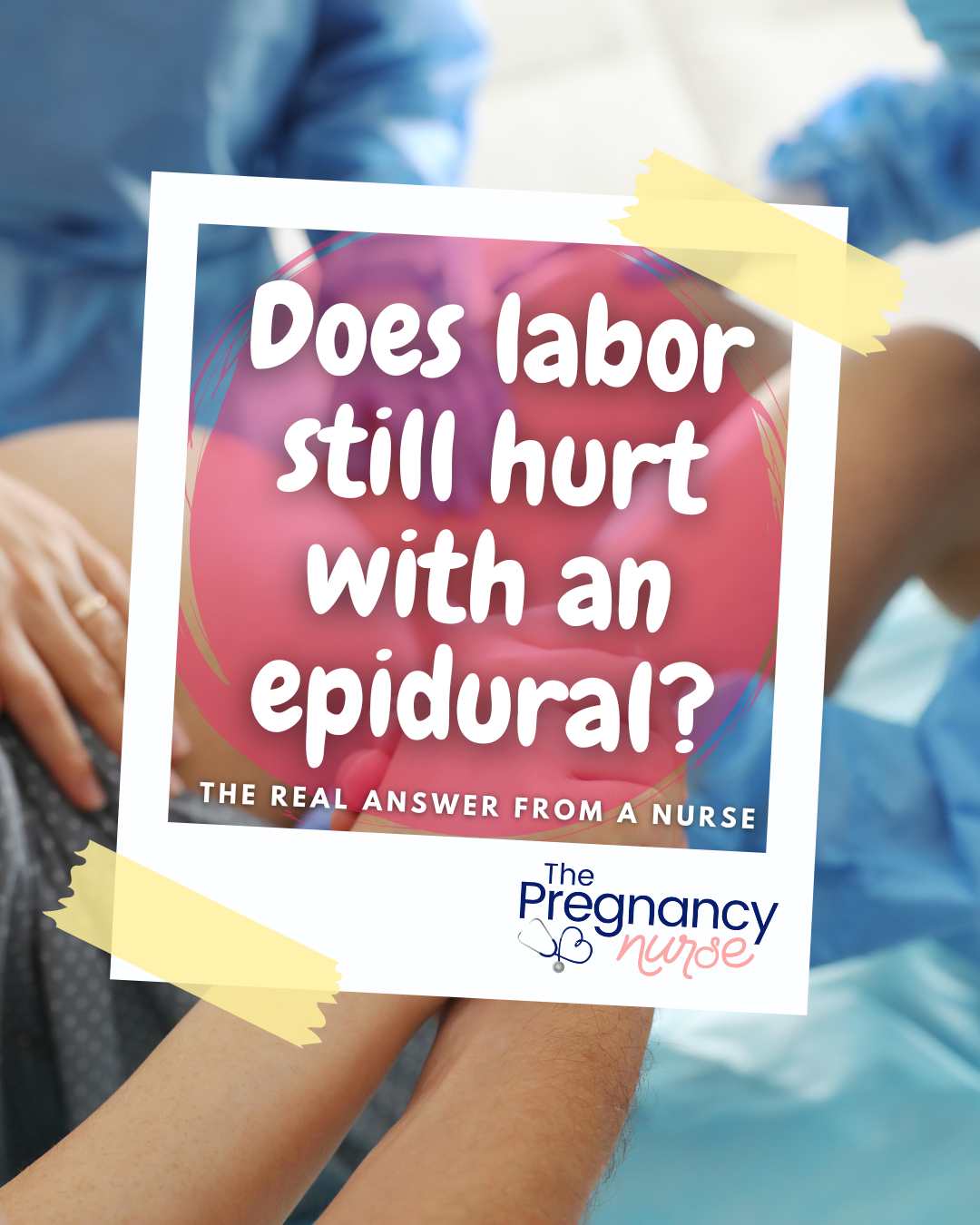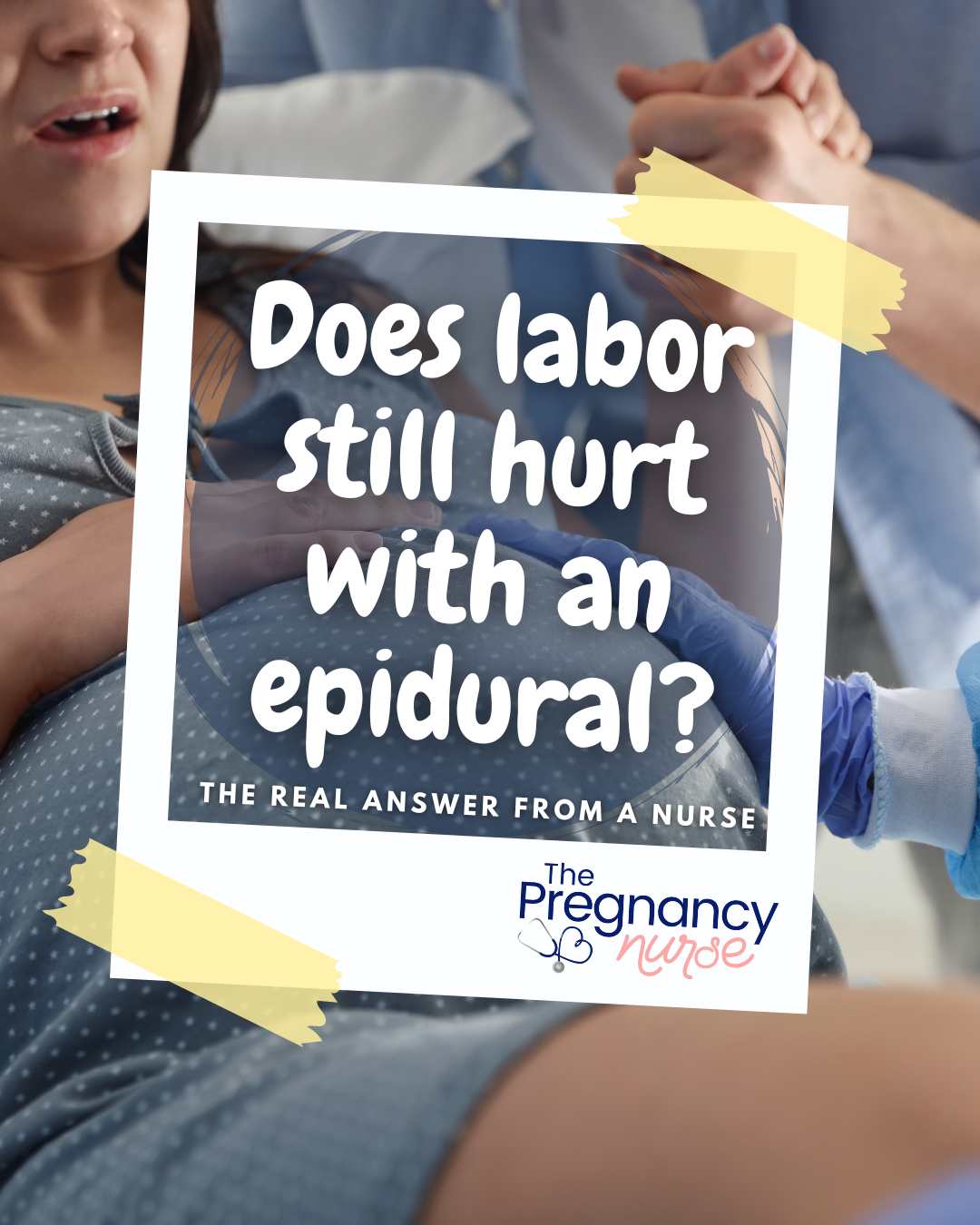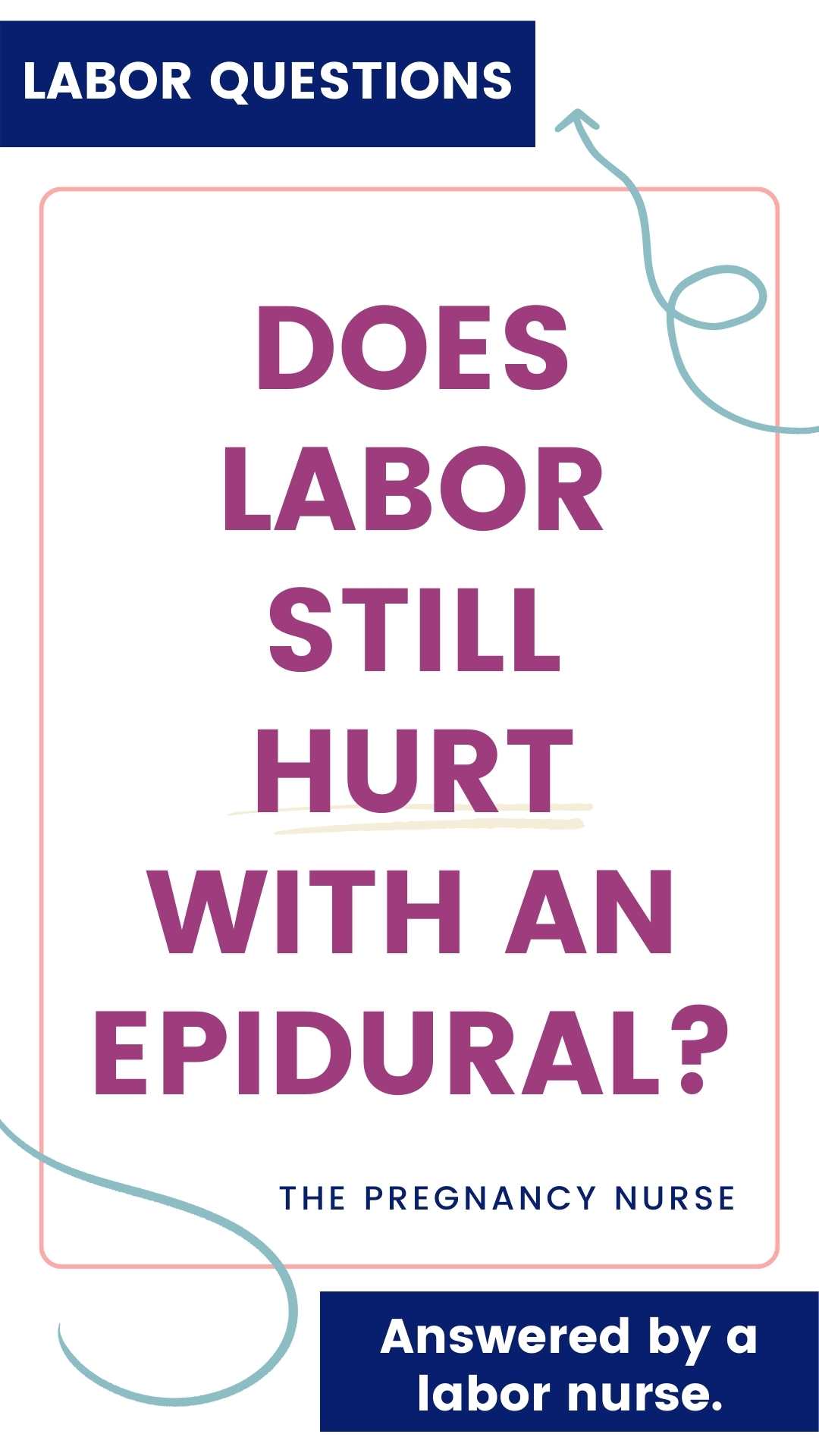 How much labor pain should you expect during labor when you have an epidural? Should you expect to be pain-free?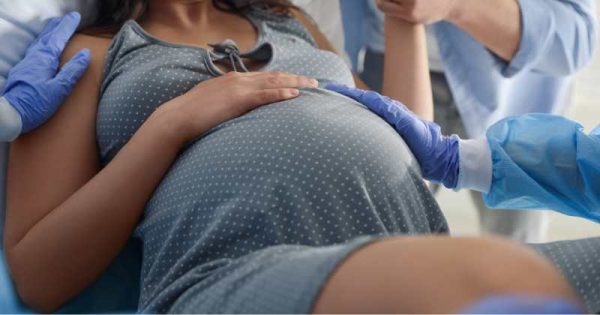 Before we get started — hi, I'm Hilary — The Pregnancy Nurse®. I've been a nurse since 1997 and have worked in many fields including labor and delivery where I worked for 20 years. Today, I'm going to share some of the information I've learned in the thousands of epidurals I have taken care of!
Before we get going, if you're scared of managing your pain during birth, let me tell you about your options:
Epidural Pain Relief
The epidural is a method of pain relief that goes into the epidural space of your back. It works from about your bra line to your knees.
Most often a tube is left in that can infuse the medication to allow for continuous pain management after you receive an epidural.
How does the epidural work?
Basically, an anesthesiologist puts medication in that numbs the nerves and takes away the pain. It is considered regional anesthesia as your whole body will not be numbed.
If you want more info about it — the epidural medication is injected through the epidural needle into the lower back into a specific spot called the dural sac that surrounds the spinal nerves. The medication numbs those nerves and makes it so that you don't feel as much pain.
How much pain does the epidural take away?
The epidural during labor CAN take away all of your pain. However, most anesthesiologists only aim to take about 80% of the pain.
That may sound unfair, but by allowing you to feel just 20%, it allows;
Your body to have some feedback about the pain (which I think helps allow labor to progress)
You to be able to move, or help the nurses move you — movement after an epidural is way important!
Help you to feel when you're supposed to push (and again have feedback for that situation as well)
As I said before, an epidural can be dosed up more for a cesarean section. But, for a good labor epidural — it should take away 80% of your pain.
What to do if you are uncomfortable during labor with an epidural?
Some epidurals have a "button" that can be pushed to allow for a "bolus" of epidural pain medication (that means it temporarily gives you a large dose). This does have a lock-out and maximum feature so you aren't given too much.
If that isn't available or isn't working. Be sure to let your nurse know. You are paying a LOT of money for that epidural, and you deserve to have it attended to and pain relief given.
However, if medication doesn't help there are only a few things the doctor can do:
Pull back the small tube (called an epidural catheter), in case there is a kink beneath the skin
Replace the epidural — they can slip out of the right spot
I actually have a whole post on what to do if your epidural isn't working.
If you're nervous or scared about labor pains, stay tuned I have a GREAT option that will leave you prepared, not scared!
What you will feel during labor with the epidural
Most often the epidural takes away your labor pains in your belly/back area.
Often women feel a lot of pressure as the baby descends. The epidural can't help all of that as pain receptors are different than pressure receptors. This is a good time to use some breathing to help your body relax into that pressure.
Oh, and if you're thinking about labor don't miss my hospital bag checklist:
Are there Epidural risks or side effects?
As with all medical procedures there are risks to an epidural:
Spinal headache is the most frequent risk (due to some spinal fluid being released)
Back pain/bruising (I have a whole post on back pain after an epidural)
Other more severe, but VERY RARE complications your anesthesiologist will go over with you
Pro Tip: Remember they're required to give ALL the risks, which often ends with "death" — but remember every time we turned on our oven or got in our car — that is one of the risks we take (we just know it is very small)
Common side effects of the epidural are:
A decrease in blood pressure (we have medications we can give to fix this)
Itching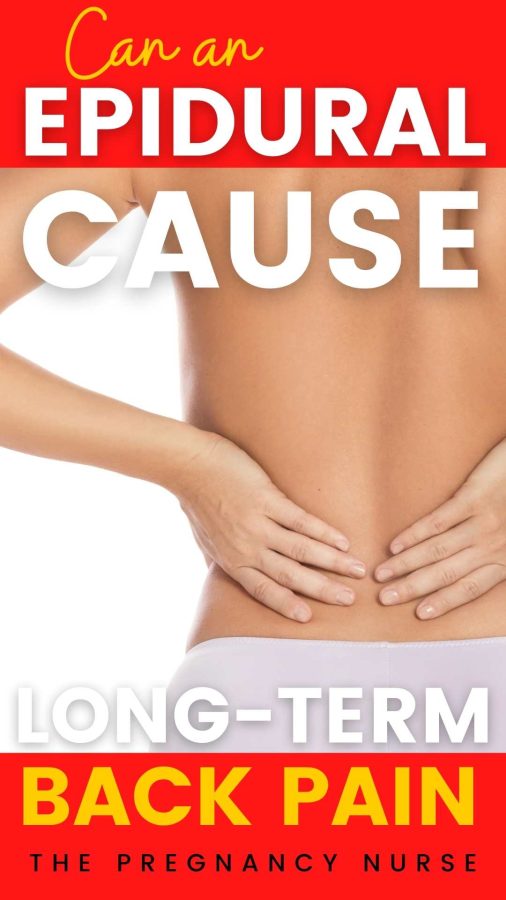 Does labor still hurt with an epidural FAQ's
Do contractions still hurt after an epidural?
As they often give extra medicine in the beginning when you get an epidural most often you don't feel much contraction pain at all after the epidural. Some people still feel their stomach "tighten" or notice a change in how they can breathe during it — but no pain, or very little pain.
Can you have a pain free labor with an epidural?
They COULD entirely numb you, but the idea is to take away 80% of your pain so that you can still move and feel to push when the time comes. But yes, you could be entirely pain-free. It may just not be the best thing for you or the baby. However, an epidural can be numbed extra during a C-section to where patients don't feel the surgery.
Do you feel the ring of fire with an epidural?
Sometimes you do feel those tissues stretch and burn a bit. The epidural can't take away pressure, only pain receptor pain. The pain should be significantly lessened though. If you feel pain they can do an injection of local anesthesia for any repair that needs to be done.
Do you feel the urge to push with an epidural?
Most often you won't feel the urge to push as strongly as you would with a birth without an epidural (although some people do). If you not able to push or don't feel pressure we will sometimes turn down the amount of epidural injection you're getting to help you feel more.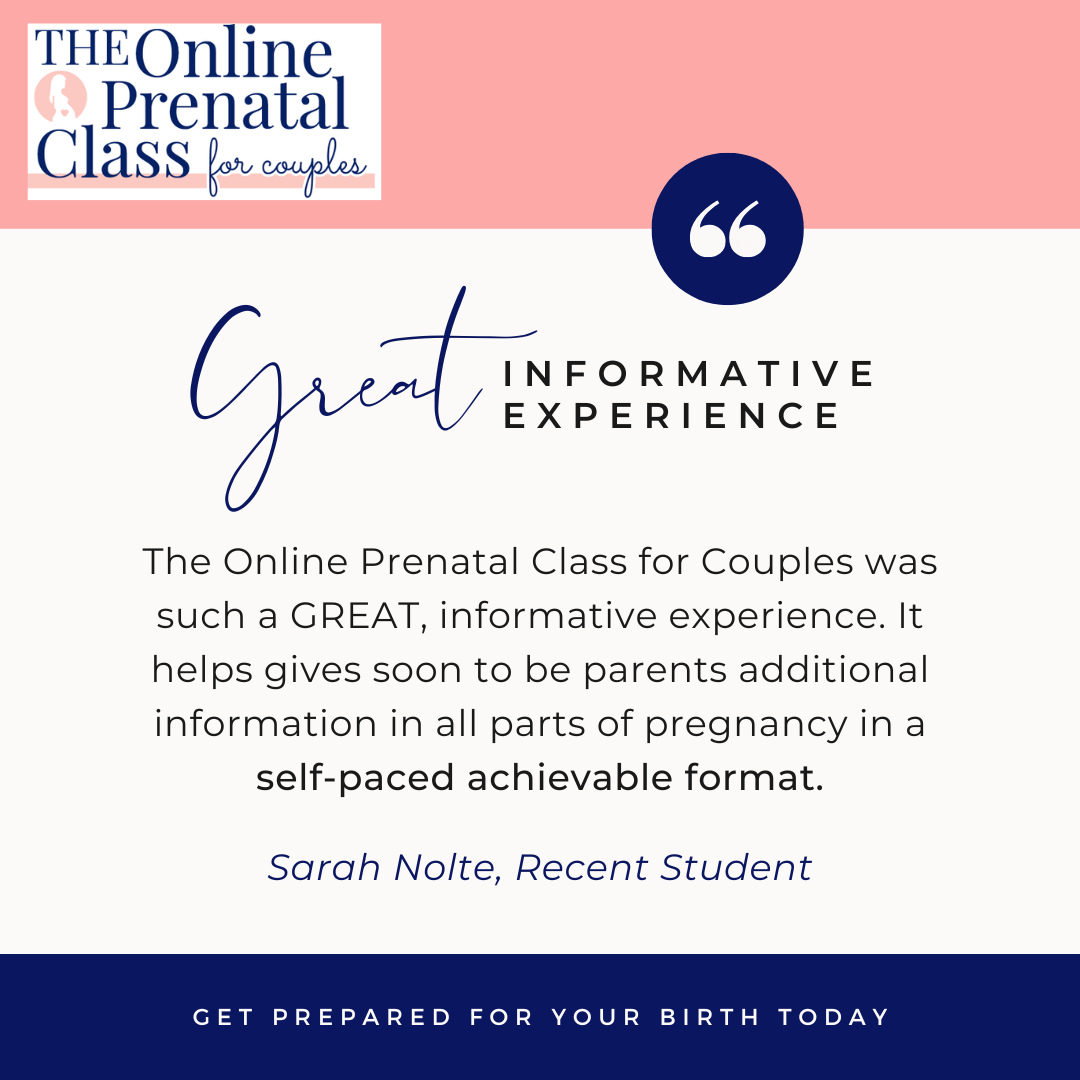 Is the epidural my only pain management option in labor?
Keep in mind there ARE other pain management options in labor — I have a whole podcast on your pain management options.
But essentially you do have 3-4 options in labor:
IV pain medicine — this will take the edge off the pain
"natural" pain management — breathing, etc.
Epidural placement
Some hospitals have nitrous oxide which similarly takes the edge off the pain like the IV.
So, as you can tell you have options and the epidural has proven to be a really safe, adjustable to get pain relief during labor if you need it. I think both of those things are great news!
But, how are YOU doing? Are you feeling more nervous than you wish you did for this whole labor thing? I think that's SO normal. So much that I created The Online Prenatal Class for Couples where we prepare you for birth in just a few hours! You'll feel SO much better after you take it!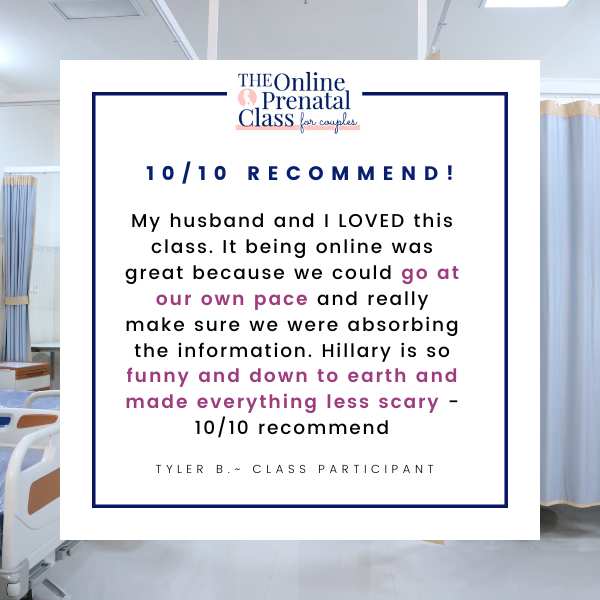 And, if you're not quite sure you're ready for that whole thing, check out my free prenatal class. It's your first step toward getting in the driver's seat of your birth.
About the Author
Latest Posts

A nurse since 1997, she has worked in various fields including pediatrics, geriatrics & hospice. She has 20 years of labor and delivery experience in the San Jose, CA and Phoenix, AZ areas.
As an evidence-based prenatal educator Hilary has delivered thousands of babies and has educated hundreds of thousands of parents from a diverse patient population to help them have a confident birth.