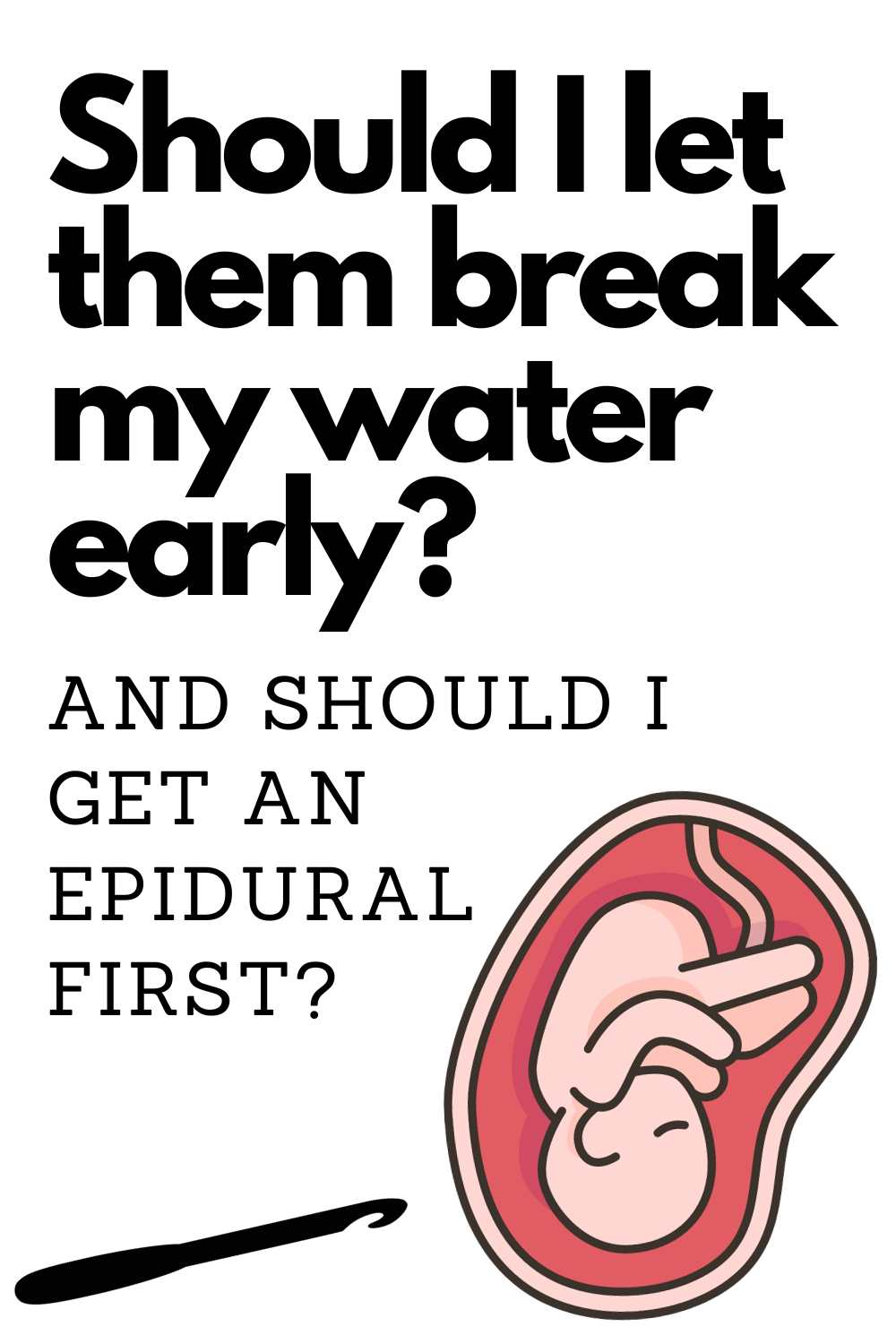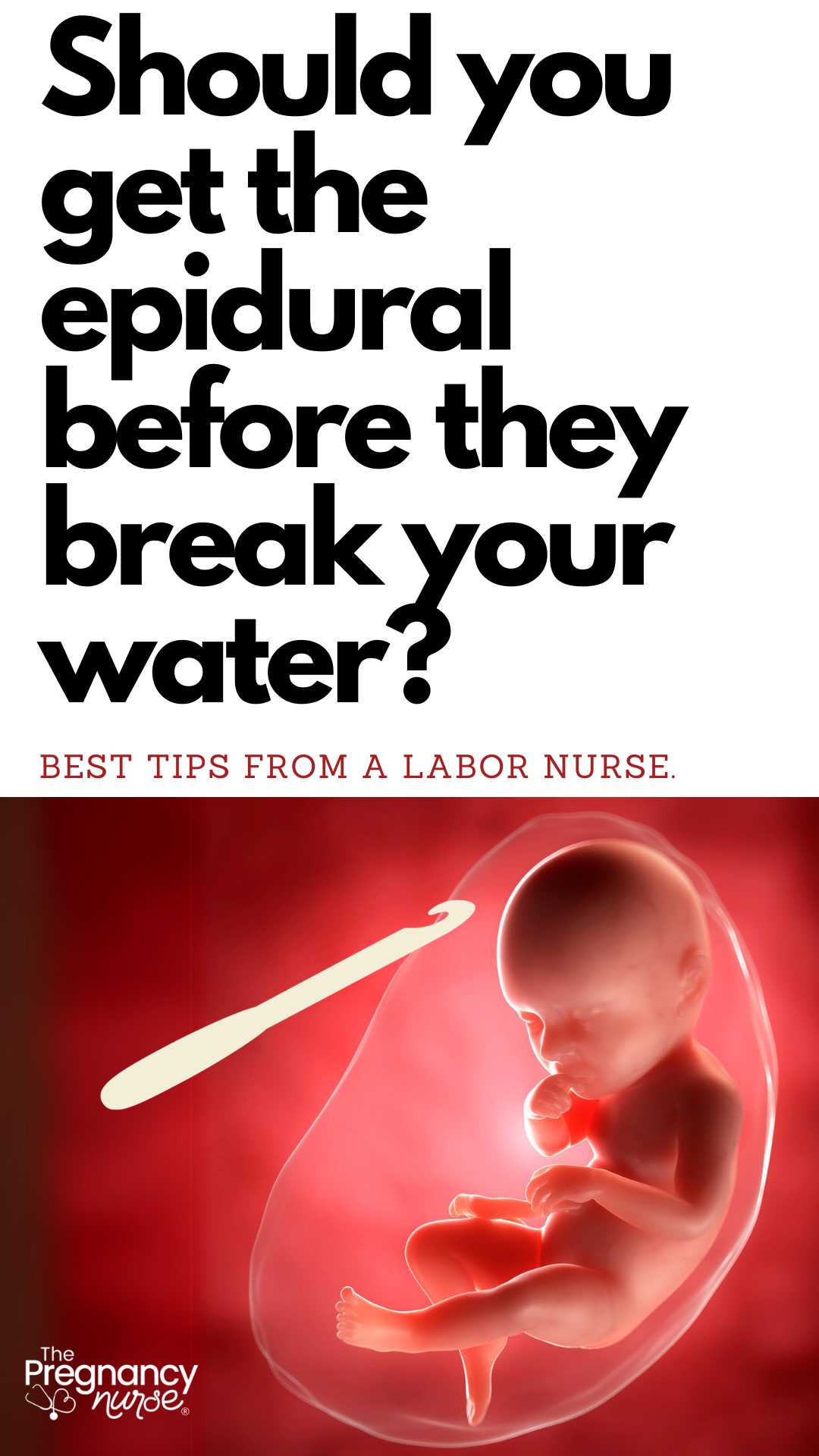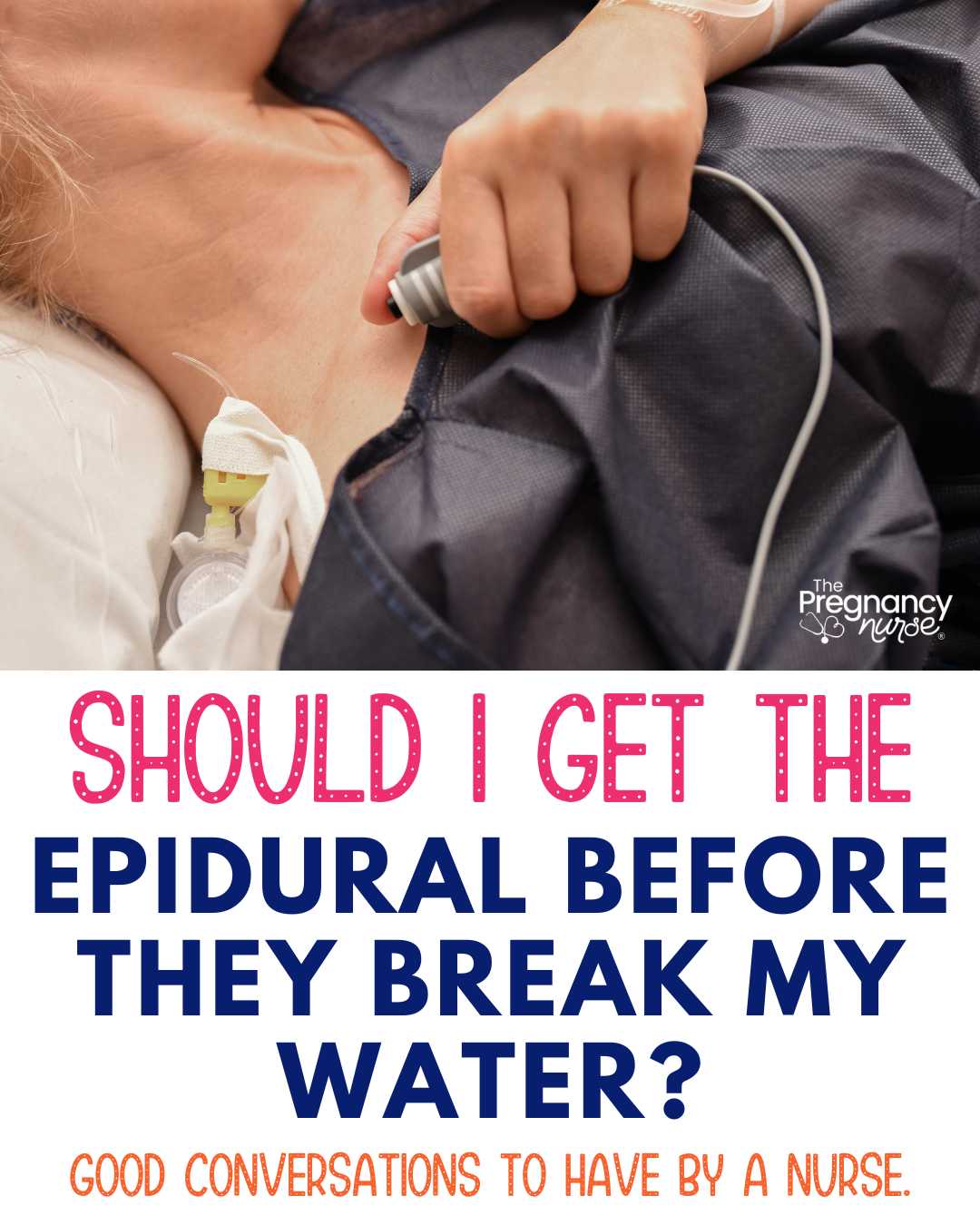 You're in labor, and you hear your provider is coming to break your water. Is it better to get the epidural before they come in to break your water or does it not matter? In general I think that's a solid plan to get it beforehand BUT I'm going to give you a few things to think about before you make that choice.
But, how do I know so much about breaking water? Hi, I'm Hilary — The Pregnancy Nurse®. I've been a nurse since 1997 and I have 20 years of labor and delivery experience. I've had this conversation with hundreds of patients and have seen the consequences of their choices — so I think I'm a good one to have this talk with you.
Should you get the epidural before they break your water?
In general, if you're planning on getting an epidural, doing it before they break your water is a good idea.
I would always talk to my patients about the option if I knew the doctor was going to come break their water (or ask to).
Why?
Well, when they break your water the contractions often become more intense and painful for patients. As you can imagine if you were squeezing on a baby doll inside a water balloon, you wouldn't be able to squeeze as hard if the water was still inside, but if you POPPED the water balloon you'd be able to squeeze much harder to get the baby out. Same thing goes for your amniotic sac.
While this isn't true for everyone — it's probably true for 80% of people. BUT, I'd like to give you a few things to think about first (oh, and grab my guide to pain management options in labor right here — because an epidural isn't your only option):
Do you want your water broken?
This is a valid question. While you may "have" your water broken — it is a choice YOU Should make. I'm sad to say that providers often don't talk to patients about having their water broken. Sometimes they just come in and say they're going to do it (and sometimes they don't even do that).
But, in that case it is your obligation to say — wait, I'd like to talk about the risks and the benefits of breaking my water right now.
And here's the extra bad news — many providers just break your water at 9 am before office hours no matter how far along your cervix is or if it's really going to help your labor progress. They THINK it will, so they do it.
BUT, let's look at the studies:
This study from 2019 showed that breaking water decreased labor time by 4-5 hours and didn't have much risk.
This Cochrane review showed that it wasn't helpful to break water early on.
The consensus lately seems to be that breaking it early on isn't a good idea due to the risks (which we'll talk about) — but it can help when you're in active labor to speed things along if that's what you want.
But, when there's mixed evidence like that — I think it's important to think about YOU and your situation. Some things to consider and get curious about with your provider:
Are you GBS positive? (if so, you may want to wait as that would put your baby in contact with your pelvic bacteria longer)
Are you in active labor? — are things moving along nicely already, or do they think delivery will be soon?
Have things stalled out? — sometimes the bag of water can "stall" labor — and breaking it could see if that helps.
Again, these are going to be different for EACH person. They're things to consider with your provider and probably a better guide point than "I always break your water before office hours" — if you get my drift. 🙂
Rupturing membranes early on does show an increased risk of infection of your womb or the baby due to it being an "open system" where any bacteria in the pelvis can get to baby. That is one of the main risks.
Also, some providers put you on a "clock" once your water is broken — and may consider a C-section if baby isn't born within 24 hours.
Also, once your water is broken you can't go home with a failed induction or labor just not happening. You're committed to having the baby soon.
Those are just some things to think about. You can always tell your provider you'd rather your water NOT be broken, and they may something along the lines that they don't plan to be back until their office hours are done. That's fine. If we're finding that your water not being broken is impeding your labor they will need to come in and break it, or ask another provider do it.
In an emergency the nurse can rupture your bag of waters if inserting a fetal scalp electrode as well.
AND baby can actually be born within the sac. Called an En Caul birth (or I prefer the term "mermaid birth") — it is possible!
This scenario is actually something I roleplay in the provider communication video in here. I think it's so helpful to see someone else do it so you can find the words to do it in your case!
This is a soapbox for me. I think a lot of people get their water broken without really understanding the risks — especially early on. so make sure you're NOT one of those people. Get curious and get informed as to if it's right for you!
Are you in pain right now?
While the pain will likely increase, you won't go from 0 to 60 miles an hour of pain in just a few minutes — it will just get worse.
So, if you're handling labor well now — then I'd wait. You're doing great!
Do you want an epidural?
If you're in pain and you already want an epidural it is often a nice time to get it. I see a lot of ladies getting IV pain medicine for a few hours before the epidural and I sort of wonder if there are benefits to doing that, or if they should just get the epidural?
However, if you don't want an epidural it's likely easier to labor with your water intact, so talk with your provider about that option and how you'd like to not have any pain medication with your birth and see what they say.
But, everyone gets to make their own choice.
Are you being induced?
Are you being induced for a reason? In that case, we're doing the things to get your cervix to open and breaking your water may be one of those things. Often after they break your water Pitocin kicks in even harder and makes it a lot more miserable — so that's something to be aware of.
Sometimes I'd even lessen the Pitocin dose for a bit after water was broken so mom and baby weren't caught by the increased contractions badly. Something you can talk with your providers about when you're in labor.
How dilated are you?
I've seen doctors BARELY able to get the hook in and then break water.
When providers do this you know you still have quite a long time to labor and you do have a larger risk of an infection.
In addition if baby's head isn't well-applied to the cervix there is a chance the cord could come in front of baby which can be a real problem (called cord prolapse).
** If you're less than 4-6cm you're still considered in early labor and I think it is an important time to have a conversation about breaking your water. It is a decision you should make being aware of possible consequences. But that's my personal opinion. I have definitely fought doctors about this in rooms though.
How's movement?
One of my main issues with the epidural is that often patients cease to move once they have it. Of course, you want a nap for a bit – and that's OK but once you've had some rest I want to come turn your body every 30-60 minutes into new positions to help baby descend. If you're moving well before they break your water do you think you'll be able to do so after they break it.
Movement is an integral, but often forgotten part of labor and I don't want you to lose that just because they broke your water or you got an epidural.
FYI, most often after they break your water we do want to keep you on the monitor for 20 or so minutes to make sure baby is adjusting to the new environment OK.
I actually have movement cards included in this because I think it's so important. PLUS tips to enhancing movement during labor and what your partner can do to help!
How available is anesthesia?
In all of this it may sound like your LAST CHANCE for an epidural is before they break your water, and that isn't the case at all. BUT you will want to ask how far from when you ask for an epidural would anesthesia be able to provide it for you.
Obviously, this varies by what's going on with the unit — but if it's always an hour before they get to you — that's something to consider.
Or, if your nurse can see an impending cesarean possibly happening they can let you know that anesthesia isn't going to be available for a bit. They're good conversations to have either way.
My Experience For You:
Ultimately, if you're already planning on an epidural, and you're past 4 centimeters, baby's head is well-applied, you think breaking your water is a good idea and you're hurting I think it's a smart time to get it.
BUT if you're handling your contractions well and you'd like to see if you can do it even with your water broken then wait. Either choice is good, but I MOSTLY like that you're even thinking about it and how your labor will progress!
Labor pain can be intense and it's important to think about how you're going to mange it before baby is here. The Online Prenatal Class for Couples is truly the EASY way to get prepared for birth AND pain management associated with it. I have a whole chapter on your pain management options as well as a bonus video on natural pain management techniques that I think you'll find super helpful.
And, if you're not quite sure you're ready for that whole thing, check out my free prenatal class. It's your first step toward getting in the driver's seat of your birth.
---
Sources:
Sun Woo Kim, MD Dimitrios Nasioudis, MD Lisa D. Levine, MD, MSCE Role of early amniotomy with induced labor: a systematic review of literature and meta-analysis AJOG/MFM SYSTEMATIC REVIEW| VOLUME 1, ISSUE 4, 100052, NOVEMBER 2019
Smyth RMD, Markham C, Dowswell T. Amniotomy for shortening spontaneous labour. Cochrane Database of Systematic Reviews 2013, Issue 6. Art. No.: CD006167. DOI: 10.1002/14651858.CD006167.pub4. Accessed 16 November 2023.
You may also find my post on if you can get an epidural before your induction post helpful.